1 View
8 Action Sports Stars Who Ride UTVs
May 17th, 2016 12:12 PM
Share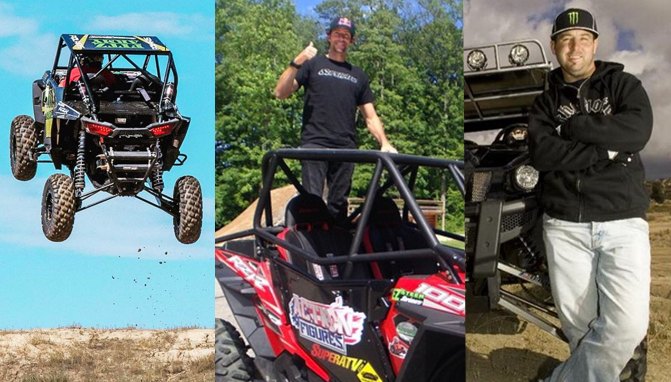 With age comes a cage.
Whether these action sports stars are making the transition off of two wheels or simply finding other ways to enjoy the outdoors, we're happy to see so many famous faces behind the wheel of a UTV.
Davi Millsaps
Can't thank everyone enough who helped dial this thing in @sdrmotorsports @randy_mcx_usa @msawheels @hcrracing @pciraceradios @rhinowraps @trinity_racing @rigidindustriesofficial @twistedstitchseats @stmpowersports
A photo posted by Davi Millsaps (@davimillsaps) on Nov 1, 2015 at 10:17am PST
Ronnie Renner
Undeniably my favorite @polarisrzr … @sdrmotorsports @hcrracing @fox @rigidindustriesofficial @sparcousa @methodracewheels @fullertonsandsports @assaultutv @whiptechled @muzzysperformance @mobarmor @pciraceradios
A photo posted by Ronnie Renner (@ronnie_renner) on Feb 21, 2016 at 1:56am PST
Ken Block
Kicking the rear out over a sliding-turn-jump in my @CanAmOfficial Maverick X RS Turbo I could've done this 100 more times, and it still wouldn't be enough for the kids – they kept asking for more. _by_KenBlock
A photo posted by Ken Block (@kblock43) on Apr 28, 2016 at 3:43pm PDT
Jeremy McGrath
A photo posted by UTV / SxS Products (@grounded4) on Feb 26, 2016 at 8:31am PST
Jimmy Fitzpatrick
A photo posted by Jimmy fitzpatrick (@jfitzo) on Oct 11, 2015 at 7:10pm PDT
Jeremy "Twitch" Stenberg
My @polarisrzr game is on fleek. ???. Pumped to be apart of such a rad company this year. rzr turbo Let the builds begin
A photo posted by Jeremy Stenberg (@twitchthis8) on Mar 10, 2016 at 11:55am PST
Ronnie Faisst
A photo posted by Ronnie Faisst (@ronniefaisst) on Sep 25, 2015 at 9:43am PDT
Travis Pastrana
It's good to be home. Thanks to @polarisrzr @wideopendesign @hcrracing @superatv_com for the rzr and @nitrorednekhubert for making it bullet proof.
A photo posted by travispastrana (@travispastrana) on Jun 29, 2015 at 2:24pm PDT
Published May 17th, 2016 1:52 PM
Top Brands
Popular Articles