1 View
Polaris Ships First Electric Ranger XP Kinetic UTVs
April 27th, 2023 1:47 PM
Share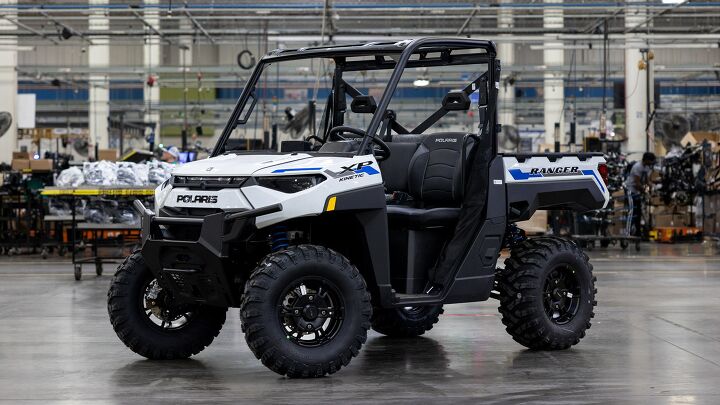 Polaris has begun shipping the first XP Kinetic versions of its Ranger UTV. This model provides a huge upgrade in power and performance over the existing Ranger EV.
"Since announcing our electrification efforts and partnership with Zero Motorcycles, it has been major milestone moments like today's announcement that have motivated and driven our team to engineer and deliver category-redefining powersports vehicles," said Steve Menneto, President of Off-Road, Polaris. "The Ranger XP Kinetic demonstrates the game-changing performance advantages that an electric powertrain can provide. We look forward to getting these vehicles into the hands of our dealers and consumers across the country."
While the 2022 Ranger EV makes an adequate 30 horsepower, the Ranger XP Kinetic produces an impressive 110 horsepower and 140 lb-ft. of torque. This enables it to tow up to 2,500 pounds and haul up to 1,250. I've ridden the Zero SR/S with the same electric drivetrain as the Ranger XP Kinetic and was seriously impressed with its power and performance. Yet it was also surprisingly easy to modulate as well. The bike only took off like a rocket when I told it to, never by accident. While the Ranger weighs three to four times more than the motorcycle, I doubt it will be that much slower, since all of its power and torque is available as soon as you touch the accelerator pedal.
"We knew there would be interest for a performance-driven electric Ranger, but selling out two hours after opening our initial order window for the XP Kinetic exceeded our expectations," said Josh Hermes, Vice President, of Electric Vehicles for Off-Road, Polaris. "Customers who ordered an XP Kinetic are going to experience firsthand the benefits that electric offers and we will provide even more people with the opportunity to own the industry's best-performing off-road utility vehicle when we take additional customer and dealer orders this summer."
Hopefully, Polaris will be ready for the pent-up demand for a powerful, yet quiet electric UTV. With claims of up to 80 miles of range, plus the convenience of charging from a standard 120-volt outlet with its built-in three-kilowatt onboard charger, the XP Kinetic is a shockingly good addition to the Ranger lineup.
Published April 27th, 2023 1:47 PM