15 Views
Taking An Adventure and Making Memories In Yamaha's RMAX 1000
May 25th, 2023 5:32 PM
Share
We're committed to finding, researching, and recommending the best products. We earn commissions from purchases you make using links in our articles. Learn more here
Ride along as we tackle powder-soft sand, technical rock crawling, fast roads, and cliffside trails on our way to see one of the seven natural wonders of the world, the Grand Canyon in Yamaha's RMAX2 1000.
Since I started working in the powersports industry, I've been fortunate enough to experience some amazing adventures. From traversing the bear-filled and brush-covered trails on ATVs in Eastern Canada to testing the limits of ATVs and UTVs in the swamps of Eastern Texas, and even shredding sand in some of the largest dunes in the Southwest. The common denominator in all of these adventures is that they were all had in or on an ATV or UTV. These machines give us the opportunity to get away for an afternoon of exploration, or a multi-day excursion where you wouldn't even think about taking your daily driver unless it was an extremely capable off-road vehicle.
As one of the dominant forces in the UTV game, Yamaha understands this and even promotes these kinds of experiences for their customers and fans. Just last year, Yamaha unveiled their special project UTV, the Wolverine AdventureMax 1000, which is their popular 2-seat RMAX UTV that has been specially outfitted with things like an LED lightbar, adventure rack, roto-pax fuel cans, and other essentials for long adventure rides. To highlight these adventure units, Yamaha took a group of editors on a great trip to the Rubicon Trail, which is considered to be one of the toughest trail systems on the West Coast and you can read all about that experience here.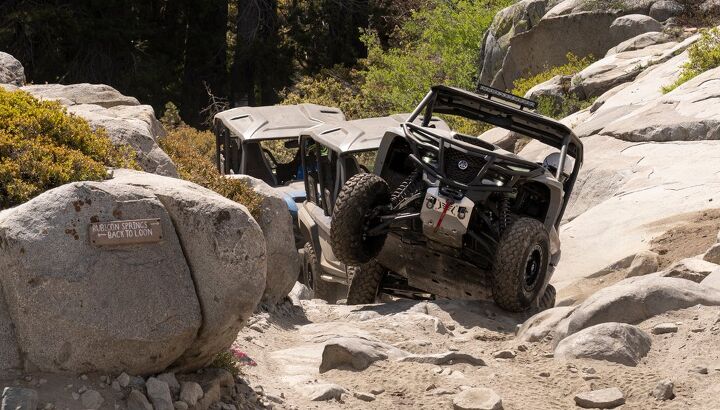 Yamaha recently extended an invite to ATV.com for another such adventure but in a completely different environment. The plan for this trip was to start in Sand Hollow State Park in Southern Utah, where there is a great mix of technical rock crawling, wide open, whoop-filled trails, and soft, powdery dune riding to put our 2023 Wolverine RMAX 1000s through the paces. From there we'd take numerous fire and ranch roads filled with sharp, tire-shredding granite and volcanic rock to our final destination. Where was this exactly? To one of the seven natural wonders of the world, the Grand Canyon.
I've been on a similar trip to the north rim of the Grand Canyon, which left me speechless standing at the cliff's edge looking thousands of feet down. The wildlife and terrain, while treacherous, are beautiful and of abundance. When presented with the opportunity to head out there again, there was no way I was going to pass it up. Even more so since this trip was going to give me a break from the long winter we've been experiencing in Montana.
As our small group of editors arrived at the off-road staging area at Sand Hollow, we were greeted by four, brand-new Wolverine RMAX 1000 units. Two were Limited Edition (LE), and the others were XT-R models that we had our choice of. If you're not familiar with them, they're practically the same with the exception that the LE model features a non-beadlock wheel and FOX 2.0 iQS on-the-fly electronically adjustable suspension. Something on these machines that you won't find from the factory were the new GBC Motorsports Parallax tires.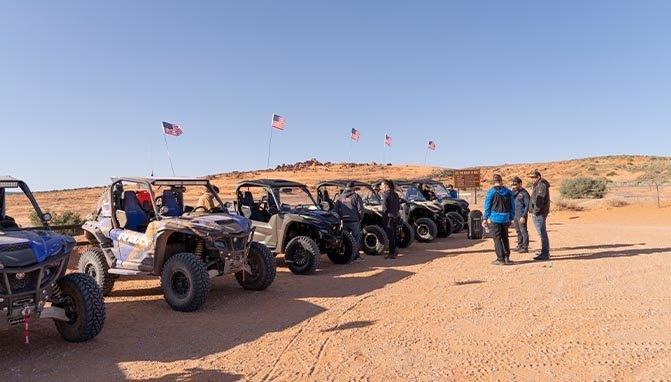 These tires are relatively new from GBC, which is no stranger to making tough tires for a wide range of conditions. The Parallax tires have a tough, 10-ply carcass, intermediate rubber compound for a great mix of traction and high mileage, aggressive all-terrain tread, and tough sidewalls for excellent durability. See our review on these tires in our Best All-Terrain UTV Tire Buyers Guide.
We all loaded up our ice chests with drinks, lunch, and other miscellaneous snacks and were on our way. With over 100 miles of tough off-road trails, we were going to be pressed for time to make our overnight destination before dinner. If you've ever been to Sand Hollow, you know how beautiful and picturesque the landscape can be. We instantly started off on the sandy worm trails that lead to some mild rock crawling sections. In some large 4WD vehicles, these technical trails might have posed a challenge, but the RMAX 1000 took the rocky terrain with ease. Engaging 4-wheel drive is as easy as the turn of a knob, as is engaging the front locking differential, which allowed the RMAX to climb steep ledges like a mountain goat.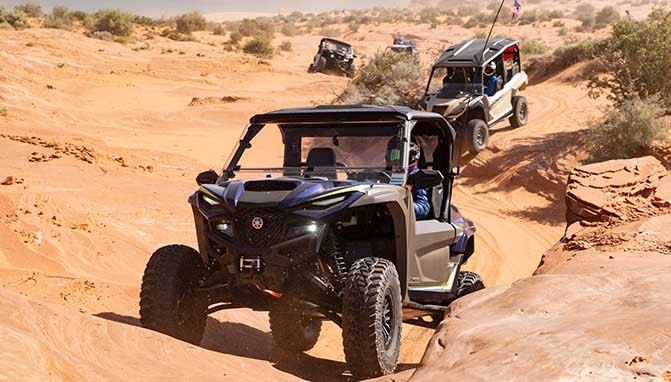 We made our way to the Top of The World to take in Southern Utah's amazing scenery, then made a quick stop by the Flintstone house before taking on the high-speed trails through the valleys and mountains on our way to the Grand Canyon. To many people, this kind of terrain may not seem like anything special, but I find tremendous beauty in desert landscapes. It can make you really think about how small you are in the world when you're on a valley floor with towering mountains on either side of you. Then you see the different colors of the rock that have layered over millions of years to create these gigantic mountain ranges that we'd eventually find a trail to go up and over on our way to the Grand Canyon.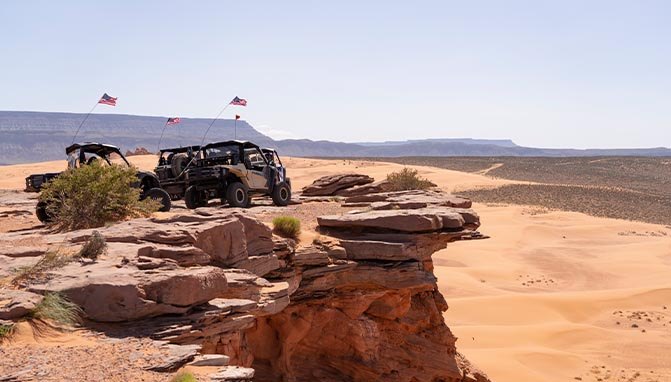 With numerous hours of driving under our belt, sometimes at the maximum speed of the RMAX, the group rolled up to the Bar 10 Ranch. Nestled in the middle of the Arizona desert, this working cattle ranch plays host to numerous guests who use it as a stop on their river rafting trips down the Colorado River in the Grand Canyon, as well as a destination for tourists who want to experience horseback and ATVNot only would this serve as our fuel stop, but we'd also be calling this basecamp for the night, but we'll get into those details later.
After a quick splash of fuel to top off our tanks, we continued down the road about another 15 or so miles to what was a magnificent overlook nestled in the majestic Grand Canyon. I've been on a trip to the nearby Toroweap Overlook, which provides a unique look into the canyon from 3,000' above the river, but this winter's heavy snowfall made access to this location impossible. Instead, our group made our way to the Whitmore Canyon Overlook which is 1,000' above the river and offers a unique view of the Grand Canyon from the inside. It's one thing to stand on a 3,000' cliff looking straight down at the canyon floor, but even at 1,000' it's still as intimidating and majestic. There really isn't any great way to put into words how amazing the sight of the Grand Canyon is other than to say it is something you MUST experience for yourself.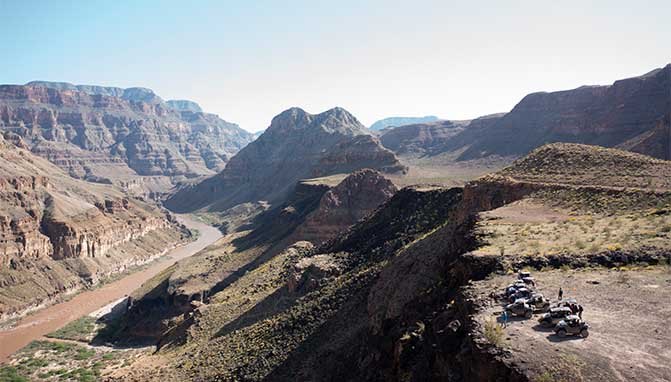 After taking plenty of photos and just enjoying the view, it was time for us to head back to Bar 10 so we could get cleaned up before the dinner bell rang. Staying at the Bar 10 Ranch is an experience in itself, being able to stay at a working cattle ranch where you can sleep in a covered wagon just like the settlers did in the old days. There's a huge difference in the accommodations though since the wagons that we were given to stay in had comfy queen-size beds, powered 110v and USB outlets to charge your electronic devices, and forced air heaters to keep you warm on those chilly nights. Community showers and restrooms are kept exceptionally clean and were great to have after a long day on some dusty trails.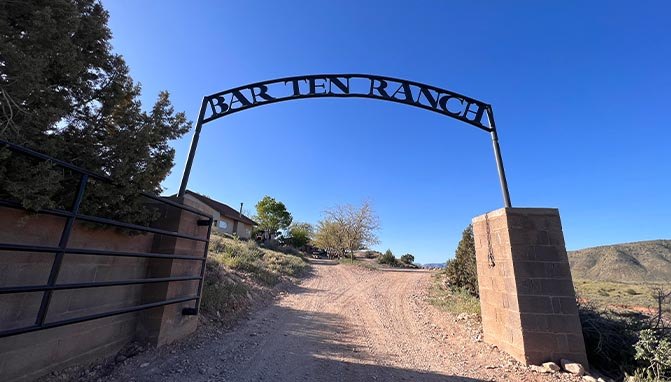 Remember when I said that we wanted to get cleaned up before the dinner bell? I wasn't kidding, because at 6 PM one of the great ranch hands walks up and down the paths where the covered wagons are located to announce that dinner was ready in the dining hall. We all got in line with other ranch guests to partake in a great home-cooked meal. During our meal, the owner came out to introduce himself and the rest of the staff, who were glad to answer any questions or assist guests with any needs they might have. The story of the ranch is pretty interesting, which you can read all about here.
After dinner was over, I decided to sit outside to enjoy the nice afternoon breeze and watch the sunset over the canyon walls. To say this was an extremely peaceful setting would be an understatement. Even better, there is ZERO cellular service so you're forced to disconnect from the world to appreciate what nature surrounds you.
With the moon rising, I made my way over to the fire pit where the ranch manager threw on some logs and all the guests came to relax before calling it a night. We met with other UTV riders from Central California and Idaho, who made this trip as we did but using different routes. We enjoyed each other's company and were provided some awesome entertainment (live violin music from one of the ranch hands), and a humorous story from the manager about one of his first celebrity sightings.
After a long day in the seat, we all called it an early night and took to our covered wagons. The heater in mine was very appreciated since a pretty strong wind picked up in the middle of the night. Some of our crew didn't have a sealing door on their wagon, so they were really living it rough like the settlers. Regardless, everyone woke the next day with smiles on their faces and headed back down to the dining hall for another home-cooked meal.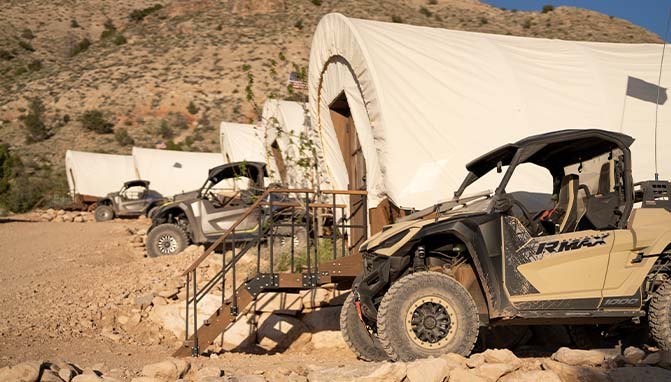 Before starting the long trek back to Sand Hollow, we again topped off our RMAX fuel tanks, made some sandwiches for lunch, and loaded up our gear. The weather outlook was perfect with a light breeze to keep the dust blowing off the trail, and we were excited for another day of exploring.
Our way back to Sand Hollow would be much more direct, filled primarily with wide open roads and the occasional tight, technical crawling sections. I definitely played with more of the features the RMAX has like the FOX iQS electronic suspension, selectable driving modes which alter throttle sensitivity and power delivery based on your choice, and of course I had to test out the factory-installed SSV Bluetooth audio system. While the Wolverine R-Spec has been out since 2016, and the RMAX 1000 since 2020, this trip would be my first opportunity behind the wheel of this recreational performance UTV, so I was excited for it. How excited? Look for a completely separate write-up on my thoughts and a deeper dive into its features soon.
After another solid 100+ mile day on the trails with the occasional photo stop thrown in, we made it back to the staging area. Every editor, and even some of the other guests we had on our ride, were blown away by the beauty and excitement that this ride had to offer in such a versatile vehicle. Even if you've just skimmed through what I had to say in this article and focused on the photos we've included, you have to be telling yourself that this is a ride you'd want to take part of yourself.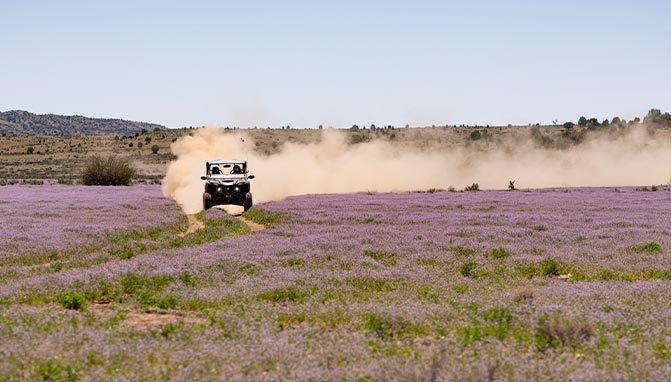 If you live on or near the west coast, I highly recommend making this trek, as you'll have the opportunity to ride in a number of challenging, yet fun terrains and get to see some amazing sights that are worth the months of planning to prepare for. As for finding a good route to the Bar 10 Ranch, simply use your favorite GPS app like Gaia, OnX Off-Road, or other similar apps and I'm sure you'll find what you want. Even if it's not to the Bar 10 Ranch or the Grand Canyon, plan an adventure to explore someplace new. Like the folks at Yamaha say, #REALizeyouadventure and get out to make some unbelievable memories. If you've got or are considering getting a new RMAX 1000, it's the perfect machine for just such a task. Look for our in-depth review of this adventure machine coming soon.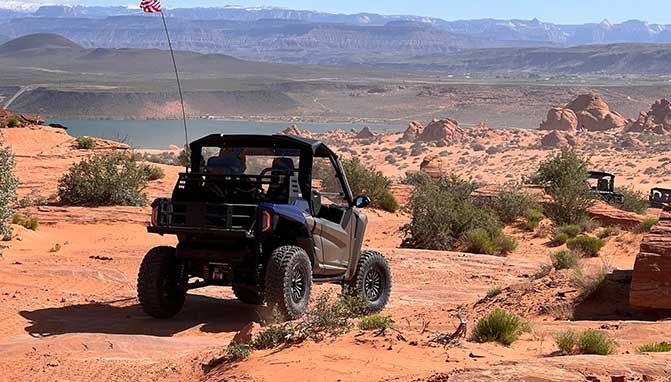 Published May 25th, 2023 5:32 PM
Top Brands
Popular Articles