11 Views
Volcon Stag Inching Closer To Dealership Floors
June 9th, 2023 3:40 PM
Share
The Volcon Stag is getting closer and closer to reality, with the company showing off the machine's capabilities to dealers recently down in Texas. What does this mean for you? You should soon be able to find a dealership near you and take home a Stag for your very own.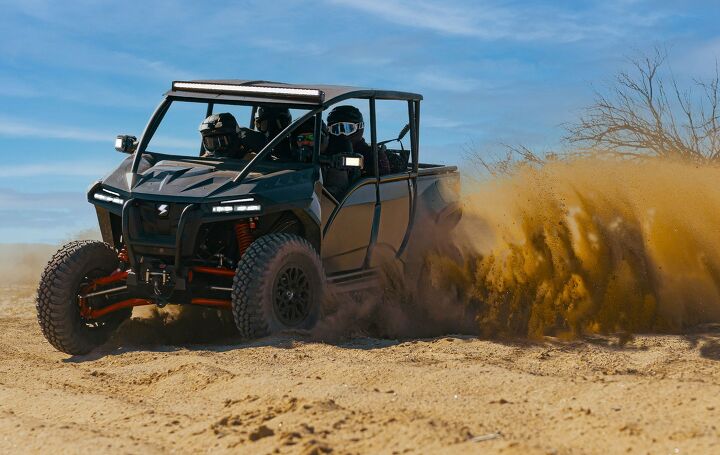 What is the buzz?
The electric, on-demand four-wheel drive Stag is being built by enthusiasts in Round Rock, Texas, using waterproof electric-motor components built by General Motors. The Stag produces class-leading 125 horsepower and 265 FT LB of torque, and there is an available Overboost mode and paddle shift package that can bump things up to 140 horses. This is good for a claimed 80 MPH top speed - nothing to sneeze at for sure.
The Stag's electric motor gives you immediate access to peak RPMs, giving you better hook up, acceleration and towing. The motor operates in three modes - ECO, with a smooth delivery for optimal power consumption; Sport, for those times when you really just want to go fast; and Towing mode with full torque and 2,000 pounds of towing capability.
Volcon claims the Stag has a range of over 100 miles, on full charge. It has a 7.2 kW on-board charger, which is claimed to recharge the battery in less than 6 hours using Volcon's Level 2 charging.
Other cool stuff
The Volcon Stag comes with other premium stuff, too. This includes fully adjustable, 2.5-inch Elka Performance External Reservoir shocks - front and back. These are premium shocks that provide a great ride quality that you can change on the trail to suit the terrain. For tires, they wrapped BFGoodrich Mud-Terrain T/A KM3 rubber around beadlock wheels. This gives you great traction and protection from pinch flats.
Want more information? Go to the Volcon website for the latest news and details.
Published June 6th, 2023 7:00 PM
Top Brands
Popular Articles