4 Views
Bantam Weight: American Bantam Seeks to Bridge Gap Between UTV and SUV
July 21st, 2022 12:03 PM
Share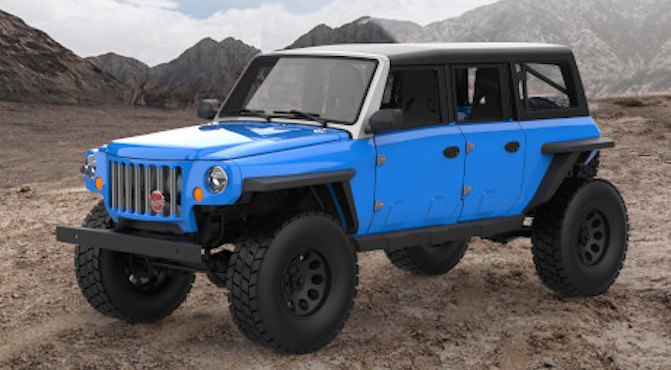 With both the off-road side-by-side and on-road sport-utility markets being sliced into vanishingly thin slivers, one forward-looking company plans to split the difference between these two machines to fill a market vacuum in the off-road vehicle industry. American Bantam, a recently revived name with roots in building GPs for the US Army in 1940, hopes to build off-road vehicles with the chops to play in gnarly off-road parks but also get its owner home at the end of the day. It's the same idea as a dual sport motorcycle, but on four wheels.
The company says its off-road vehicles come equipped for adventure with removable doors, beefy axles, alloy wheels, and 35-inch all-terrain tires. If that sounds an awful lot like a Jeep, well, go ahead and reference that remark in the last paragraph about American Bantam and their ties to WWII-era US Army vehicles. Length of the BRC 22 four-door model render shown here is said to check in at 133 inches, with 77 inches of width and an overall height of 74.3 inches.
For comparison, a four-door Jeep Wrangler is 188.4 inches long and 73.9 inches wide with 73.6 inches of height. On the other side of the coin, a Polaris General XP 4 is 150.2 inches long, 64 inches wide, and 77 inches tall. Based on those comparative dimensions, we're curious about the Bantam's length.
The company lists a gasoline-powered 1.6L turbocharged engine as the BRC 22's power source, making 182 horses and 222 lb.-ft of torque. Shifting duties are handled by a six-speed dual clutch manual transmission, with acceleration from 0 – 62 mph suggested to be take just a tick over six seconds. Dry weight is said to be less than 2,500 pounds.
According to company spox who spoke with our researchers, American Bantam is very interested in reaching UTV enthusiasts out of the gate, with some "Jeep targeting" for good measure should the opportunity present itself. That sounds like the business model at Roxor, it needs to be said. Alert readers will also recall the legal flap Stellantis raised about the styling cues of that vehicle; if these renders are accurate, those same lawyers are probably warming up their laptop computers again.
American Bantam is adamant their rigs will be built stateside, potentially as early as next year.
Published July 21st, 2022 12:03 PM
Top Brands
Popular Articles