1 View
Woman Bares Breasts to Fight ATV Noise
June 30th, 2010 12:13 PM
Share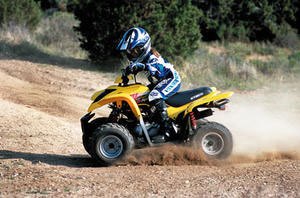 It's not often we get to talk about breasts on ATV.com, but we're willing to go the extra mile to keep you informed about all things ATV.
This story comes from north of the border near Kingston, Ontario. It seems Marika De Florio was tired of hearing her neighbor's five-year-old grandson driving his ATV up and down her quiet street for hours at a time. She tried calling police, but they did not intervene so she came up with a solution on her own – she ran out to the street and flashed her bare breasts at the youngster.
The boy's grandparents were horrified and rushed the child into the house. They complained to police about De Florio's actions, but in Ontario it is perfectly legal for women to walk around topless.
So what have we all learned from this? Well…it's high time to plan an ATV trip to Ontario. In addition to thousands of miles of ATV trails, you might just see a little more of Canada's natural beauty than you expected.
* Editors Note: As a Canadian citizen for all of my 35 years, it should be noted that I've never seen any woman walk around town topless. It is Canada after all…it gets kind of cold here.
Published June 30th, 2010 12:11 PM