1 View
Marshall Motoart Unveils Crazy Custom Polaris Ranger 6×6
August 3rd, 2011 3:38 PM
Share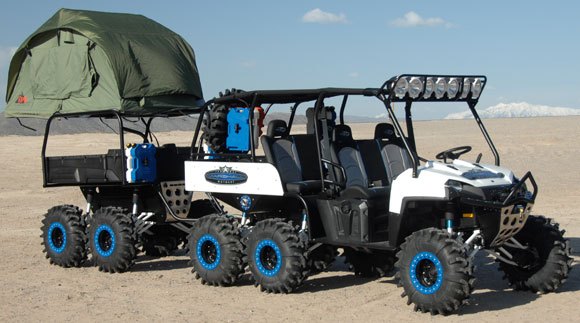 A wild, customized ATV or UTV is one of our favorite things to see when we visit riding areas or off-road shows. It never fails to amaze us what creative and mechanical minds can come up with. The latest project from Marshall Motoart will be difficult to top.
Dubbed 2011 Project X "Spider Monkey," this project transforms the Polaris Ranger 6×6 into an off-road tamer to be behold. It comes outfitted with a wagon (making the 6×6 a 10×6!), as well as a turbo engine, air suspension, lights galore, extra fuel containers, a booming sound system and a tent.
If you want to see how the "Spider Monkey" was put together, you can check out the Destination Polaris Show on the Outdoor Channel every Monday through August 1, 2011. Click here to view the first episode.
PROJECT SPIDER MONKEY SPEC SHEET
TRAILER: MARSHALL MOTOART
NAME: SPIDER MONKEY TRAILER
MAKE: MARSHALL MOTOART / POLARIS
MODEL: RANGER 6X6 2011
WHEELBASE: 36"
GROUND CLEARANCE: 23.5"
HEIGHT: 90" aired
OVERALL LENGTH: 108"
OVERALL WIDTH: 68"
TRACK WIDTH: 68"
GRAPHICS: MARSHALL MOTOART
SUSPENSION: MARSHALL MOTOART
– Custom plus 6 A-arms and hubs to give the trailer independent suspension.
HITCH: MARSHALL MOTOART
– Custom front trailer hitch to pull the trailer
CAGE: MARSHALL MOTOART
– Custom cage to house lights, hold Hitch, and support roof top tent
SHOCKS: LEGEND AIR SUSPENSION
– 4 Legend Air shocks on trailer for adjustability and smooth ride.
WHEELS: SuperATV
– 4/ 14X9, Bead lock 4 Piece aluminum wheels
TIRES: SuperATV
– 4/ 32″ Terminator Tires designed for the most aggressive terrain.
WINCH: SuperWinch
– Terra 35SR 3,500 12v mounted in the bed of the trailer to pull the load sled up into the bed
– Hand held switch 30′ for extra long reach situations
– 2″x30′ recovery strap for vehicle extractions
– Large Accessory Kit for vehicle extractions
– Winch Rope Dampener for safe winching practices
– Receiver Shackle Bracket mounted in the trailer receiver and can be placed in vehicle receiver as well
BED LIFT: Unisteer
– Polaris Ranger Bed Lift
LIGHTS: PIAA
– Deno 6 trailer perimeter lighting one on each corner
STORAGE CONTAINERS: ROTOPAX
– 2 gal Kerosene – 2: RX-2K
– 2 gal Water – 2: RX-2W
– 2 LOX Pack Mount
– 2 RX-LOX-PM
– Pack Mount Extension – 2: RX-EXT
TENT: TEPUI TENTS
– Kukeman Model Roof Top Tent
Published July 5th, 2011 4:50 PM
Top Brands
Popular Articles