1 View
Ban on Youth ATVs and Dirtbikes Officially Over
August 15th, 2011 10:38 AM
Share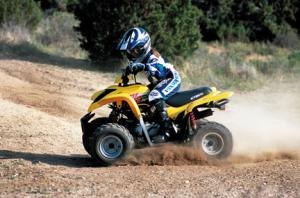 Young ATV riders and their families can breathe a little easier now that President Obama has signed H.R. 2715 into law, putting an end to an unintentional ban on youth ATVs and off-highway motorcycles that has lasted more than two years.
The President's signature comes just days after it H.R. 2715 passed through the U.S. Senate and House of Representatives nearly unanimously (421-2). The new law amends the Consumer Product Safety Improvement Act (CPSIA) to categorically exclude youth ATVs and dirtbikes from the lead content provisions.
Aimed at children's toys, the CPSIA ensnared kids' dirtbikes and ATVs because trace levels of lead can be found in parts such as batteries and brake calipers. Other children's products were also affected by the CPSIA, such as books, clothes and microscopes.
"For more than two years, the powersports industry and its riders have urged Congress to categorically exclude youth dirtbikes and ATVs from the CPSIA's lead content provisions," says Larry Little, chairman of the Motorcycle Industry Council Board of Directors. "We are gratified that our community's passion and perseverance have paid off and the ban on youth model OHVs is finally over. MIC's Member Companies worked hard on this issue, as well as many MIC staff members, and we are especially grateful to Paul Vitrano, Kathy Van Kleeck, Duane Taylor and the MIC Government Relations Office."
"I want to extend a very special thanks to Malcolm Smith, a member of the Motorcycle Hall of Fame, who brought a lot of attention to the unfairness of the lead law when he hosted a media event at Malcolm Smith Motorsports and sold some youth OHVs as a symbolic gesture to protest the law," says American Motorcyclist Association President and CEO Rob Dingman.
Since CPSIA took effect, the MIC and AMA have been working to end the ban.
"On behalf of riders everywhere, we thank the Congress and the President for their action on H.R. 2715 to reverse the unintended ban on youth ATVs and motorcycles," says Paul Vitrano, general counsel of the MIC. "In particular, MIC and its members thank Rep. Mary Bono Mack (R-CA) for sponsoring the bill and Rep. Denny Rehberg (R-MT) and Sen. Amy Klobuchar (D-MN) for leading the Congressional effort to enact the categorical exclusion."
Published August 15th, 2011 10:38 AM
Top Brands
Popular Articles