1 View
Terracross Highlights From Haydays [Video]
September 15th, 2011 4:47 PM
Share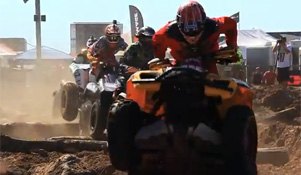 Terracross, formally known as Quad Terrain Challenge, made its return to the world of off-road racing at the 2011 Haydays Extravaganza.
ATV and UTV racers faced gnarly rock crossings, intense log sections, deep mud and other chaotic elements.
Our friends at Rath Racing are fighting to get Terracross back on the racing forefront and they put together a short video from the event.
"I have missed this type of racing and am excited to be a part of it again. The truly exciting part for our industry is the goal of this becoming a complete series with dedicated TV coverage," says Rath. "This race is following the debut of Endurocross at Summer X Games – those reviews only fueled this project to a higher level."
Get the Flash Player to see this player.
If this is the kind of thing you'd like to see more of (we certainly do), start letting race organizers and ATV manufacturers know about it!
Published September 15th, 2011 4:39 PM