1 View
Caleb Moore to Backflip a RZR at SEMA [Video]
October 31st, 2011 1:35 PM
Share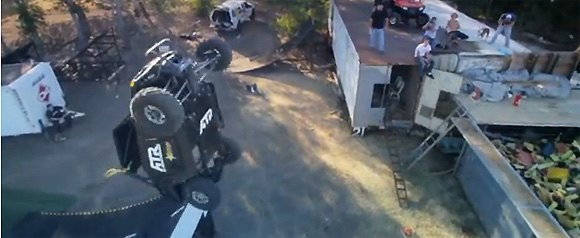 Caleb Moore will attempt to flip his Polaris Ranger RZR at the 2011 SEMA show.
It was only a matter of time before somebody would try. Give an adrenaline-fueled off-road junkie a ride and he'll push the envelope in just about every way possible.
At the 2011 SEMA show in Las Vegas, freestyler extraordinaire Caleb Moore will push the boundaries of sanity and good sense when he attempt to flip a highly modified Polaris Ranger RZR.
Moore is working with the crew at ATR (All Terrain Research) to prepare the RZR for its 360-degree journey. We'll get to see it happen live at SEMA. If you're not able to attend yourself, fear not. ATV.com will be there with cameras rolling to capture this epic feat.
The 2011 SEMA show runs from Nov. 1 through Nov. 4.
Get the Flash Player to see this player.
Published October 14th, 2011 5:17 PM