1 View
Corry Weller Wins LOORS SR1 UTV Title
December 21st, 2011 11:56 AM
Share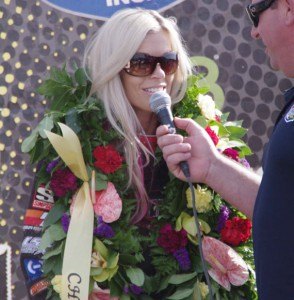 ATV.com
contributor Corry Weller won the LOORS SR1 UTV title at the season's final race, held Dec. 10 in Phoenix, Ariz. The SR1 class features heavily modified Yamaha Rhinos that utilize a Yamaha R1 1000cc motorcycle engine.
Weller is the first woman ever to win a LOORRS championship. She finished the race at Round 15 despite a mishap which damaged her vehicle's front end, garnering enough points to take home the championship. The race capped a triumphant season that saw titles for both Weller and her husband, Jason, who previously won the 2011 Arizona Lucas Oil Regional Series championship in the same machine.
She trusted Maxxis' Ceros UTV tires to take her to the winner's circle throughout 2011.
"Tire choice is huge in this type of racing, and the Ceros got us to the front over and over again," says Weller.
In an incredible season, Weller stood atop the podium twice in the highly competitive SR1 UTV class. She took second six times and finished third at three rounds.
Related Reading
Yamaha Rhino Project – Part 1
Yamaha Rhino Project – Part 2
Published December 21st, 2011 11:22 AM