2 Views
Polaris RZR XP 900 Wins Two Classes at Dakar Rally
January 30th, 2012 11:58 AM
Share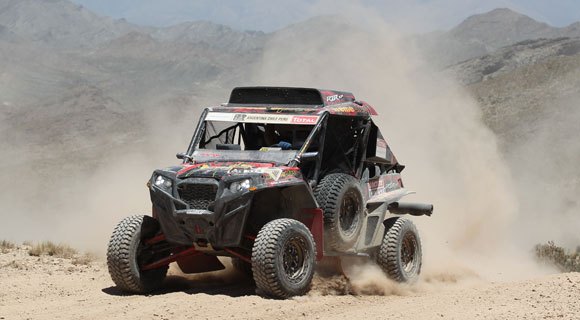 Official Team Polaris/Xtreme Plus participated for the first time ever at the Dakar 2012, the world's toughest off-road race. After having developed a special new FIA class (T3) for the RZR, the Polaris/Xtreme Plus Team had run some tests in several events, and won the Dakar Series, in Russia, in July 2011.
But Dakar is definitely another story, with more than 9000 kilometers (5592 miles) of racing, three countries crossed in South America, 469 participants, and various terrain and extreme weather conditions.
Team Polaris/Xtreme Plus enrolled a very experienced driver Willy Alcaraz No. 374, who had participated in Dakar in several classes as a driver and co-driver, and set up one goal for the first event, reach Lima in Peru in the Polaris Ranger RZR XP 900!
After two weeks of the race, Alcaraz proved the RZR XP is one of a kind, as the team reached the initial goal by crossing the finish line in Lima without any technical issues. But they also claimed the win in two different classes: T3 and solo. The No. 374 managed also to finish some of the longest and hardest stages in the top 30, finishing 42 overall in the car class. No doubt, this is a unique and an historical performance for Alcaraz, the Polaris RZR XP and Xtreme Plus Team!
"In Puerto Plata, at the start of the race, everybody was amazed to see me alone in my small car. Some of them were even laughing at me!," says Alcaraz. "But days after days, they were less and less smiling when I was overtaking them in the dunes. Even if my top speed was inferior on some trails, the RZR XP was just incredible and fun to drive in the toughest technical section. I managed to stay always in the top 50. I had just to repair, change a couple of tires and PVT belt along the race. The vehicle was very well prepared by Xtreme Plus and the mechanic guys did a great job every night. This is an incredible result for Polaris, the team and myself!"
"We showed everybody the RZR XP is best lightweight buggy, with a dedicated class (T3) to race. It is very fun to drive and it has amazing capacities when the terrain is becoming technical," says Marco Piana, Polaris/Xtreme Plus Team Manager. "No doubt that a driver with a more expensive car and buggy will start looking at this affordable vehicle to race Bajas, Rallye Raid and Dakar."
Published January 30th, 2012 11:58 AM
Top Brands
Popular Articles