1 View
ITP Introduces Mega Mayhem Tire
February 15th, 2012 3:26 PM
Share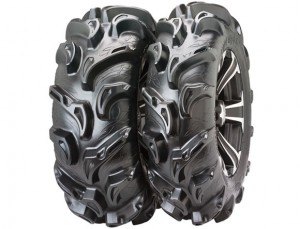 If you're in the market for an ATV or UTV tire that can tame the gnarliest terrain, ITP may have the answer with its new Mega Mayhem tires.
ITP is set to make even more mischief in the ATV/UTV aftermarket with the introduction of the all-new Mega Mayhem. This younger brother of the original ITP Mayhem uses all the tricks of its sibling, but has added some wicked moves of its own.
The Mega Mayhem borrows much from the original ITP Mayhem, but features an even more aggressive 1.5-inch-deep lug for what ITP calls "ferocious bite."
According to ITP, the unique tread pattern behaves well on harder surfaces, while its lightweight 6-ply carcass offers exceptional acceleration and braking characteristics as well as balanced cornering traits. Like its older sibling, the Mega Mayhem is adorned with distinctive, tribal-inspired, embossed artwork.
ITP is producing the new Mega Mayhem in eight sizes ready to be installed most popular Utility ATVs and side-by-side UTVs: 27×9-12, 27×11-12, 27×9-14, 27×11-14, 28×9-12, 28×11-12, 28×9-14 and 28×11-14. For more information, visit ITPTires.com.
Published February 14th, 2012 4:23 PM