1 View
Yokley Racing Report: John Penton GNCC
July 11th, 2012 3:45 PM
Share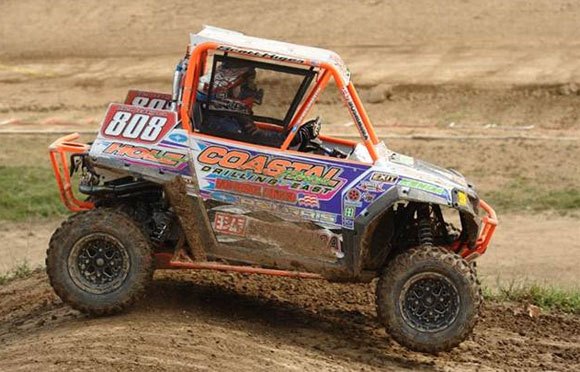 National Guard / Coastal / Bowers Motorcycle Supplies / Yokley Racing Team rider Jarrod McClure finished sixth Overall and sixth in the XC1 Pro Class at the John Penton GNCC in southern Ohio. Meanwhile, National Guard / Polaris / Coastal / Yoshimura / DragonFire / Yokley Racing Team driver William Yokley had a mechanical issue and did not finish today while teammate Scott Kiger finished third overall and third in XC1 Modified class.
Summary – ATV
The main concern for everyone at this year's John Penton GNCC was the heat wave that is hanging over the eastern U.S. Temperatures for race day were well over 100 degrees with high humidity, making it hard on everyone. The course consisted of some new, technical woods sections, open fields, creek crossings and the Sunday Creek Raceway motocross track.
At the start, McClure's machine did not immediately fire up, putting him near the rear of the XC1 Pros going into the woods. He quickly worked his way up to fifth place halfway through lap 1. The field sections were very dusty, and McClure hit a stump that he couldn't see. The resulting impact threw him off the ATV, forcing him to dodge other riders as he tried to locate his machine! After losing a few positions, he got going and tried to make up some ground.
McClure worked his way up to a sixth place finish on the last lap. These were some of the hottest and toughest conditions in which Jarrod has competed. The GNCC now takes their summer break and the next event is the Unadilla in New Berlin, NY on Sept. 15. See you there!
Summary – Side by Side
The John Penton GNCC course is always challenging with tight Ohio woods sections, open fields and the Sunday Creek Motocross course. This year, the Racer Production team cut in more than a mile of virgin woods trails, making it more interesting.
The National Guard Coastal Polaris Team prepared the best they could for the oppressive heat. At the start, the Yoshimura-tuned Polaris machines of Yokley and Kiger were first and second as they headed into the woods. Yokley came out of the woods onto the motocross track section at the end of lap 1 with a 30-second lead. As he went back into the woods, his machine started overheating with radiator issues. Not wanting to damage the engine so early in the race, Yokley decided to shut it off.
Scott Kiger ran a smart, smooth race and settled into third place. The woods sections and the motocross course were mostly dust free, but the open field sections were so dusty you could barely see. Kiger was consistent and finished up on the podium in third overall.
The next Side by Side race is the Power Line Park GNCC in St. Clairsville, Ohio on Oct.
Published July 11th, 2012 3:45 PM
Top Brands
Popular Articles