1 View
GBC and Yamaha Team Up for SXS & ATV Roundup at Brimstone
August 29th, 2012 3:10 PM
Share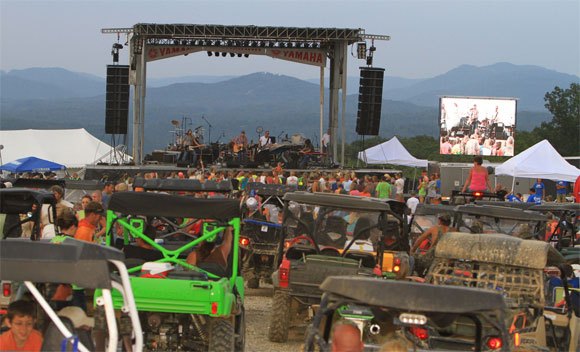 GBC Motorsports is returning as a sponsor of the 4th Annual SXS & ATV Roundup presented by Yamaha. The event is scheduled for August 31 – September 2 at Brimstone Recreation in Huntsville, Tenn.
Each year the SXS & ATV Roundup attracts visitors from across the country to Brimstone Recreation to partake in a multitude of SXS & ATV events, live music, and the fabled King of the Mountain Challenge.
The event kicks off on Friday, August 31 with guided trail rides of various skill levels followed by a Meet & Greet, Can-Am Sled Pull and "Deuling Drag Race" and the Yamaha Drive-In Movie.
The family fun continues on Saturday with the GBC Motorsports Pole Bend, Obstacle Course, Mud Surfing, and Mud Bog Ladies Dash for Cash. Rising country music star Dustin Lynch takes the stage Saturday night with his hit single "Cowboys and Angels" before Justin Moore rocks the crowd with hits like "Bait a Hook," "Small Town USA," and "If Heaven Wasn't So Far Away."
The racing action really gets going Sunday with the Kawasaki King of the Mountain Challenge. With a two-hour ATV race and a three-hour SXS race, competitors will battle a grueling course littered with obstacles for the title the King of the Mountain. With a $2,000 purse and the King's Septre on the line, this event is sure to be hotly contested and thrilling to the last lap. A special nighttime poker run, the Moonshine Run, will close out the weekend's events.
For more information, including a full weekend schedule, registration, and list of vendors visit www.brimstonerecreation.com/sxsroundup.
Published August 29th, 2012 3:10 PM