1 View
Maverick Vs. RZR XP – Jerry Matthews Thoughts
June 18th, 2015 2:47 PM
Share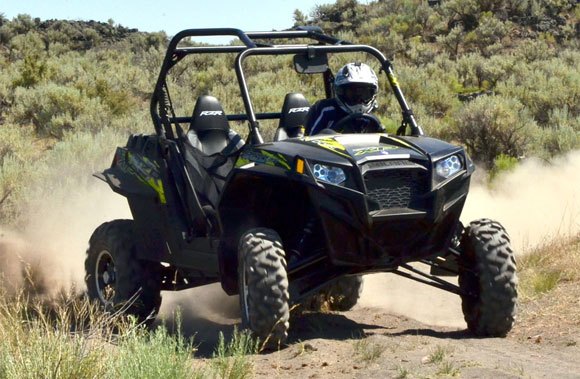 Test Driver Jerry Matthews offers his thoughts on the 2013 Can-Am Maverick 1000 X rs vs. Polaris RZR XP 900 LE shootout. You can read the full shootout article and see our video report here.
Occupation: Operations Manager, Starting Line Products
Hobbies: In the Winter I spend the majority of my spare time snowmobiling…in the Spring and Summer months my time is split between my love for boating and fishing, riding ATVs, off-road motorcycles and UTVs. In the Fall, my spare time is spent hunting. And no matter what I'm doing I can't leave anything stock.
Off-road motorized recreation skills and experience: 25 years actively snowmobiling including being involved in many new model snowmobile evaluations for the past 15 years. I have actively been riding motorcycles for the past 33 years, the majority has been off-road and I really enjoy tight, technical riding. I have a profound love for sport quads especially on the sand dunes at Saint Anthony, Idaho. I was introduced to the UTV industry back in 2008 and have found a love for it. I especially like them on tight, twisty desert trails or on the rocks around Moab.
2013 CanAm Maverick 1000R X RS Scorecard
Steering input and feedback – Excellent
I thought the steering had the right balance in effort and feedback. I was very comfortable driving this machine at high speed on desert roads and in the sand. I do wonder if it would have too much feedback and require too much effort when riding the rocks in Moab.
Engine power – 2 Good
The engine was very had very good power, especially off of the bottom, but left a bit to be desired on top end. After some research I found that the peak rpm should be about 7800-7900 for best top end power and this unit was only revving about 7300 and maybe only 7200 on the sand. That tells me it was most likely clutched for sea level and we were running it at 4700-5000 feet. Re-clutching it for this elevation I feel would give it much more top end power and better speed. However, getting to the clutches is quite a chore on this model….no wonder most dealers don't optimize the clutching for the elevation that the unit will be ridden.
Clutching – 1 Poor
I'm rating it as poor because it was off on peak rpm nearly 1000, which is a country mile. However, it didn't fall off much more when we hit the sand. Where the peak rpm was off all day, I would like to run it with optimized clutching to see how it compares to the RZR 900 XP with it optimized as well. The bottom end and midrange felt good and if one didn't know better, you would say top end worked well. But finding out how far the peak rpm was off leads me to believe there is much more power left inside this unit just wanting to get out… only to be held back by poor clutch calibration.
Traction – 3 Excellent
The traction felt really good on this model. I did not feel out of control very often. Once we got to the sands it became even better when we dropped the air pressure.
Cockpit (gauges, leg room, steering wheel fit to hands, ergonomics) – 2 Good
The cockpit is good, almost excellent. The only thing that holds it back is with the engine mounted between the driver and passenger, the heat from that engine eventually transfers through the plastic to the driver. Otherwise I really like the cockpit. It has plenty of room for me. The gauges are well placed and easy to read and the steering wheel fits well into my hands. The steering wheel is much better than the RZR steering wheel as it does not flex much when going fast through the bumps. I did not like the upper netting as I felt it added a blind spot to my peripheral vision. But I do like the way it connects better than the RZR. It has a much more substantial latch mechanism. I like the size of the cup holders in this unit, but where it is located above the engine, it is only good for hot drinks.
Seats – 3 Excellent
I like these seats, but with that said, they are still not the most comfortable I have ridden in. However, they are the most comfortable factory seats, so I have to give them the excellent rating. The seats are large enough for me and cradle my body better than the competition.
Fit and Finish – 3 Excellent
I'm going to give them excellent here because there was nothing that stood out as a problem. I like the traction in the floor pans as it gives you something to dig into when running hard through the corners and moguls. It is easier to stay planted because of that.
Overall looks and appeal – 3 Excellent
I think this car looks sharp! At first glance it looks big and tough but with a sporty twist. The color scheme is very eye catching and it sounds great.
Overall general comments
This vehicle has a lot of body roll when running aggressively in the corners. It is still stable, but the body roll makes it feel big and heavy.
I like all of the features that come stock on this model like beadlock wheels, premium shocks, adjustable seats and a substantial steering wheel. I used the tilt steering, but did not find that I needed to adjust the seat as it was set properly for my height.
I like the shock package that is on this machine, but would need to play with it more to make it ride to my liking. It was good, but it should have been noticeably better than the RZR and I felt that it may not have been even as good in the bumps. Some of this may have had to do with the difference in wheelbase and weight as well. But the good thing is these shocks are easily adjusted, allowing you to dial in your favorite setting.
Driving it in the desert was an absolute blast. I even enjoyed being a passenger (for the most part). You know you like a vehicle when you get out of it and you've had so much fun that all you can do is giggle. It is extremely fun to push hard on tight twisty desert roads…especially on a closed course where you know you can rail a blind corner without fear of a collision. In the sands it performed well, but the vehicle's power-to-weight ratio keeps it from performing like I really want it to. And with two people in it, it makes that harder to overcome. The key to running this vehicle on the sand is momentum is your friend.
Jumping this vehicle leaves a bit to be desired as its nose drops in the air. You can counter this a bit by making sure you are accelerating at the lip of the jump and staying on the throttle while in the air. But I found it still wanted to drop nose first.
Changing a belt or working on the clutches requires more time and tools than should be required. This is not a job I'd want to tackle in the field, but one that eventually will have to be done there. And you had better bring the proper tools to do the job, otherwise you may spend a week doing it.
The location for mounting a flag leaved a lot to be desired. There is not enough room on the underside of the bed to get a nut on easily and it takes longer in the parking lot to ready the car for sand use.
You cannot see over the hood as easily on this machine. It did not pose a problem anywhere we rode, but I'm sure in the rocks at Moab you would not have as much vision of your line as you would in a RZR.
Overall, I think this is a great machine. Yeah, I would still customize and tailor it to my liking…you know I can't leave anything stock.
2013 Polaris RZR 900 XP LE EPS
Steering input and feedback – 2 Good
The steering input is very light, but it doesn't give much for feedback. This can be a bit of a problem on a tight, fast desert road, but at slow speeds on the rocks in Moab it is great. After riding it a bit and getting used to the lack of feedback, I could run the tight twisties fast and confidently.
Engine power – 2 Good
Most people would rate the engine power as excellent as it is easy to run it hard and break the tires loose in most conditions – even at speed. The reason I rated it as good is because in the desert, the power was excellent, but on the sands it fell off on rpm – leaving a lot to be desired. While the RZR outperformed the Maverick in the desert, the Maverick killed it in the sands. This was mostly due to the RZR falling to about 7200 rpm in the sand. It is amazing how stock clutching at elevation in a high load condition can have such a substantial effect on engine power and overall performance.
Clutching – 1 Poor
I rate the clutching poor for multiple conditions. If you are only going to run it on desert roads and you don't plan to take it above 5000 feet elevation, then the clutching is good. But if you drop into a high load condition such as sand, expect your peak rpm to fall off leaving you wanting for horsepower.
Traction – 2 Good
At factory air pressure on the desert, this model felt like you were running on ball bearings. It was slick in the corners, but after some experience, it could be controlled quite well. This could have been partly due to the shorter wheelbase and the lack of feedback through the power steering on this model. Once we dropped the air pressure on the sand, traction was much better. I'm sure the lower air pressure on the dirt would have helped as well.
Cockpit (gauges, leg room, steering wheel fit to hands, ergonomics) – 2 Good
There is not as much room in the Polaris RZR cockpit as in the Maverick. But the Polaris cockpit is comfortable for the most part. I do not feel cramped, but if I were another inch or two taller, I would need more leg room. I do not like the steering wheel as it has too much flex in it and I would like some traction on the floor pan. I like the passenger grab bar on the RZR better than the Maverick.
Seats – 1 Poor
I don't like these seats very much. They do not cradle the occupants much and are not that comfortable to sit in.
Fit and Finish – 3 Excellent
I give them an excellent rating because there is nothing that stands out as a problem to me as far as fit and finish.
Overall looks and appeal – 3 Excellent
This vehicle looks very sporty. I think most everyone can envision themselves behind the wheel and sliding it aggressively through a corner.
Overall general comments
I don't like the net coupler on the RZR as it appears a bit on the cheap side, but it seems to function fine.
The RZR does not come with all the bells and whistles of the Maverick, but all said, it performs extremely well. I think Polaris has chosen to give customers what they need and leave the other items to be added on at a later date if desired.
I was surprised on our desert course how much faster my times were in the RZR verses the Maverick.
The steering wheel on the RZR should be more substantial. It has too much flex, noticeable most especially in the moguls.
I was surprised how I liked the RZR in the moguls better than the Maverick. May I say both were not that good, but the RZR had the edge by a bit. Wheelbase may have effected this somewhat.
The Maverick has a more sporty sounding exhaust than the RZR…this is not to say that the RZR sounds bad or is unpleasant.
Polaris did a good job with its Lock and Ride flag mount. It only takes seconds to ready the car for sand use.
Servicing the clutches or changing a belt is much easier on the RZR. However, there are not enough tools in the factory tool kit to get the job done.
The RZR jumps much better than the Maverick. The nose still tries to fall, but this can be overcome by staying on the throttle in the air (just make sure and chop it just before you land).
The RZR does not have much body roll in the corners, allowing you to confidently rail the corners as you please.
Conclusion from the two sport UTVs
What would I buy? That is a good question. I have to lean toward the RZR for a couple of reasons.
1) Aftermarket parts availability and knowledge. There are tons of different combinations you can choose to customize your RZR and make it work for your riding style. More parts are becoming available for the Maverick all the time, so this is going to become less and less of an issue. And you have to consider the amount of knowledge that is available in the industry regarding these two models. Face it, the RZR is very popular and so the knowledge base both in dealers and the aftermarket is better toward this model.
Editors Note: Full disclosure – Starting Line Products, Jerry's shop, sells and makes aftermarket products for Polaris RZRs and not for the Maverick – at least not yet.
2) Ease of changing a belt and servicing the clutch. The RZR is fairly straight forward, while the Maverick takes a lot more work to perform this "simple" task.
Now, with that said, I would have no issues with owning a Maverick as I believe it is a very good machine. I think it is a neat vehicle and has some features that I really like such as the beadlock wheels and floorpan traction. I think it looks sharper than the RZR and sounds fantastic. If you are a larger rider, you most likely will like the Maverick better because of its adjustable seat and roomy cockpit.
Published August 28th, 2013 3:44 PM
Top Brands
Popular Articles