1 View
2013 AIMExpo: Duro Tires Power Grip V2 – Video
November 4th, 2013 9:49 AM
Share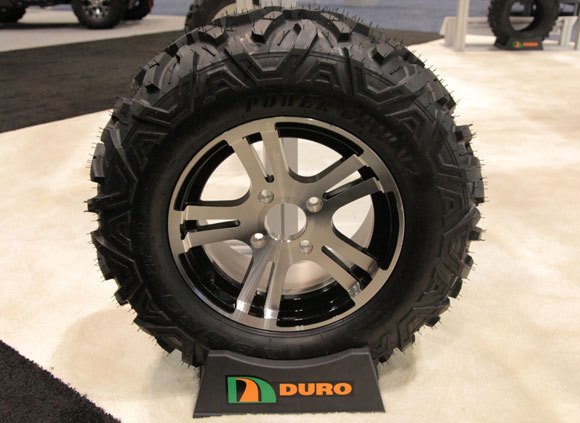 We saw surprisingly few ATV tire manufacturers at the American International Motorcycle Expo, Duro Tires was showcasing a brand new design.
Duro's Power Grip V2 is a new version of its Power Grip line. Featuring radial construction and a six-ply rating, Duro made the Power Grip 2 due to a response from its OEM partners. The Power Grip D2 has a more rounded profile than the regular Power Grip. As well, it lighter, features more spread out treads and has additional puncture resistance between the tread blocks and shoulder area.
The Duro Power Grip V2 is being initially released in 27X9-14 and 27X11-14 sizes, but Duro says 12-inch and 14-inch sizes will follow in the coming months.
Visit DuroTire.com for more information.
Get the Flash Player to see this player.
Published October 24th, 2013 4:33 PM