1 View
Club Car Unveils New Line of Carryall Utility Vehicles
June 19th, 2015 2:30 PM
Share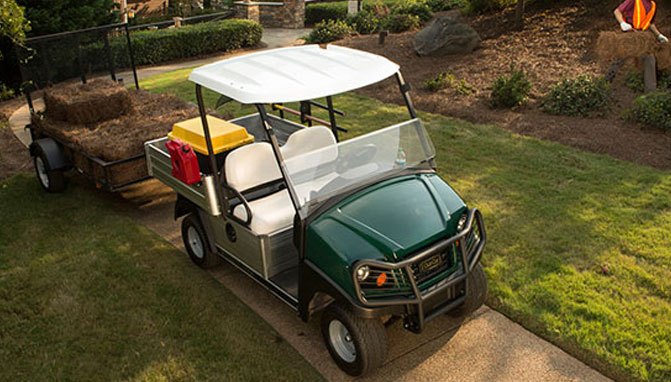 Club Car has launched a new line of Carryall Utility and Transport vehicles designed to help commercial and industrial customers switch from pickup trucks to gas, diesel or zero-emissions electric utility vehicles (UTVs).
"We designed and engineered the new Carryall utility vehicle line based on customer feedback obtained through a global listening tour. As a result, they incorporate the improved power, versatility, reliability and fuel efficiency today's customers demand," says Ross Lyons, Carryall product manager.
The vehicles will retain the rustproof aluminum frame, rack-and-pinion steering and independent front suspension system from prior Carryall models.
In addition to work utility vehicles, the Carryall line includes Transporter transport vehicles, which can carry up to six passengers, as well as street-legal Carryall LSVs (low speed vehicles).
Club Car partnered with Subaru, whose engineers adapted automotive technology to design a new engine for the Carryall utility vehicles.
The 14-hp-rated, 404cc, single-cylinder overhead cam engine features electronic fuel injection, capacitive discharge ignition, hemispherical heads and a case-hardened steel timing chain. A splash lubrication system eliminates the need for oil filters, simplifies maintenance and reduces environmental waste. Each engine carries a two-year/3,000-hour limited warranty.
Club Car boasts the new engines boost horsepower by 30 percent and fuel efficiency by as much as 50 percent over previous Carryall utility vehicle engines.
Most new electric Carryall utility vehicles will feature a combination of an on-board, high-frequency charger with an integrated cord retractor as standard equipment. Club Car says the solid-state, global charger is 92-95 percent efficient, a 10 percent increase over the old charger.
To reduce the chances of stranded crews due to vehicles not being charged, it is designed to issue an audible alert when charging begins and keeps charging even during power swings.
The charger can be programmed for multiple algorithms, including lead acid or gel/AGM batteries. "So if you change batteries, you won't have to buy new chargers," says Lyons.
To charge the battery, connect to the plug (located on the front of car) to any 110-volt outlet, or 240-volt outlet.
An aluminum bed box features rustproof aluminum side panels to accommodate a configurable and removable track-based attachment system for carrying shovels, rakes, leaf blowers and other equipment.
Movable bed dividers and cargo tie-downs stabilize loads and prevent shifting. The system also accommodates optional ladder racks, bucket holders and other accessories. Further, the rustproof aluminum bed floor comes standard with Rhino Lining.
"This innovative bed box design makes the Carryall the most versatile UTV on the market," says Lyons.
According to Club Car, these vehicles are designed to accommodate a range of commercial options and accessories designed specifically for the Carryall utility vehicle line.
The optional cab, for example, is integrated into the vehicle's design, so it doesn't look bolted on. Its doors and windshield sit flush with the frame to help keep wind and rain out.
"The new Carryall utility vehicles raise the bar for utility and transport vehicles and offer our commercial, industrial and government customers a viable option over trucks and vans," says Lyons.
Visit ClubCar.com for more information.
Published January 8th, 2014 1:25 PM
Top Brands
Popular Articles