1 View
Willy Alcaraz Pilots RZR 900 to Dakar Victory
January 20th, 2014 10:30 AM
Share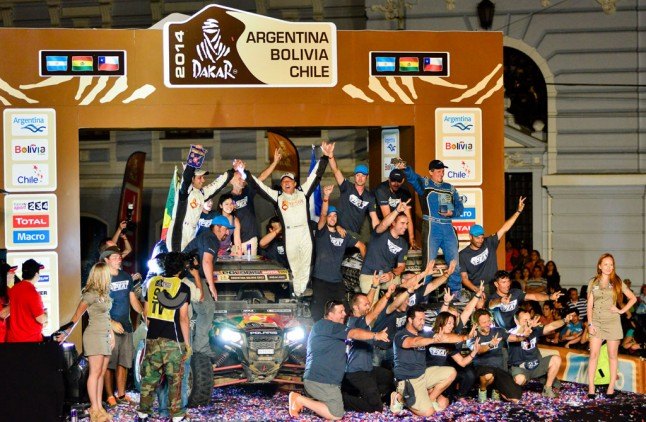 Xtremplus' Will Alcaraz is no stranger to the Dakar podium and this past Saturday he graced it for the third time, winning the prestigious and challenging race in his Polaris RZR 900. Xtremeplus brouht four RZR teams to Dakar and claimed the top two spots on the podium.
The last special stage of the Dakar 2014 was located in the hilly roads of Canela, surrounded by cacti on slippery tracks due to the morning rain. All drivers were required to stay focused to avoid any mistakes before the checkered flag announced the race was over. Willy Alcaraz, famed for taking on Dakar on his own, would, once again, cross the line alone and, while Xtremeplus teammates Nicolas Duclos and Sebastian Delaunay claimed second.
"It was the same special we had last year here, and also brittle," says Alcaraz with tears in his eyes. "There were dried rivers with big stones; I thought I could never get out of there. To be focused all the way was mandatory because it was very easy to slip away from the track, and I saw some traces of cars that went out. Today, it was required to show driving skills and not just to let go."
Xtremeplus' Duclos and Delaunay in their No. 364 RZR 900 would take a noble second-place finish in an incredibly challenging race.
"These last kilometers were beautiful," says Duclos at the arrival to Illapel. "In the middle of the cacti, the road was slippery at some points so you had to be very careful not to make a mistake. This morning, I had some pressure because we had to make it to the finish line without taking any risks, but at the same time, do our best. I can´t believe we are here. Compared to 2013, this was a lot harder at a physical level, but we did well and we took our place. Sebastien has done an excellent job, as usual. We didn't make any mistakes in almost 900 km of the race, and we kept our pace through all stages. This should keep on going, the Dakar is so great!"
Published January 20th, 2014 10:30 AM
Top Brands
Popular Articles