2 Views
Top 10 Spring ATV Maintenance Tips
June 17th, 2015 11:12 AM
Share
We're committed to finding, researching, and recommending the best products. We earn commissions from purchases you make using links in our articles. Learn more here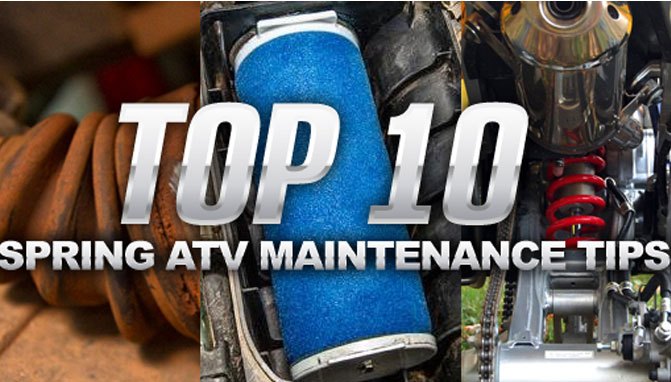 With the warmer temperatures coming and the trails finally opening up for the spring riding season, everyone is ready to get the old faithful ATV out and clean it up before the first ride. Cleaning is a good start, but we should look a little deeper into the machine itself and see what it may need before you flip that key switch and bolt off down the trails. After all , it could be the difference between a great day of riding with your buddies and one you'll want to forget!
Following these suggestions will hopefully get your ATV or UTV back on the trail and running reliably for many rides this spring, summer, and fall. If you ignore them, we don't want to hear you whining when it breaks down!
There are grease fittings or grease zerks located all over your Sport and Utility quads. It only takes a few seconds to fill those little suckers up and it sure does make the ride much smoother.
Bearings
With down time comes moisture and with moisture often comes rust. I know it seems we may get too technical sometimes, but just imagine if you didn't take the time to jack your quad up and simply spin the wheels to listen for rough or grinding in the wheel bearings. Now wouldn't you feel bad if you made it to the trail and couldn't ride away from the truck because of a bad bearing and you didn't have time to just check it?
Oil
One thing you may not realize is that if your machine sits a lot in the winter you need to change the oil before the first spring ride. This fluid is the most important fluid to check before all others. If it is low add some and if its milky or any color besides what you know oil is supposed to look like, then change it immediately or suffer the results!
Air Filter
Chances are you simply slammed the garage door down and left your poor machine in the dark after the last fall ride. Be sure to clean and re-oil your air filter, as well as make sure the filter isn't falling apart. This may be a great time to clean out the air box also because small rodents love hiding special treats for you in there during the cold days.
Fuel
Check the gas! If your ATV has been stored over the winter, the fuel in the tank and carburetor is most definitely no good. Drain it all out into an approved container and dispose of it properly. If you didn't add a fuel stabilizer then you may actually need more than a drain.
Chain or CVT
The chain on a Sport quad needs constant attention and lubrication and should be adjusted before a hard ride season. The drive belt or CVT belt also needs attention for premature wear or signs of a future problem.
Coolant
Keeping your machine at a cool operating temperature is paramount. Always be sure to top off this fluid and be sure to look for any signs of foul play in case the engine is throwing oil into the coolant passages.
Carburetor
Draining the carb before storage is a must do and if forgotten should be done before a spring ride, especially with the garbage that's being added to our fuels these days. Be sure to drain any excess fuel from the bowl in case there is water from condensation, which forms when the ATV or UTV sits silent for extended periods of time.
Swing Arm Bolt
This rarely looked at pivot point makes the difference between a smooth ride and a hurting back. It has also bitten more than its share of riders, so give it a good tightening. It just takes a few minutes to inspect and tighten the swing arm bolt nut.
CV Boots
If you ride a Utility quad long enough you will have a broken CV axle boot at some point. You will want to carefully check the CV axle boots on both the inside and outside ends of the axle as these can get torn and suffer dry rot after many years of neglect. Published March 25th, 2015 12:27 PM
Top Brands
Popular Articles