1 View
Is This the Name of Yamaha's Pure Sport UTV?
April 17th, 2015 12:05 PM
Share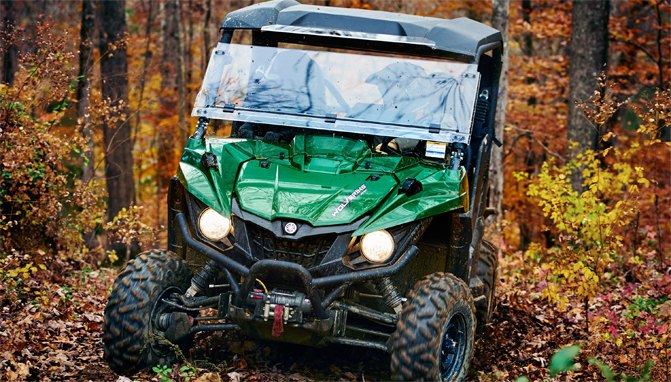 As we wrote about in February, we are expecting Yamaha to come out with a pure Sport Side-by-Side in the relatively near future. We've been hunting hard for information to back up our thoughts and a recent trademark filing by Yamaha has thrown a little more fuel on the fire.
On April 9, 2015 Yamaha trademarked the name YXZ SS. While it doesn't seem like much, we think it could be the name of the vehicle we've been waiting for. Let us explain why.
Yamaha uses the YX designation for it Side-by-Sides. The new Wolverine R-Spec has YXE in its model name, while the Viking has YXM and the Viking VI has YXC. We are confident the YXZ is Side-by-Side and it will be a new model.
Now is the part where we have to take a leap of faith. While the YXZ could simply be a four-seat version of the Wolverine, we don't think that's the case. If you look at Yamaha's ATV and motorcycle lineups, vehicles with a 'Z' tend to be race-oriented or at least very sporty. Consider the YFZ450R Sport ATV, the YZ450F and YZ250F dirt bikes, and the YZ-R1 and YZR6 super sport motorcycles. While we have less historical evidence, we are also inclined to believe that the SS at the end of YXZ SS hints at something sporty.
If you go back a few years, the venerable Yamaha Rhino 700 and 450 shared the same YX at the front of their model names. This could very well be a coincidence, but could the Rhino name be making a comeback?
After doing a little more digging on the trademark application, we found that Yamaha initially applied for a trademark of YXZ back in October of 2013 and were given a notice of allowance on May 27, 2014. That second date is important, because if Yamaha hasn't provided a statement of use to the United States Patent and Trademark Office within three years (something showing the name has been used on a product for consumers), it will lose the trademark. That's just over two years from now.
Our chase for information on a pure Sport Yamaha Side-by-Side actually began from something Yamaha wrote in its 2014 Business Results Report. It was here that Yamaha said one of its main initiatives is to increase market pressure "toward the long-awaited sports category." We are hoping the wait will be over soon.
Published April 17th, 2015 12:02 PM
Top Brands
Popular Articles