1 View
Michigan to Host 2016 AMA Ice Race Grand Championship
October 15th, 2015 3:08 PM
Share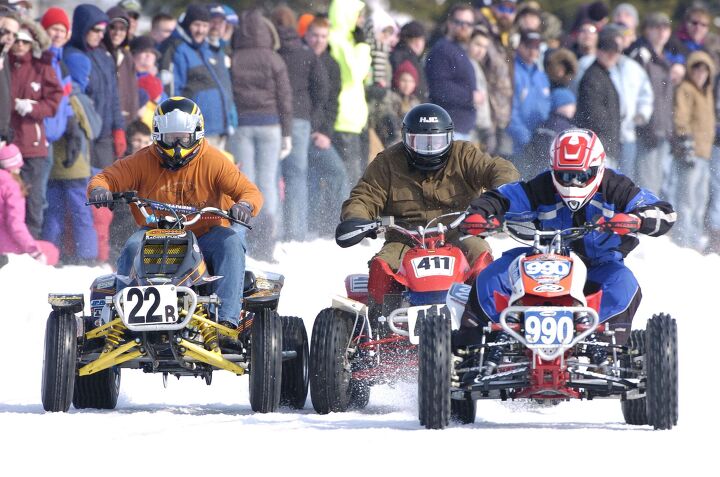 ATVs and motorcycles take to the ice Feb. 13-14
Some hardcore ATV and motorcycle racers will descent on Waterford, Mich. this winter. The 2016 AMA Ice Race Grand Championship is scheduled for Feb. 13-14 and will be hosted by White Lake Racing.
"Our AMA ice racers wait all year for this event," said AMA Track Racing Manager Ken Saillant. "White Lake Racing's partnership with the AMA offers racers a top-notch event to showcase their talents. The facility is located just outside of the Detroit metro area, so we're expecting the race to draw a lot of local fans in addition to the racers and their families."
Competitors will battle for AMA National No. 1 plates in a variety of classes on the oval track on Saturday and the grand prix on Sunday. On Saturday night, a non-championship rubber tire enduro race will be held under the lights.
An AMA specialty award for Ice Racer of the Year will be bestowed upon one outstanding rider. Some of the past winners include Kaley Johnson, Allen Rabinette, Parker Norris and Kyle Johnson. The AMA Youth Ice Racer of the Year also will be named at the event. Past recipients include Emmett Sund, Christopher Blackmer, Nathan Gross and Jace Kessler. In addition, the AMA ATV Ice Racer of the Year will be awarded.
"It's a great privilege and honor for my organization to host this event for the first time," said Jeremiah Sherman, the owner of White Lake Racing. "We have done loads of work to grow the sport of ice racing in lower Michigan and around the country. We look forward to working with our partners at the AMA and other ice racing organizations around the Midwest, as well as some great sponsors that support us every year."
Sherman added that people tend to forget about ice racing due to its regional nature.
"All the other disciplines take the winter off," Sherman said. "All the fast guys who want to stay in shape go ice racing. I think this is why Michigan racers have a competitive edge in national-caliber dirt track events. Bring on the hard water, let's race!"
Pre-entry for the event opens Jan. 1, 2016 at www.whitelakeracing.com.
The AMA Ice Racing Grand Championship features classes for riders from 4 years old to 50-plus competing on bikes that range from lightly modified off-road machines to full-on, purpose-built ice racers.
Published October 14th, 2015 1:07 PM
Top Brands
Popular Articles