1 View
Wienen and Fowler Honored on Yamaha Wall of Champions
December 21st, 2015 3:04 PM
Share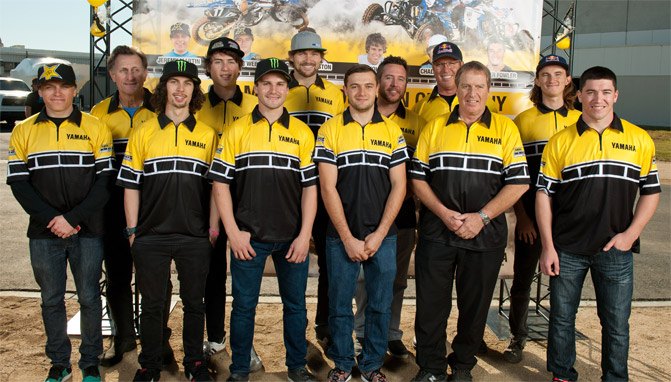 12 racing titleholders among honorees in 2015
Yamaha has inducted 12 ATV, Supercross/Motocross and Road Racing titleholders into the Yamaha Wall of Champions, including ATV racers Chad Wienen and Walker Fowler.
Yamaha held an event to honor its 2015 motorsports racing winners as well as select champs from the past and celebrated over 20 years of support for the charitable Feed the Children (FTC) organization. Topping things off in recognition of its 60th Anniversary, the event was decked out in Yamaha's heritage yellow and black color scheme.
Spanning more than 25 years of Yamaha racing wins and championships, this year's victors included: Walker Fowler, 2015 GNCC XC-1 Pro ATV Champion; Chad Wienen, 2015 AMA Pro ATV MX Champion; Jeremy Martin, 2015 AMA 250cc MX Champion; Cooper Webb, 2015 AMA 250cc West Region Champion; Joe Roberts, 2015 MotoAmerica Superstock 600 Champion; JD Beach, 2015 MotoAmerica Supersport Champion; Jake Gagne, 2015 MotoAmerica Superstock 1000 Champion; and Cameron Beaubier, 2015 MotoAmerica Superbike Champion.
Past racing greats recognized at the event included Rick Johnson, 1984 AMA 250cc Motocross Champion; Grant Langston, 2007 AMA 450cc MX Champion; Mike Baldwin, 1978 AMA Formula 1 Champion; and Rich Schlachter, 1979/1980 AMA Formula 1 Champion.
This year, Yamaha's commitment to Feed the Children helped raise $31,363 through employee and direct corporate donations. Yamaha presented FTC with a check at the event. Yamaha has helped raise more than $5 million in cash and supplies for FTC over the past 20 years.
Published December 21st, 2015 3:04 PM