1 View
Riderless ATV Looks Like It's Ridden by a Ghost + Video
February 5th, 2016 10:24 AM
Share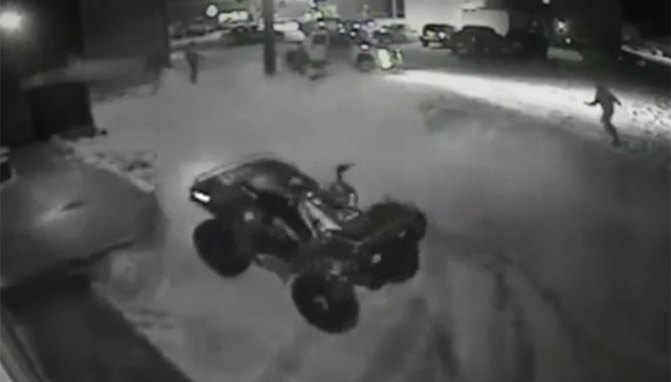 ATV takes off on owners and makes a mess in Iowa
While Google is trying to make driverless cars a reality, we're not sure the world is ready for a riderless ATV.
In the small town of Fort Atkinson, Iowa, a video has emerged of an ATV taking off without anybody onboard. Once underway, the ATV smashes against the wall of a building and start doing some expert-level donuts in the parking lot. It eventually straightened up and made a beeline towards a stack of milk crates, sending them flying in all directions before trying to ride up the wall of the building and flipping over.
Even with the machine on its side, the wheels are still spinning, causing sparks and sending more milk crates flying before somebody can shut it down.
While logic would dictate that the throttle somehow got jammed, we like to imagine it was a troublesome ghost like Peeves from Harry Potter behind the bars.
Get the Flash Player to see this player.
Published February 5th, 2016 10:24 AM