1 View
QuadBoss Partners With Technical Training School on ATV Project
September 22nd, 2016 1:08 PM
Share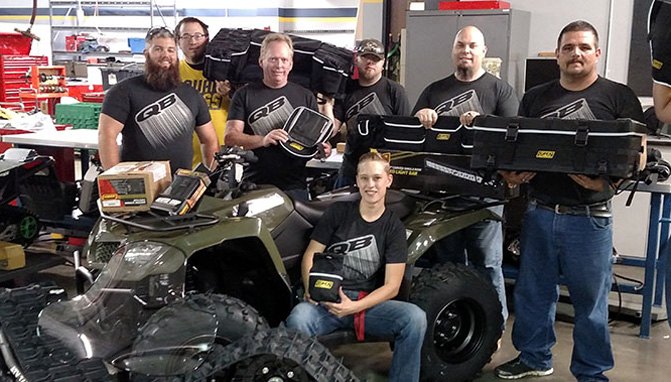 WyoTech Daytona students will get a chance to work on an ATV with QuadBoss parts
QuadBoss and nonprofit career technical training school WyoTech Daytona have partnered to help students prepare for the workforce. With help from QuadBoss, students at the school will have a chance to learn about and install aftermarket parts and accessories on an ATV, giving them the knowledge they need to enter into positions as service personnel in powersports dealerships.
"This is an exciting opportunity for both QuadBoss and Wyotech Daytona," says Jason Baldwin, Brand Manager for QuadBoss. "We are working with Wyotech Daytona on an ATV build, the first of many. The students will be installing a variety of QuadBoss products on a 2016 Suzuki King Quad 4×4 400 ASI and we will be adding some QuadBoss graphics as well. The ATV will travel all over the USA with Wyotech to events and also to other Wyotech locations. Helping them out with these builds get the students comfortable with our products and installing them. It's a win/win situation."
Wyotech is a technical school that describes itself as a "community of students and instructors who are passionate about the automotive, diesel, motorcycle, marine, collision and refinishing career fields." They offer their students post-secondary-level education in short-term career courses that prepare them for life in the industry.
"The partnership with QuadBoss benefits everyone involved," said Chris Barton, Campus Director and Academic Dean for WyoTech-Daytona. "We are a nonprofit school and our biggest asset is the ability to partner with great aftermarket companies like QuadBoss. Our freedom from industry restriction helps us not only diversify what we put on the machine so the students can learn about more than just one brand, it also allows us to showcase our friends in the aftermarket industry."
The finished quad will be used by the admissions department for events that include Bike Week and Biketoberfest as well as visits to high schools in the area. A plaque with the name of contributors will accompany the quad when on tour, and it will be displayed in the lobby of the school when not used for events.
Published September 22nd, 2016 1:08 PM
Top Brands
Popular Articles