46 Views
ITP Introduces New Mud Lite II Tire
October 24th, 2016 11:32 AM
Share
We're committed to finding, researching, and recommending the best products. We earn commissions from purchases you make using links in our articles. Learn more here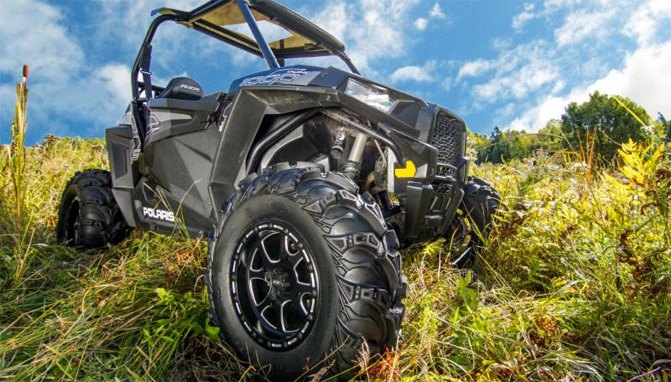 ITP Introduces New Mud Lite II Tire
ITP today unveiled the Mud Lite II multi-terrain tire, for ATV and side-by-side vehicles. The Mud Lite II features a next generation design with an all-new profile, carcass, tread compound and pattern.
"The original Mud Lite tire, one of the most popular tires in our diverse lineup, was designed for ATVs prior to the introduction of side-by-side vehicles," stated Rhett Turpin, Head of ITP Sales. "The new Mud Lite II offers the same proven performance as the original, but has been optimized in both profile and design for use with modern side-by-side vehicles."
The new ITP Mud Lite II tire is engineered for use with today's off-road side-by-side vehicles, offering a new profile, carcass and signature tread pattern.
New from the ground up, the multi-purpose Mud Lite II's new tread design mixes specially designed lug patterns in strategic locations on the carcass to create sure-footed traction in the mud as well as stability and comfort on the trails.
Trail Properties
To provide a smooth ride on the trail, ITP engineers designed Mud Lite II tires with a variable open-lug tread design to enhance traction over a variety of trail surfaces.
The v-shaped center lugs include integrated dimples for increased traction and versatility in both muddy and hard pack trails.
To minimize tire flex, increase support and reduce wear, the Mud Lite II tire has unique "tendons" that connect and stretch between the tire's lugs. The centerline dimpled, v-shaped lugs enhance traction on the trail while the lug height and positioning makes for an incredibly smooth ride on hard pack. The new multi-terrain Mud Lite II carries a robust 6-ply rating and the lug height varies from ¾-inch to 1 1/8-inch, depending on the size. The tire's shoulder also features an enhanced tread treatment for added sidewall protection and grip.
Mud Properties
Dimpled center lugs and a re-engineered chevron pattern provide massive forward traction in the mud. This tread design improves bite and enhances the tire's self-cleaning capabilities. The tire's shoulder features an innovative mud breaker tread design, which sits slightly raised on the tire between the taller chevron lugs, to channel debris and reduce the dreaded horsepower-robbing suction drag in muddy terrain.
The ITP Mud Lite II tires are engineered to offer a smooth ride on a wide variety of trails, while also supplying enough traction and bite for conquering nasty mud holes.
"ITP engineered the next generation Mud Lite II tire with new levels of innovation and integrated technology to meet the modern demands of ATV and side-by-side vehicle owners — riders who seek optimal durability, exceptional performance and versatility from an all-terrain tire," said Turpin.
The Mud Lite II is available in the following sizes: 25×8-12, 25×10-12, 26×9-12, 26×11-12, 27×9-12, 27×11-12, 27×9-14, 27×11-14, 28×9-14, 28×11-14, 30×9-14 and 30×11-14. MSRP pricing will range from $90 – $190 depending on tire size. The Mud Lite II will arrive in dealerships in December 2016. Published October 24th, 2016 11:32 AM
Top Brands
Popular Articles