106 Views
Why Does My ATV Lose Power When It Gets Warm?
March 1st, 2017 2:23 PM
Share
We're committed to finding, researching, and recommending the best products. We earn commissions from purchases you make using links in our articles. Learn more here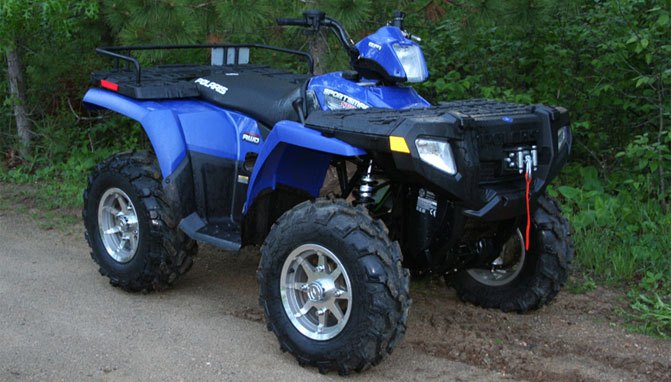 The AnswerMan helps out a troubled Polaris Sportsman 500
"Why does my ATV lose power when it gets warm?" That's the gist of the question I chose for this week's addition of the ATV AnswerMan, which is all about a Polaris Sportsman 500 H.O. that just won't cooperate.
Here's what reader Tommy asked the AnswerMan:
2008 Polaris Sportsman 500 EFI Review
I'm trying to fix my brother in law's quad (Polaris Sportsman 500 H.O.) and can't seem to figure it out. Runs good, until it's warm, then you drive at WOT for a minute and it loses power and starts backfiring. You back off throttle and it stops but starts again after a minute or if you get on it. The carburetor has been cleaned, we checked the spark plug, and then changed it. It isn't running lean or rich from what plug looks like. I threw on a new cdi box to test, tested stator output, only thing I find a little off is the coil resistance output are at the very top end and a little over the 20 percent variance that's allowed. So my next idea would be to change coil and plug boot. Have not replaced rectifier yet so could also be that, maybe. It does put out 285vdc peak of power to coil, should be 300 but I figured that was pretty close. So do you have any ideas?
Wow, it sounds like the slew of tests you have performed were quite extensive. There is, however, one item that might have slipped your mind.
Heat makes things expand, right? When you start a cold engine everything is tight no matter if it is worn out of spec or not, but soon becomes hot and loose? So the very first thing I would check is the compression when the engine is warm.
If the engine heats up and the cylinder compression gets low due to worn rings, the engine will begin to show signs of trouble. If this is a carbureted version of the 500 H.O. made up until 2013 then you would most likely not be pulling enough fuel through the carb to keep the engine running once warm.
The timing of a machine is also crucial. If the timing is off or the valves are out of adjustment you can also get these same symptoms in similar circumstances. Since I did not see a model year it's a little more difficult to tune in directly, but this should get you close.
Good luck.
RS Published February 16th, 2017 2:10 PM
Top Brands
Popular Articles