235 Views
Five Tips for Plowing Snow With Your ATV or UTV
March 9th, 2017 12:47 PM
Share
We're committed to finding, researching, and recommending the best products. We earn commissions from purchases you make using links in our articles. Learn more here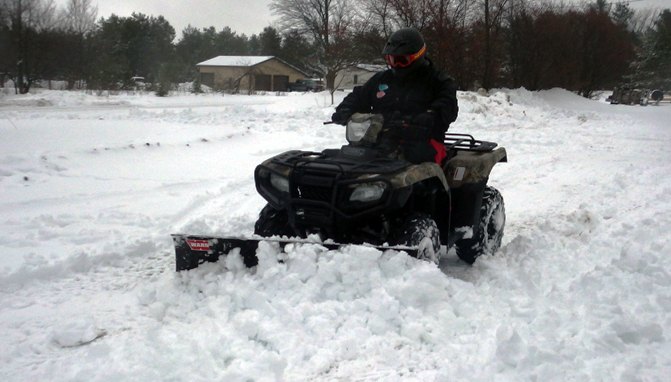 Get the most out of your ATV or UTV every winter
Plowing snow with your ATV or UTV is admittedly pretty fun to do. I know, it sounds weird, considering how much "not fun" it is to shovel. But you're outside, enjoying the cool air. You're riding your beloved machine. You're not killing yourself by shoveling. It really is kind of fun. But, like anything, you've got to make sure you're doing it right.
Make Sure Your Machine Can Handle It
I once heard an "expert" say that you shouldn't plow snow with any machine under a 700cc engine size. The logic was that anything smaller would put too much strain on the engine and break everything. That's not entirely accurate. While yes, a bigger engine size will make things easier, especially if you live in a region that gets a lot of snow, smaller engine sizes can handle plowing just fine. You may have to go a lot slower and plow multiple times. It's like using a snowblower. The smaller machines can do it, but it'll take longer you might have go over things several times.
I used a 2017 Honda Rubicon 500 for the entire season here in Michigan, and I live right in the Snow Belt that gets hammered with lake-effect snow. We set it up with a Warn ProVantage 2,500 winch and a complete Warn ProVantage plow system. You might ask why I went with "only a 500cc" class engine. The answer lies with the Honda DCT transmission. No CVT belt and the ability to select my gears makes the Honda an outstanding choice for this type of work. I went out after a particularly heavy snowfall that was very wet and nasty stuff. We had over a foot of new snow and then it started raining on top of it. Not great conditions for clearing the driveway. The Honda chugged right through it. In fact, I never got slowed down by the snow at all. It was pretty cool.
Do Your Maintenance
Make sure you have fuel and oil, like you do before you start plowing snow with your ATV or UTV. You should also check the coolant if you're using a liquid-cooled machine. They can get to running a little hot under the kind of load that plowing will put them under.
Check all the plow connections, too. The Warn winch that I used has three pin connectors and an eye that the winch cable hooks to. Checking them only takes a minute, but if one came undone, it could be disastrous.
A tip I learned from my father-in-law, who has been plowing snow for decades, is to wipe down the blade with oil. Cooking oil or even silicon spray works pretty well. It keeps a lot of the snow from sticking to the blade and helps it roll. You want the snow to roll off the blade so it moves where you want it to go.
Set Your Depth
Most plows have feet that allow you to set the depth the blade will dig in. If it's early in the season, or you've had a big thaw, set the depth high so you're not digging into the ground that isn't frozen. You don't want to tear up your driveway or your plow.
Follow the Contours
For most of us, there is a slight slope to the driveway. Hopefully it slopes away from your garage, too. When I was a kid, we had a drive the sloped toward our garage. When it rained, we had a flood. That didn't last long. You want to follow the slope and try to always be plowing downhill and away from your drive.
Whenever possible, try make sure you are plowing downhill.
When plowing snow with your ATV or UTV, start your first pass right down the middle with your plow blade angled off to the direction you want to plow to. You then continue to make passes toward that side. As the snow gets deeper, because you're piling it up, make your passes using less of the blade, so the runs overlap. This will help you get it done with less load on the plow and your machine.
Finishing Up
When you're all done, make sure you clean off the plow and your machine as much as you can. Leaving it covered with snow can turn into a real mess if and when it freezes, plus it can help promote rusting to exposed metal. Also, one thing I strongly suggest is making sure when you park the machine, lower the plow down to the ground. You don't need that added weight sitting on your suspension or the load on your winch. It just saves you in the long run, and if you're like me and live where snow isn't a rare occurrence, you're going to want to keep plowing snow with your ATV for years to come. Derrek Sigler
Derrek's love for all things ATV started when he was a mere 11 years old, growing up on his family farm. His mom gave him and his sister a choice - get a horse, or a three-wheeler. The sister wanted the horse, and Derrek wanted the ATV. Luckily he won out, and was soon burning up the trails on a Yamaha Tri-Moto 200. By the time he was 14, he had saved enough of his own money by working on the farm and in his folks restaurant to buy a new 4-wheeler. That happened the day he and his mom were driving past the dealership and saw 1987 Banshee. His mom had no idea what he was buying, and he never looked back. He's been riding ever since, and been writing professionally for many years. He has ridden all over North America and been behind the controls of just about every machine out there. And yes, he still has his 1987 Yamaha Banshee.
More by Derrek Sigler
Published February 24th, 2017 1:00 PM
Top Brands
Popular Articles