93 Views
Best Snow Plows for Your ATV or UTV
March 4th, 2021 3:52 PM
Share
We're committed to finding, researching, and recommending the best products. We earn commissions from purchases you make using links in our articles. Learn more here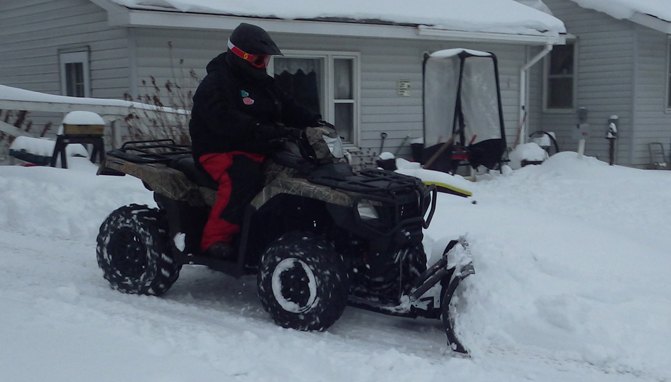 Turn your ATV into the ultimate snow clearing tool
When winter hits and stays around like a party guest that doesn't quite know when to leave, you need to be able to clear out enough of the driveway to get yourself out into the world for things like groceries, a paycheck or human companionship. If you're like many of us, you already have an ATV or a UTV in the garage that could pull snowplowing duty if you just had a plow setup. Here is our list of the best snow plows for your ATV or UTV – each one just waiting for you to put it on your machine and get to work.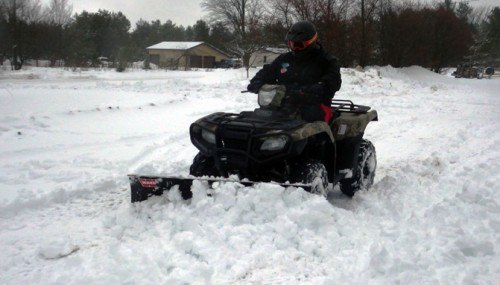 There's a few different ways to mount up a plow on your ATV. You will need the specific mount for your machine, and then you'll need a way to raise and lower it. Some are available with a hand-operated lever system. Take my advice and just add a winch. You want a winch anyway and we've already discussed them as to what makes for a good one. Spend the extra change to get a decent winch for plowing. There's a lot of up and down usage and a cheaper winch, while it'll save you a little in the beginning, will cost more in the end when you have to replace it.
Like any other task with an ATV, you have to decide how much you want to spend and how serious you want to be. If you have a lot of driveway to clear and live in an area that gets hammered with snow, you want to look for a robust system. At the end of the season, make sure you clean it and store the plow in a dry area, so that it'll be good to go when the snow starts falling again.
Table of Contents
1. Editor's Choice: Warn ProVantage
Yep, the folks at Warn also make one of the best plow systems for your ATV. Super high-quality construction and fit match well with a Warn winch to make your ATV a snow-removal master.
2. Kimpex Click N Go2 Plow
You may not have heard much about Kimpex plows, but go look at the online reviews for them. They are really outstanding plow systems and cost a fraction of what other models do. Definitely worth a look if you're setting yourself up to plow snow.
3. Kolpin Switchblade Plow
The Kolpin Switchblade Plow is a complete snow plow kit for a great price. Kolpin built the Switchblade out of stamped steel and it's bare finish is easy on eyes. But what sets it apart is the very clever switchblade system that lets you choose between a 60" or 72" blade length with the same blade. It's a smart system that is well worth checking out. Just keep in mind that it requires a winch to work properly.
4. Swisher Commercial Plow Combo
Swisher has a great reputation for ATV and UTV implements as well as lawn and garden equipment. Their Commercial Plow system is overbuilt to withstand added stress and use, much as you'd expect from a commercial plow system. Have a lot of driveway to clear, and clear often? Maybe a commercial system is for you?
5. Budget Option: Tusk SubZero Plow
Tusk has a host of excellent ATV and UTV parts and accessories (including the solid Tusk Terrabite tires), and the SubZero plow is no exception. The Tusk SubZero requires a winch to operate, but this plow comes with a synthetic rope to spare your winch line any extra wear to raise and lower the blade. The SubZero is available with 50- and 60-inch blades to fit a wide array of ATVs and UTVs. Derrek Sigler
Derrek's love for all things ATV started when he was a mere 11 years old, growing up on his family farm. His mom gave him and his sister a choice - get a horse, or a three-wheeler. The sister wanted the horse, and Derrek wanted the ATV. Luckily he won out, and was soon burning up the trails on a Yamaha Tri-Moto 200. By the time he was 14, he had saved enough of his own money by working on the farm and in his folks restaurant to buy a new 4-wheeler. That happened the day he and his mom were driving past the dealership and saw 1987 Banshee. His mom had no idea what he was buying, and he never looked back. He's been riding ever since, and been writing professionally for many years. He has ridden all over North America and been behind the controls of just about every machine out there. And yes, he still has his 1987 Yamaha Banshee.
More by Derrek Sigler
Published March 1st, 2017 4:26 PM
Top Brands
Popular Articles