18 Views
April 21st, 2017 10:29 AM
Share
We're committed to finding, researching, and recommending the best products. We earn commissions from purchases you make using links in our articles. Learn more here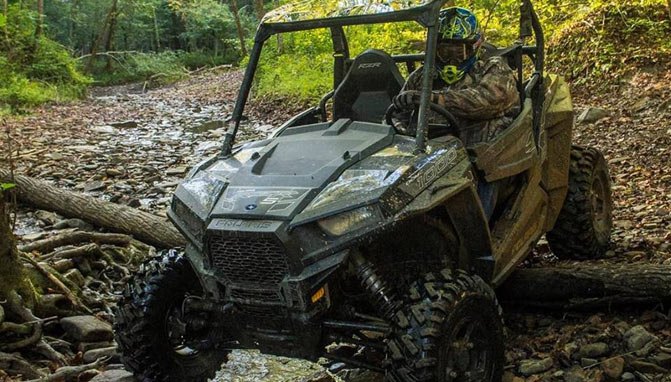 Five steps to a cleaner UTV
Unlike some folks who buy a cool off-road vehicle like a Jeep or a truck, but then they never take it off road to avoid getting it dirty, UTV drivers don't have that issue. We like to get dirty. Most of us don't swerve to miss a mud pit and for most, the thought of coming home with clean clothes and a spotless machine means we didn't go riding at all. However, it pays to know how to clean your UTV properly.
At the end of the day, a cleaner machine is going to last longer, so you eventually need to get the grime off. That means you're going to have to clean it. Luckily there are some great products out there to help you with these simple steps to a cleaner UTV. Remember a few basics before you get to cleaning. Make sure the air intake is sealed off from water getting into the airbox. Make sure your exhaust is plugged from getting water in as well. And make sure any electrical or fuel components are securely away from water as well. It'll just save you a few headaches. Now, about that mud…
Scrape
The first step to cleaning the gunk off your ride is to scrape off as much of the mud as possible. Trust us, we know all too well how difficult it can be to get all the nasty, sloppy mud off your ride. A handy tool to have on hand is a mud scraper. It can help you get into those hard-to-reach areas to get at the goo, without scratching your machine. You can pick one up right here.
Soap
The simple fact of it is, regular old soap doesn't cut it when it comes time to wash a UTV. You need something that will cut through grease and grime, without doing anything bad to the mechanics or plastic. That's where a good bike wash comes in. Yeah, you'll use a little more than if you were washing a dirt bike, but the same thing applies and your machine will look better and run better in the end. Check out bike wash here.
Scrub
You're ready to start scrubbing away at the dirt and grime. Be careful when you do because the plastics can get scratched. A good wash mitt will help get it clean without being too harsh. We don't know about you, but if we spend upwards of $20K on a ride, we want to have scratches from fun stuff, not from washing it off afterwards. You can buy a wash mitt here.
Rinse
A good pressure washer will save you a ton of trouble when it comes time to wash off. Be sure you can adjust the power settings as some will rip the graphics right off the plastic. But when you've got to get every bit of mud out of every nook and cranny, a pressure washer is the tool for the job. Shop for a pressure washer here.
Treat
You wax your truck after you wash it. Doing the same to your UTV only makes sense. Use a product that is specific to off-road use for better protection and easier use. It really does make a difference in the end. Pick up some UTV wax right here. Derrek Sigler
Derrek's love for all things ATV started when he was a mere 11 years old, growing up on his family farm. His mom gave him and his sister a choice - get a horse, or a three-wheeler. The sister wanted the horse, and Derrek wanted the ATV. Luckily he won out, and was soon burning up the trails on a Yamaha Tri-Moto 200. By the time he was 14, he had saved enough of his own money by working on the farm and in his folks restaurant to buy a new 4-wheeler. That happened the day he and his mom were driving past the dealership and saw 1987 Banshee. His mom had no idea what he was buying, and he never looked back. He's been riding ever since, and been writing professionally for many years. He has ridden all over North America and been behind the controls of just about every machine out there. And yes, he still has his 1987 Yamaha Banshee.
More by Derrek Sigler
Published April 12th, 2017 12:33 PM
Top Brands
Popular Articles