1 View
Why Does My Belt Keep Slipping?
July 20th, 2017 11:32 AM
Share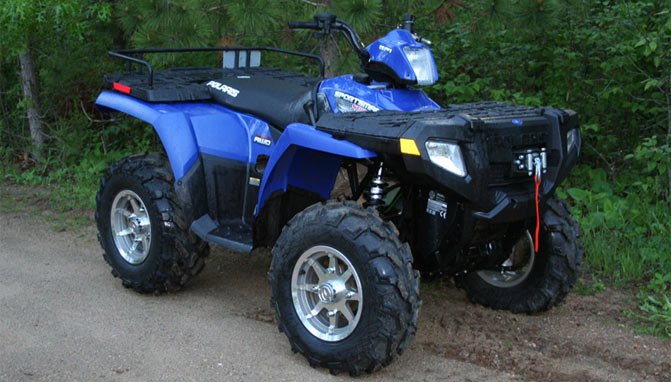 Polaris Sportsman 500 owner struggling with belt performance
Why does my belt keep slipping? This is what one confused Polaris Sportsman 500 owner wants to know and he turned to the ATV AnswerMan for help.
Here is exactly what the reader asked the ATV AnswerMan, followed by his answer:
I have a 2003 Polaris Sportsman 500 4×4 that grinds when putting it in gear. We took cover off clutch and the secondary clutch keeps turning when in neutral. So we looked and the belt wasn't lined up, we noticed the belt had slipped over on the track of the clutch. We moved it over and it worked fine so we put it back together, road it and it slipped off again. Is it the belt or the clutch?
There are several different scenarios that could be affecting the belt performance on your Sportsman 500. These machines did begin to have what's called EBS after 1999 and the belt should always be tight where older machines needed belt deflection or tension adjustments. With that said, the belt should be snug and alignment would be my first go to operation.
You stated that you can notice the drive and driven pulleys are not exactly lined up correctly, so let's look at the quick alignment procedure. You will need a tool that Polaris sells to get this correct unless you are very good with a straight edge. I'd say get a service manual and the tool if you plan on keeping the quad.
Before looking at the drive and driven sheave alignment I would get your hands on the driven sheave. There is a bearing inside this pulley system that might be going bad and causing the pulley to not release the belt. The roller bearing can freeze up as it goes bad, causing the consistent tension there. If these parts have never been serviced then you might think about a complete overhaul first.
As for the alignment, start with the purchase of the "Offset Alignment Bar" under Polaris part number 2870654. This tool will help expedite the pulley alignment and once placed onto the back half of the drive sheave the bar lays across the backside of the driven pulley. This gives you a bird's eye view of the alignment and how square the pulleys are. The clutch alignment is in spec when the gap between the tool and the driven sheave is about 1/8th inch of space. If this gap is larger or smaller, you will need to adjust the transmission to the engine for proper spacing. This is best explained in the OEM service manual. I'd say this could be a perfect starting point to figuring out your issues.
I hope this helps. Let us know how it works out.
Published July 20th, 2017 11:30 AM
Top Brands
Popular Articles