1 View
ATV.com Reaches 5 Million YouTube Views
January 3rd, 2018 2:49 PM
Share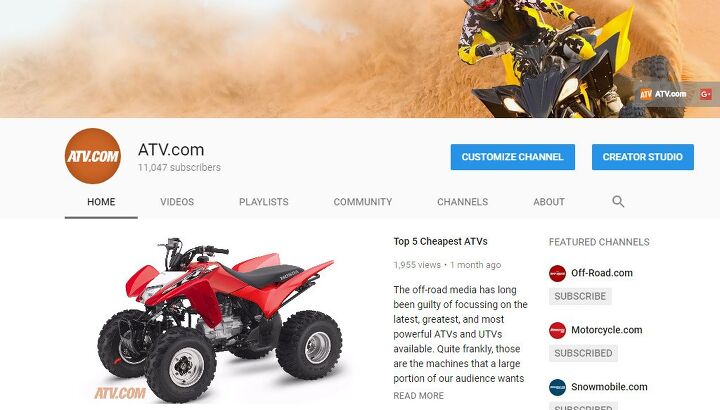 The ATV.com YouTube channel recently hit a major milestone when it surpassed 5 million total views.
We started the ATV.com YouTube channel late in 2010 and it has been home to to a variety of ATV and UTV reviews and comparisons over the years.
Taking a look at the stats, the most popular video we've ever posted in the 2013 Polaris Scrambler XP 850 Review, which so far has racked up 394,000 views. The 2013 Yamaha Raptor 700 Review (335,000 views) and 2013 Can-Am Outlander MAX Unlimited vs. Polaris Sportsman Touring 850 EPS comparison (302,000 views) are second and third on the list.
After a few years of staying fairly stagnant, we put some effort into making more videos in 2017, adding a total of 30 new videos to the channel. We plan to keep that up in 2018 to continue to grow.
If you haven't done it yet, you can subscribe to the ATV.com YouTube channel here.
Published January 3rd, 2018 2:49 PM