2 Views
What to Look for in a Youth ATV
June 26th, 2019 2:28 PM
Share
We're committed to finding, researching, and recommending the best products. We earn commissions from purchases you make using links in our articles. Learn more here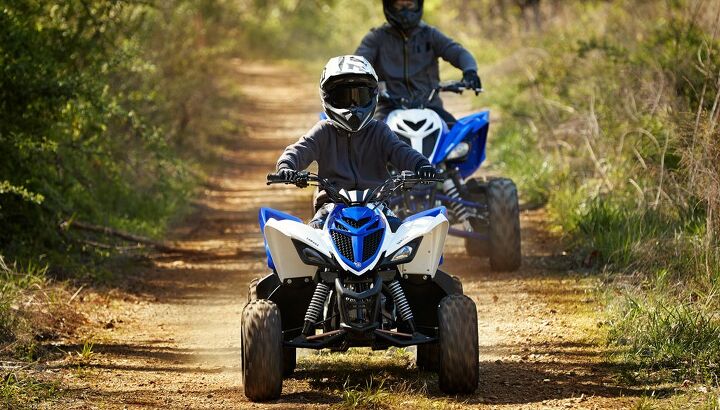 Getting your son or daughter started in the ATV world can be complicated. But don't fret – we are here to help by explaining what you need to look for in a Youth ATV.
We all remember our first ATV. Mine was a Yamaha Tri-Moto 200 three wheeler. Of course that was back before we had the regulations and safety protocols we have today. With the wide assortment of youth ATVs available, you can let your child experience the fun and independence of being in control of his/her own machine. Picking the right youth ATV can be a little tricky, but it doesn't have to be. Here are some tips to help you know what to look for in a Youth ATV.
Age Appropriate
The first thing to look for in a youth ATV is knowing which size machine is appropriate for your child's age. For kids age six to ten, 50cc machines are the right fit. Ten to 16 get the 90cc-110cc, depending on the manufacturer. There are a couple of 200cc machines out there, and these, for the most part, carry a 14-year old minimum age. Adult-sized ATVs 250cc and larger are for 16 years of age and up. These age recommendations came about through the Consent Decree, the document that came about during the end of the three-wheeler. The whole idea is to determine age appropriate vehicle use.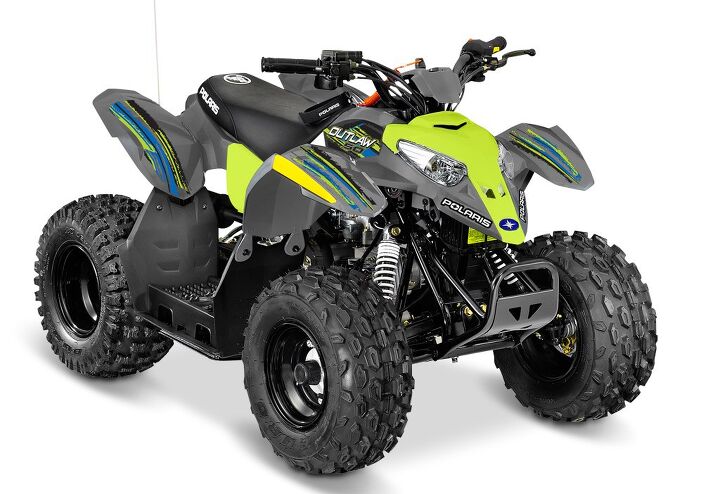 Polaris Outlaw 50
Resist the urge the upsize your youth ATV before it's time. I know that each child develops differently, and while your 10-year-old is undoubtedly different than your neighbor's, they both still need the same size ATV. When we got a Honda TRX 90X for our son when he was 11, our six-year-old daughter was a mess. She didn't understand why she couldn't ride it. Even though it was a hard hit to go out and buy another one, my daughter was a much better fit for a Polaris Outlaw 50.
I'm not going to go into power and handling specific to age levels. Honestly, that has less to do with the machines themselves and more to do with you and your child. My kids both went through rigorous training with me and had to repeatedly demonstrate they understood each concept and could apply it. If you're not comfortable doing that level of training, please look into a qualified ATV safety instructor. Every state has available lists of instructors and classes available.
Parental Controls
As parents, we love our kids. We'd do anything to protect them. For some of us, the thought of turning our kids loose on an ATV scares the stuffing out of us. We want to have some control over the situation, and thankfully, the manufacturers agree. All youth model ATVs have some form of speed-limiting control that the parent can adjust accordingly as the child's skill set grows. With youth ATVs that have thumb throttles, most have a simple screw-adjust throttle limiter. Read the owner's manual to see exactly how to make adjustments to the limiter specific to the model ATV. I had to get my son to promise to not make adjustments on his own, though. It didn't take him long to figure out what dad was doing with the screwdriver.
2019 Polaris Ranger 150
There are a few youth-model UTVs on the market. Models like the RZR 170 and ACE 150 from Polaris have electronic throttle limiters built into the systems. With the RZR it is through the battery connections, while the ACE does so though the fuse box. Taking things to a whole new level is the Polaris Ranger 150, which uses Polaris' Ride Command technology to give you the ultimate in parental controls. That is what made it the easy choice for Youth Machine of the Year.
Picking the Right One
Any easy way to decide which Youth ATV you want for your child is to match it up to the one you have. Not only will it make your kid happy having the same brand vehicle as mom and dad, but also you will have a brand familiarity that will help make the decision. I would caution against buying a non-major brand machine from say, a big-box type store. Yes, these machines will have a lower price tag and may seem appealing because of it, but you want your child to be happy, right? These machines don't always have a great reliability record and are not always that easy to fix when they break down. The last thing you want is for that ATV to break down and then basically be a yard ornament. Don't feel bad about spending more money on a brand-name Youth ATV. These things actually hold value well and you'll be able to recoup some losses when it comes time to size up.
2019 Honda TRX90X
Another thing to look for in a Youth ATV is the style. Kids like to emulate their parents. Some of the 90cc-110cc youth models are available in a sport-style machine, and as a utility-style ATV, complete with racks. If your child sees you using your utility ATV all the time for chores, chances are going to be good that he/she will want a pint-sized machine with racks as well. My daughter is already telling me that when she's 10, she fully expects me to trade in her Outlaw 50 for a Yamaha Grizzly 90 that she saw at the dealer recently. She said she'll need it for hauling feed out to her horse. I'm not sure where she's getting the horse from, either. Something tells me she's going to end up costing me way more money than her brother as she grows up.
Where am I supposed to get a horse to go with the Grizzly 90? Derrek Sigler
Derrek's love for all things ATV started when he was a mere 11 years old, growing up on his family farm. His mom gave him and his sister a choice - get a horse, or a three-wheeler. The sister wanted the horse, and Derrek wanted the ATV. Luckily he won out, and was soon burning up the trails on a Yamaha Tri-Moto 200. By the time he was 14, he had saved enough of his own money by working on the farm and in his folks restaurant to buy a new 4-wheeler. That happened the day he and his mom were driving past the dealership and saw 1987 Banshee. His mom had no idea what he was buying, and he never looked back. He's been riding ever since, and been writing professionally for many years. He has ridden all over North America and been behind the controls of just about every machine out there. And yes, he still has his 1987 Yamaha Banshee.
More by Derrek Sigler
Published November 23rd, 2018 10:55 AM
Top Brands
Popular Articles