6 Views
2017 Can-Am Maverick X3 X rs vs Polaris RZR XP Turbo EPS: By the Numbers
March 15th, 2021 12:21 PM
Share
We're committed to finding, researching, and recommending the best products. We earn commissions from purchases you make using links in our articles. Learn more here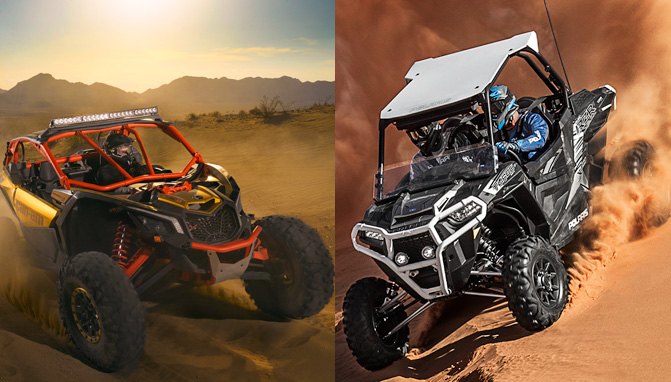 Turbo vs. Turbo!
The last few months have ushered in enough groundbreaking UTV news to make your head spin. We've seen completely new manufacturers enter the game, mainstay models get some significant upgrades and more than a few completely new machines to hit the market. Probably the two machine to garner the most hype from enthusiasts are the all new Can-Am Maverick X3 and the upgraded Polaris RZR XP Turbo. In fact, we polled you, our readers, as to which machine you preferred and as of press time, the Maverick X3 was leading with more than double the votes in its favor.
2017 Can-Am Maverick X3 X rs Turbo R Review
Can-Am blew the lid off the industry in mid August with the release of its triple cylinder, 154 horsepower Maverick X3 with 24 inches of desert devouring suspension travel. The X3 proved to be next level in terms of design, suspension and power, and with Polaris in the midst of a recall on its Turbo model, the tides looked to be shifting in Can-Am's favor.
Never to be outdone, while Polaris fans were still scratching their heads regarding the absence of a Turbo model in the 2017 lineup, and just days after the announcement of a solution for the recall, Polaris dropped a bomb on the unsuspecting industry; a 168-horsepower bomb, to be exact.
While it's evident that each of these machines was designed to take aim at the other, they are not as similar as some of the kingpins we've seen from each manufacturer in the past. Each has its own "bag of tricks" so to speak, and we're happy to dive in and show you just what each one brings to the table.
| | | |
| --- | --- | --- |
| | 2017 Can-Am Maverick X3 XRS | 2017 Polaris RZR XP Turbo |
| Price | $26,699 | $24,999 |
| Engine | 900cc Fuel Injected Triple | 925cc Fuel Injected In Line Twin |
| Horsepower | 154 | 168 |
| Driveline/Differential | Selectable 2WD/4WD with Visco-Lok X Auto Locking front differential | High Performance On-Demand True AWD/2WD |
| Transmission | Automatic Quick Response System CVT P/R/N/H/L | Automatic PVT P/R/N/L/H |
| Wheelbase | 102.0 in | 90.0 in |
| Overall Dimensions (LxWxH) | 132" x 72" x 67" | 119" x 64" x 73.75" |
| Dry Weight | 1,585 lbs | 1,495 lbs |
| Front Tires | 30×10-14 Maxxis Bighorn 2.0 | 29×9-14 Maxxis Bighorn |
| Rear Tires | 30×10-14 Maxxis Bighorn 2.0 | 29×11-14 Maxxis Bighorn |
| Ground Clearance | 15.0 in | 13.5 in |
| Fuel Capacity | 10.5 gal | 9.5 gal |
| Front Suspension/Travel | Dual A-Arm with swaybar / 22" | Dual A-Arm with Stabilizer Bar / 16" |
| Rear Suspension/Travel | 4-link Torsional Trailing-arm X (TTX) with sway bar / 24" | Trailing Arm with Stabilizer Bar / 18" |
| Front Shocks | FOX 2.5 PODIUM RC2 Piggyback with bypass, dual speed compression and rebound adjustment | 2.5″ FOX Podium Internal Bypass Shocks with 24-Position Adjustable Clickers |
| Rear Shocks | FOX 3 PODIUM RC2 Remote reservoir with bypass, dual speed compression and rebound adjustment | 3″ FOX Podium Internal Bypass Shocks with 24-Position Adjustable Clickers (Remote Reservoir) |
| Front Brakes | Dual 262 ventilated disc brakes with hydraulic twin piston calipers | Hydraulic Disc with Triple Bore Front Calipers |
| Rear Brakes | Dual 248 ventilated disc brakes with hydraulic twin piston calipers | Hydraulic Disc with Dual-Bore Rear Calipers |
| Lighting | LED headlights and tail lights with unique Can-Am LED signature | White LED, Low/High & Red LED Tail / Brake Lights |
| Instrumentation | Multifunction analog/digital: speedometer, tachometer, odometer, trip and hour meters, fuel, gear position, sport / ECO mode, seat belt and 4 x 4 indicator, diagnostics, clock, auto shut off | New Digital Gauge, Speedometer, Odometer, Tripmeter, Tachometer, Coolant Temperature, Volt Meter, Hour Meter, Service Indicator, Clock, Gear Indicator, Fuel Gauge, Hi-Temp Light, Seatbelt Reminder Light, DC Outlet |
| Cab Storage | 9.0 gal. | 8.3 gal. |
| Tilt Bed | Yes | Yes |
| Rack/Bed Capacity | 200 lbs | 300 lbs |
| Bed Dimensions L x W x H | n/a | 28" x 22" x 7" |
| Power Steering | Standard – 3 mode Dynamic Power Steering | Standard |
| Warranty | 6 months | 6 months |
The Maverick X3 is a completely new vehicle from the powerplant to the chassis to the suspension. Its turbocharged triple cylinder Rotax ACE (Advance Combustion Efficiency) engine puts out 154 horsepower and features an integrated intercooler and Donaldson high performance air filter. Having had the opportunity to witness it in person, simply pushing the start button will inform you that this powerplant is unlike anything Can-Am has built before.
Transmitting all that turbocharged horsepower to the ground is Can-Am's shiftless QRS-X transmission. The Continuously Variable Transmission (CVT) maintains pressure on the belt so there is no lag and no interruption in power delivery.
168-Horsepower 2017 Polaris RZR XP Turbo Models Revealed While the RZR XP Turbo retains many of the same design characteristics as previous models, its 925cc ProStar High Output engine puts out a staggering 168 horsepower. Thats 14 more ponies than the X3 and a 24-horsepower gain over the previous XP Turbo model. Polaris has gone to great lengths to point out that this isn't merely a more powerful engine stuffed into the previous XP Turbo chassis, citing an all new cooling system, larger radiator and new clutch covers as a few of the key upgrades. The driveline also endured some upgrading to handle all that extra horsepower, starting with an all new, stronger drive belt and strengthened rear half shafts.
The suspension department is where the two machines really start separating. While the XP Turbo maintains the same 16 inches in the front and 18 inches in the rear as the previous Turbo model, the Maverick X3 X rs comes with a staggering 22 inches up front and 24 inches in the rear. That is almost "other worldly" for a UTV and a little bit reminiscent of a sand car. Also new for the X3 is the inclusion of a trophy truck like 4 link trailing arm rear suspension (dubbed TTX) in place of the torsional trailing arm suspension we've seen on Maverick models for several years. Since this machine is purpose built for the dunes and desert, the trailing arm suspension will likely be a welcome improvement for desert goers.
Both machines include front and rear sway bars to help them stay planted and both utilize FOX Podium Internal Bypass shocks with adjustable rebound and compression. The RZR uses 2.5 versions with a piggyback set up on the front and a remote reservoir on the rear while the X3 uses a 2.5 piggyback shock up front and a large 3.0 remote reservoir shock on the rear.
Thanks to all that new suspension the X3 features the highest ground clearance in the class at 15 inches to the RZR's 13.5 inches. Thirty-inch Maxxis Bighorn 2.0 tires on 14-inch rims all the way around contribute as well. The XP Turbo features the same tried and true 29-inch Maxxis Bighorn tires that can be found on other previous Turbo and RZR 1000 models.
When comparing the vehicles side by side, its easy to see that the Maverick X3 is massive. It's wingspan stretches six inches wider than the RZR XP Turbo and its wheelbase is a whole foot longer. Apparently Can-Am listen to feedback about the Maverick feeling top heavy, because engineers lowered the center of gravity as well as decreased the overall height. Compared to the XP Turbo, the X3 is nearly seven inches shorter. All that extra size amounts to a 90-pound discrepancy between the two. Not bad when you consider the X3 has a three-cylinder engine compared to the RZR's twin, not to mention longer A-arms and trailing arms as well as larger three-inch rear shocks.
To feed that extra cylinder, the X3 features an extra gallon of fuel capacity (10.5 to the RZR's 9.5), but we'd be willing to bet with either of these machines, a heavy foot is going to have more affect on fuel consumption than the number of cylinders. Both machines feature hydraulic disc brakes on all four corners; however, we give a nod to Polaris for including triple piston calipers on the front of the RZR, you know…just in case you need to slow all that power down in a hurry.
Both machines offer the occupants the ability to customize the cab to suit their preferences with adjustable seats and tilt steering. The Maverick X3 offers Four-way adjustable seats (2" height and 6" sliding), though it requires a few minutes and some tools to adjust. The RZR XP Turbo offers easy to adjust seat sliders to provide maximum comfort whether you're tall or short.
If you're one of those that tends to go a little crazy with the accessories, then you might appreciate the XP Turbo's new four-position key with an accessory position so you can find a spot and crank up your tunes without having to worry about draining the battery. The RZR also features a brand new fully digital multi-functioning gauge with all the standard alerts.
Aesthetic elements of the X3's cockpit take their cues from the original Maverick, but the lower seat position and race inspired seats (complete with cutouts for aftermarket harnesses) are completely new. The X3 features a multi-functional analog/digital display for keeping track of the machine's vitals.
As you would expect from a pure sport side by side, neither machine is equipped with a trailer hitch, though both have some measure of storage capacity in the rear. The RZR features its standard cargo box capable of carrying a cooler or small toolbox and able to cary up to 300 pounds. The X3 offers a 200-pound capacity platform and includes Can-Am's LinQ quick attach system for keeping anything tied down.
A few other goodies that users of either machine will enjoy are LED headlights and taillights and electronic power steering (called Dynamic Power Steering on the Can-Am.) Both come with a 6-month factory warranty.
When it comes down to it, these are two very different machines. If horsepower is the only thing you're concerned with, it might be an easy decision. However, if you're the type that likes new technology, serious suspension and you're willing to be among the first to try out a completely new machine, then the Maverick X3 may have your name on it. At $24,999 the XP Turbo is $1,700 less than the X3. Considering all the improvements and the huge increase in suspension, that $1,700 might be easily justifiable for some consumers. You can pick up a slightly spec'd down version of the Maverick X3 for $22,999
When its all said and done, we can't decide for you, but it will be interesting to see the opinions of the general public in the months to come as both machines hit the market. Seth Fargher
Growing up in Oregon, most of Seth's involvement in the powersports world was limited to what he saw in magazines and videos. Following a brief stint in the corporate world, Seth took a flying leap (literally) and moved to California to pursue a career in freestyle motocross. Though short lived, the opportunity immersed him in the industry and is now a well-established off-road writer.
More by Seth Fargher
Published October 31st, 2016 2:24 PM
Top Brands
Popular Articles