11 Views
2018 Yamaha Wolverine X4 vs. Yamaha Wolverine R-Spec: By the Numbers
March 15th, 2021 12:41 PM
Share
We're committed to finding, researching, and recommending the best products. We earn commissions from purchases you make using links in our articles. Learn more here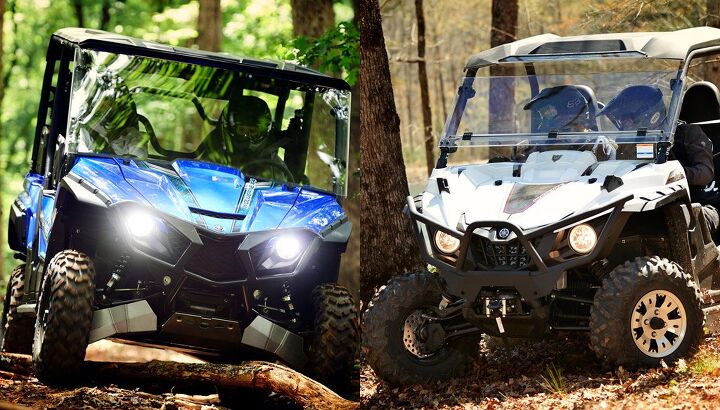 For a bit of fun we decided to see how the 2018 Yamaha Wolverine X4 compares on paper to its stable mate – the Wolverine R-Spec – in a case of off-road sibling rivalry.
Yamaha currently has two recreational UTVs in the stable under the Wolverine moniker – the standard Wolverine two-seater that has been out for a couple of years, and the all-new 2018 Yamaha Wolverine X4. While it would have been easier for Yamaha to simply modify the current Wolverine set-up to include two more seats, they went a very different route. How different? Let's take a look.
| | | |
| --- | --- | --- |
| | 2018 Yamaha Wolverine X4 | 2018 Yamaha Wolverine R-Spec |
| Price | $15,999 | $13,499 |
| Engine | 847cc Inline-Twin | 708cc Single |
| Horsepower | 69 | 47 |
| Driveline/Differential | On-Command 3-way locking differential; 2WD, 4WD, full diff-lock 4WD | On-Command 3-way locking differential; 2WD, 4WD, locked 4WD; shaft |
| Transmission | Yamaha Ultramatic V-belt with all-wheel engine braking | Yamaha Ultramatic V-belt with all-wheel engine braking |
| Wheelbase | 82.7 in | 81.3 in |
| Overall Dimensions (LxWxH) | 122 x 59.8 x 77.2 in | 116.9 x 60.6 x 74.2 in |
| Weight | 1,666 lbs | 1,311 lbs |
| Front Tires | AT26 x 8-12 Maxxis MU75 | AT26 x 8-12 |
| Rear Tires | AT26 x 10-12 Maxxis MU76 | AT26 x 10-12 |
| Ground Clearance | 10.7 in | 11.4 in |
| Fuel Capacity | 9.2 gal | 9.7 gal |
| Front Suspension | Independent double wishbone w/anti-sway bar; 8.7 in travel | Independent double wishbone, KYB fully adjustable shocks; 9.7 in travel |
| Rear Suspension | Independent double wishbone w/anti-sway bar, self-adjusting shock absorbers; 8.9 in travel | Independent double wishbone, anti-sway bar, KYB fully adjustable shocks; 10.6 in travel |
| Front /Rear Brakes | 4-wheel hydraulic disc | 4-wheel hydraulic disc |
| Bed Capacity | 600 lbs | 300 lbs |
| Towing Capacity | 2,000 lbs | 1,500 lbs |
Motors
Yamaha has never been a company to go along the predicted path. When the popular idea is to go for engine size "X," Yamaha usually holds strong. It relied for some time on the 686cc single-cylinder motor found in the Viking, but when the Wolverine was launched a couple of years ago, a 708cc single-cylinder motor powered the new recreational machine. There is nothing wrong with that motor, either, as anyone that has driven one knows it to be a fun, torquey machine. It has just the right amount of power for recreational driving. It's not a desert racer, but it was never intended to be one. Being a Yamaha, reliability and durability are definitely not an issue.
2018 Yamaha Wolverine X4 Review + Video
When Yamaha unveiled the Wolverine X4 to the press, just from the images alone and knowing Yamaha's history, we admit, we were expecting the same engine platform. Not even close. Yamaha developed an all-new 847cc parallel twin-cylinder motor that uses technology borrowed from the company's advanced sport bikes. It has a 270-degree crankshaft with a low center of gravity and a long stroke. It's a dry-sump motor to keep it compact, too. This is Yamaha's best motor yet for trail use, with an exceptional power curve and full of torque. Yet, it is remarkably smooth and quiet.
Both machines run on the bulletproof Yamaha Ultramatic transmission system. Yamaha has developed a constant tension belt system that preserves drive-belt life. Ask most any dealer's service department and they'll tell you that Yamaha's don't burn up the belts. You'll also find Yamaha's locking differential and outstanding power steering system.
Classy Chassis
The Wolverine R-Spec has proven to be a fun machine, so you'd think that Yamaha would simply modify it some for the X4. Nope. It's an all-new design that has some stark differences from the two-seater.
Width is an issue for some people; some trails, too. The Wolverine 2-seater is 60.6 inches wide. Most 60-inch trails this won't be much of an issue, but since technically it does go past the limit, it can result in a ticket, or some rubbing issues. So, the X4, being bigger, has to be wider, right? Wrong. It comes in at a slim 59 inches wide.
2017 Yamaha Wolverine R-Spec Review + Video
Suspension is different between the two as well, but in a completely different way. The X4 has 8.7 inches of travel up front and 8.9 inches out back. Rear shocks are an all-new self-leveling design to adapt to the extra weight of passengers and cargo in the back. The system works well and provides great feel for trail use. Yamaha went a different route with the R-Spec two-seater, which runs KYB sport-tuned shocks with 9.7 inches in the front and 10.6 in the rear. This system gives the two-seater the feel of a mountain goat on steroids. It can handle anything and go anywhere.
Manners
Both machines are very nimble with a confidence-inspiring feel that makes them a ton of fun to drive. If you don't need the two extra seats, the R-Spec will rip around the trails, climb anything and put a big smile on your face. It is a little louder than the X4, but that's fine. It's not obnoxious. The X4 may be the perfect adventure machine for those looking to take friends or family along for the ride. It may be the quietest recreational machine on the market with superb handling.
It all comes down to you and what you want. If two seats are enough, the Yamaha Wolverine R-Spec has advanced suspension and is one of the most agile machines for trail use. If you want two more seats, additional power and a quiet ride to go along with that agility, the Yamaha Wolverine X4 has you covered.
Get to your local Yamaha dealer to see one for yourself. Either Wolverine is a different animal than anything else you've driven. Derrek Sigler
Derrek's love for all things ATV started when he was a mere 11 years old, growing up on his family farm. His mom gave him and his sister a choice - get a horse, or a three-wheeler. The sister wanted the horse, and Derrek wanted the ATV. Luckily he won out, and was soon burning up the trails on a Yamaha Tri-Moto 200. By the time he was 14, he had saved enough of his own money by working on the farm and in his folks restaurant to buy a new 4-wheeler. That happened the day he and his mom were driving past the dealership and saw 1987 Banshee. His mom had no idea what he was buying, and he never looked back. He's been riding ever since, and been writing professionally for many years. He has ridden all over North America and been behind the controls of just about every machine out there. And yes, he still has his 1987 Yamaha Banshee.
More by Derrek Sigler
Published December 11th, 2017 12:31 PM
Top Brands
Popular Articles