41 Views
2020 Can-Am DS 90 X Vs 2020 Honda TRX90X: By the Numbers
August 27th, 2019 3:39 PM
Share
We're committed to finding, researching, and recommending the best products. We earn commissions from purchases you make using links in our articles. Learn more here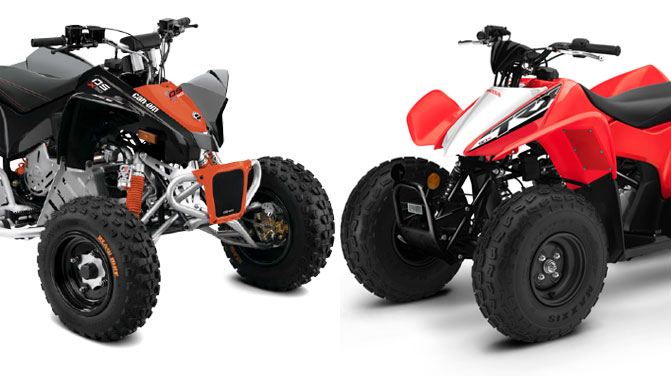 It's Canada vs. Japan in this Youth Sport ATV battle
A great delight in life is when your kids are interested in the types of leisure activities you enjoy. Sure, it is great when they find their own way and make their own mark on the world, but being into the same sport or recreational activity certainly multiplies the number of family moments. Manufacturers of ATVs know this and, logically, turn their talents to building miniature versions ATVs we enjoy as adults. Let's see how two of the best sporty Youth ATVs, the 2020 Can-Am DS 90 X and Honda TRX90X compare.
Both the Can-Am DS 90 X and Honda TRX90X are equipped with engines displacing 90cc and offering the budding young rider a chance to hone their skills.
Recommended for riders 10 years of age and older, these are great sets of training wheels that'll set a foundation for a lifetime of off-road fun. Both manufacturers advice that kids under the age of 16 should be accompanied by an adult when driving these rigs. Of course, riding ATVs is always more fun in group.
Powertrains for Training Wheels
BRP outfitted the Can-Am DS 90 X with an easy to maintain single cylinder four-stroke engine that displaces 89.5cc and is equipped with an electric start. Thanks to its dirt bike style displacement, there is also a backup kick starter in case Junior has somehow fouled the automatic system. This engine is connected to a continuously variable transmission, meaning the driveshaft is always in the right ratio and your young rider doesn't have to worry about messing with gear changes.
Honda knows a thing or two about small engines – it arguably put the world on two wheels, after all. As for the TRX90X, it comes with an 86cc SOHC air-cooled four-stroke to deliver its power. This one's an electric start as well with slightly undersquare pistons. Induction is handled by way of a 15mm piston-valve carburetor. Its transmission is a four-speed automatic that Honda calls a "no clutch" unit, allegedly giving kids the chance to shift gears without the worry of handling a clutch or experiencing a clutch-induced stall.
Little Suspenders
A 41-inch wide swingarm and HPG Piggyback shocks with a solid 9.0 inches of travel go to work in getting the tykes down the trail in the Can-Am DS 90 X. Up front is a double A-arm and two fewer inches of travel. All-purpose black aluminum wheels are of a simple and rugged design, winning no awards for style but plenty of cred when they are rudely introduced to a tree stump by an inexperienced rider. Front tires are six inches wide, rears are 10.5. Disc brakes put a stop to the action on both axles.
Independent suspension is deployed at the front of the Honda TRX90X, while a swingarm arrangement takes care of things out back. Note that only 2.6 inches of travel is on offer, so true hooning will have to wait until the kidlet grows up a bit. Rubber measures seven and eight inches wide front and rear, respectively. Unlike the Can-Am, this Honda has old-school drum brakes.
Size 'em Up
It won't be a surprise to learn these ATVs are sized with kids in mind. The Can-Am DS 90 X measures just 59.8 inches in length and 43.7 inches wide. Compare this to a Renegade 570 whose length is 86 inches and has a wingspan of 48 inches. Hey, at least the DS 90 X won't get caught up on a tight trail. Keep in mind that there is 8.3 inches of ground clearance under the frame but only 4.5 inches under the rear axle. Seat height is 27 inches.
Width of the Honda TRX90X is a comparable 58.6 inches, but it is much much narrower, measuring only 35.2 inches across. The extra half-foot of width on the Can-Am may instill more confidence in young riders. Ground clearance is a bit less in the Honda, just 3.9 inches, but its seat height is a very comparable 26 inches.
Hashtag Front-End-Friday
Hey, come on – we know styling is always a subjective, but in this day and age of Snapgram and Instachat, these things matter. The Can-Am DS 90 X's racing-style aluminum front bumper looks great in contrasting color and has space for a number plate. A single black-and-red color scheme is available, so there is a chance kiddo may meet themselves while out for a ride. A handlebar riser block with square race-style handlebar pad helps to encourage visions of the X-Games.
Honda recognizes that choice is a good thing, even at this end of the ATV spectrum. Three shades are available for the TRX90X: olive green, white, and red. All of them include a contrasting TRX sticker on the front flanks. Maxxis tires, just like the big boys, add a rugged look. Curb weight is a reasonable and easy-to-manage 262 pounds including a full tank of fuel, a dozen pounds more than the Can-Am.
Pricing
The ATV division of Bombardier Recreational Products has set the 2020 Can-Am DS 90 X at $3749, not including transportation and dealer prep. Financing and such seem to be of similar ilk to adult-sized machines, but it goes without saying that your purchasing term shouldn't be longer than the amount of time it takes your kid to outgrow the thing.
Honda hasn't yet announced prices for the 2020 TRX90X, but last year's model bore a sticker of $3099. Specifications were largely similar to the machine described in this post, so any increase in pricing should be minimal. Published August 27th, 2019 3:39 PM
Top Brands
Popular Articles