1 View
Multi-Passenger Turbo UTV Shootout
March 15th, 2021 12:31 PM
Share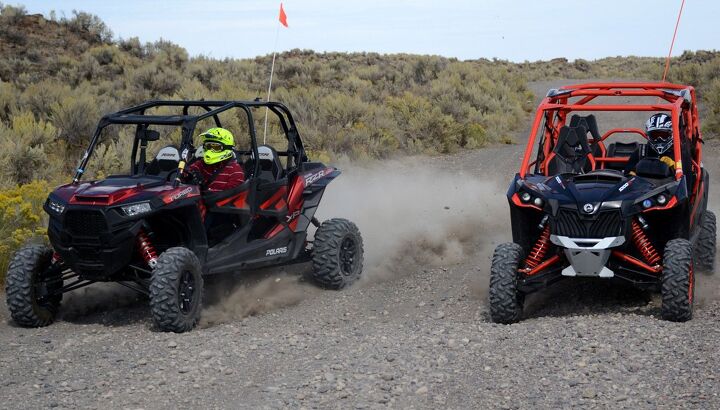 2016 Polaris RZR XP 4 Turbo vs. Can-Am Maverick MAX X rs Turbo
Long term evaluation reports are to be that, long term, covering a season which settles questions on performance and reliability; often times we don't know a question exists until we uncover an answer. We previously reported our long term evaluation results on a 2016 Polaris RZR XP Turbo 4 and a 2016 Can-Am Maverick MAX 1000R X rs Turbo.
When we returned the 2016 Maverick MAX Turbo X rs, September 24, it was a bitter parting, especially for veteran ATV.com test rider, Kevin Allred. He initially had a hard time warming up to the Maverick, as he was sold on the XP 4 Turbo's power, finesse, comfort and handling. But, this changed after I spent much alone time with the Maverick, learning its suspension, the value of proper tire pressure for terrain, its tri-mode Dynamic Power Steering (DPS) and its two keys – Sport and Training – and its duo-mode engine performance switch for its Intelligent Throttle System. After understanding all the Maverick's offerings, I schooled Kevin Allred and off he went; his bonding with it began and deepened.
The 2016 Can-Am Maverick Max 1000 R X RS Turbo looks busy with its robust rollcage and nets, but it has purpose, busy delivering safety.
Given that, as we wrote in our feature on the XP 4 Turbo, we will have a hard time parting with it as well. We've been asked, "How can you trust the XP and Polaris?" That's easy, we trust Polaris, we trust its engineers, and we've had the XP 4 Turbo in some precarious situations and it pulled us through.
On one weekend ride, Saturday, September 17, we gathered up a young married couple of engineering students from BYU-Idaho to gather their opinions on the two vehicles to help us with our turbo-powered UTV shootout. We chose this couple, Ephraim and Raysa Coelho, from São Paulo Brazil, because of their incredible engineering minds for all things mechanical, and because they had none – zero – experience driving a sport UTV. From a pure novice point-of-view, their input, what we found was interesting. They represented two people who could very well venture into this sport, and two people who either trusted the machines or not. We will give their comments at this report's end.
The Insider's Information
The RZR XP Turbo and Maverick MAX Turbo both have low-end grunt. When the hammer drops and the tires hook, the turbo motors gobble fuel and push the vehicles forward. As reported in our long term articles, for us on the high mountain states, turbocharged motors make sense as we try to capture that which is lost, horsepower due to thin air.
When in two-wheel drive and on loose gravel or sand surfaces, the Maverick would come out of the hole quicker than the XP and hold the lead; this from a standing – non-rolling – start. However, the reverse occurred when both were in four-wheel drive (differential lock engaged); the XP would launch first and hold the lead.
The Maverick MAX Turbo was quicker off the line in 2WD, while the RZR XP 4 Turbo was fastest in 4WD.
The Maxxis tires on the Maverick and XP were strong and compliant for use. We did experience punctures on each vehicle; these flats were not due to poor tire manufacturing, but from the terrain we rode on.
The suspensions were solid. We give Polaris a thumb's up for its easy access piggyback reservoirs and dial-adjust knobs. The Maverick's front suspension was quiet at all pivot points, whereas the XP's bushings squeaked; the suspension was fine, but noisy and distracting.
Adjusting the suspensions on the RZR XP 4 Turbo was easy, though the bushings were quite noisy.
Through fast rollers, the XP seemed to deliver a more compliant ride and the chassis traveled flat. The Maverick bobbled more than the XP, and we had to settle it down by dialing down motor response through its keys and two-mode performance switch.
The RZR XP 4 seemed not to drift out in corners apex like the Maverick. Drivers felt the RZR was more "sure-footed."
The XP's electronic power steering at all times felt proper. However, twice it conked out, but we were able to cue it up through a motor restart or battery disconnect. The Mav's tri-mode DPS is a system we used at all times. Will the general public flip through the three settings, or set it at "Mid" or "MAX" and forget it? Possibly. For us, we valued the DPS, but never felt the XP needed it; owner preference here.
The Maverick had two ignition keys, "Sport" and "Learner" and two engine performance settings, via dash-mounted toggle switch, which set the motor to "Sport" and "Eco," for economy. When in "Sport" and "Sport" the Maverick was so sensitive to throttle input, its nose and tail lunged up and down on sand rollers as we tried to tame the throttle. "Sport" and "Sport," we learned, is mostly for those situations when keeping the throttle mashed to the board for long periods in needed.
When in differential lock and 4WD, the Maverick's Intelligent Throttle and dual-mode throttle control allows a driver to manage throttle input to the micro level. This we liked.
But, with such a fast rocket, it is nice to dial down the motor for beginners or for terrain. We opted most for the Sport key with dash toggle set to Eco, or the Leaner key and dash switch set to Sport.
2016 Polaris RZR XP 4 Turbo Review
Back to the RZR. Did we wish for these two keys and the additional two performance modes? No. The motor and its transmission behaved nicely. We learned throttle and brake, brake and throttle in all situations. The Maverick did blow a belt, but we may have stressed it out in some tough sand situations. We don't fault the machine.
Our point here is the Maverick has beneficial electronic tools for the driver to use. But, if you are a simple driver who seeks uncomplicated UTV driving, then the RZR XP is for you. However, we felt the Maverick, once we learned it, was not complicated. As journalists and evaluators we tinker and test.
Fit and finish goes to the Maverick. Its polished surfaces, seat stitching and dash layout give it a sports car-like appeal. Bombardier Recreational Products (BRP) has focused on fit and finish in recent years and this shows across its line of ATVs, UTVs, its Spyder on-road line, as well as its snowmobiles and personal watercraft.
The XP functioned as its designers intended. Its comfortable seats held up well, did not show wear and tear, and its simple dashboard instrument pod and switches were flawless. However, its rear door hinges came built with less-than-adequate bushings, thus the rear doors rattled in low RPM situations, and this was annoying in low speed crawls or when the XP sat idling away; this door rattling began on day one. When the XP 4 Turbo received its recall updates, the dealer also installed new rear door hinge bushings and this made the XP quiet.
Cockpit room for both was sufficient. We at times felt, for the driver especially, the left foot-rest on the XP squished the room to operate the brake and throttle peddles. A driver with wide and long feet made comment they wish the XP had more floorboard room. For smaller drivers, this was not a problem.
Safety and More
Nets versus doors. Which is best? Well, totally driver preference. We favored the XP here as it allowed us, the driver, to hang an arm and head over the door to line up the front left tire when encountering an obstacle to hop over. The nets on the Maverick prevented this. Furthermore, the Maverick's nets would tangle in the driver's helmet if the driver wore a motocross-style helmet with sun visor. When rock crawling, the Maverick driver relied more on a spotter than the XP driver.
The Maverick's nets tangled up our drivers when they wore a full-face motocross helmet. This frustrated many when it came time rock climb or look behind, due to no standard mirrors.
2016 Can-Am Maverick MAX X RS Turbo Long Term Review
The nets, though, are a good safety feature, keeping the driver and passenger arms in out of harm's way if a rollover should occur. Both the XP's and Maverick's doors or nets did not prevent debris or water from entering the cab; full metal doors would prevent much of this, but no UTV door is fully waterproof. Can-Am's new X3 line has doors, not nets. Is this a soon-to-be trend for Can-Am?
The Maverick's four-point harness lent to the Maverick's image for safety, however, when tightened for heavy bush and rock bashing, they tired the shoulders. The harnesses also limited the driver from pivoting her or his head to look right or left behind, when backing or when needing to see what was behind. The XP gave free head movement, and this gave the XP diver some confidence.
With a clear view down the RZR XP's side, driver's can line up the front tire to their desired line.
Herein lies our point in the long term report for the Maverick; give it mirrors. Being the Maverick is safety driven, don't set up the driver by limiting their ability to know what is behind them – left or right – through a safety feature, nets.
Grab bars. We found the both systems on the UTVs worked well. Passengers in the XP, though, were a little leery of its T-handle grab bar, thinking it would hurt if they hit it. Well, through length-adjustments and limiting shoulder harness travel, the fears went away. The pistol grip-like center mounted bars on the Maverick provided a safety message. The rear horizontal bar across the front seats' backside was sufficient for the rear passengers. All safety bars felt natural to hands and arms.
The Can-Am Maverick has grab bars, and non-adjustable passenger grab bar that provides security to passengers. This system was praised by all.
Both rear seats were comfortable. The Polaris has an advantage here in that it will take a full-bench aftermarket seat with seat belt, thus giving room for three in the back; the middle passenger must be a small fella. The Maverick, with its full length center console, can't receive a bench seat; at least not that we are aware of at this time.
In-cab heat was not noticeable, but these did not have a roof or windshield. This brings up a point. We believe such high end vehicles as these should come standard with mirrors (3) and a roof. We know dealers want to sell OEM accessories, but these items may pull customers into the door if they are indecisive.
Here is what our young 20-something BYU-Idaho student, Ephraim Coelho, said:
"I enjoyed the fact the Polaris had a little more traction, the motor in the back helped it in that sense. The seats were more comfortable than the Maverick. It felt more stable.
The Maverick had engine noise and I felt vibration under my feet.
The Maverick made me feel more safe; the gaps above and below the doors on the RZR made me feel not as safe.
The RZR did not feel as hard core as the Maverick. The RZR feels more family-like. The RZR's fashion was not as appealing as the Maverick. The shocks on the RZR were softer than the Can-Am. Yet, the first one I would go with is the Can-Am because of its fashion."
Does this solve our dilemma on which we would own? No. Ephraim validated what we already knew. The Can-Am Maverick looks tough, sounds tough and its fit and finish is appealing, but overall in-the-gut feel, confidence, perhaps, goes to the XP. But, by how much? Is it quantifiable? Not really.
Hold My Drink Please
We found the beverage holders in the Maverick did a much better job of holding onto bottles and cans than those in the RZR.
This is a small matter, but the RZR XP's cup/beverage/bottle holders were not a fave. America developed the cup holder, and a Canadian company, Can-Am, out-Americas the Americans here. The Maverick's adjustable beverage holders held bottles and cans of various sizes and prevented these from being tossed out onto to the floor.
Closing the Doors and Nets on the Matter
The Maverick, with its beadlock wheels, nets, front and rear bumper, DPS and Intelligent Throttle System, is cheaper to purchase than the XP 4 Turbo, due to the dollar exchange rate from U.S. to Canadian. So, more bang of buck; and yes, the Maverick is a shinier penny from an appeals point; our perspective. However, at the many rallies we attended this year, the RZRs dress up very well and are lovingly received by the public – in droves.
All things equal though, both perform well and deliver a satisfying day of sport UTV riding.
Which would we purchase? Since cost would be a factor, we would go with the Maverick MAX Turbo 1000 R X rs. If we just did not care, then the RZR XP, only by a 1/1000 of an inch; just because so many aftermarket parts are available. But, if someone said, these are free to you, but you must pick one, we honestly could not make the decision without feely guilty. Case in point; these are family and we love them both.
Now, we know the 2016 RZR XP 4 Turbo has given way to a new 2017 XP Turbo with a motor that hollers out more horsepower. This 2016 RZR XP Turbo we evaluated is now an orphan, but many remain in dealers and we believe, this to be a good product and at a good buy, especially with Polaris' warranty package offered on it. We trust the 2016 RZR XP Turbo, and with Polaris' recall fixes, the XP Turbo is a product one can depend on, in our estimation.
The Maverick returns for 2017 as it was for 2016, the model year we tested. But with the new X3 chassis, we would imagine a four-seat Maverick MAX X3 is on the horizon. Regardless, a 2016 or 2017 Maverick MAX Turbo is a sweet machine.
No clear answers. We find these two the same, but different. Both accomplish sport UTV riding very well, and both are cars we would call our own.
Published October 17th, 2016 6:16 PM
Top Brands
Popular Articles