1 View
2012 Indianapolis Dealer Expo Report
February 21st, 2012 12:47 AM
Share
We're committed to finding, researching, and recommending the best products. We earn commissions from purchases you make using links in our articles. Learn more here
10 New and Innovative Products for your ATV and UTV
We just got back home from our annual pilgrimage to Indianapolis, Ind., to see the latest and greatest powersports accessories. Though it seemed a little less crowded with dealers than in years past, the 2012 Indianapolis Dealer Expo featured more new ATV and UTV products than we expected. The economy may still be still struggling to right itself, but it doesn't seem to have slowed innovation and we couldn't be more excited about it.
This year's Dealer Expo saw some aftermarket names introduce some exciting new products. Companies like Vance & Hines, Yoshimura, DragonFire Racing all released some accessories that will be high on many wish lists. As well, some new faces have entered the fray with bold ideas that are sure to raise an eyebrow and help take our industry to the next level.
Vance & Hines Dual Exhaust System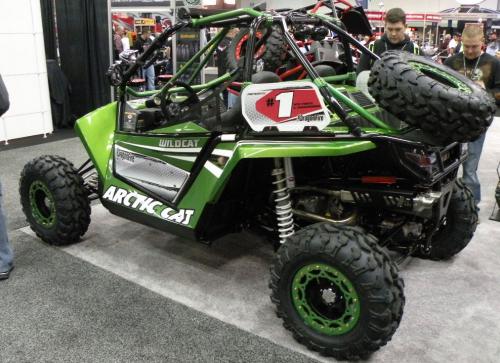 Vance & Hines has been a major player in the motorcycle performance market for many years. The exhaust manufacturer has finally decided to go off-road with a brand new dual exhaust system for the Arctic Cat Wildcat 1000 and Polaris RZR XP 900. When we say brand new, we mean it. The system wasn't unveiled until the show floor opened on Friday, Feb. 17.
This is no slip-on pipe. Vance & Hines engineers designed a completely new exhaust system with a dual header flowing into a single merge collector and finally feeding into two stainless steel mufflers. Beyond offering a boost in power, Vance & Hines told ATV.com that the system easily passes noise requirements for every ride area in the United States (less than 93dB). We can't wait to test this wicked system out!
Click here for more information.
Yoshimura UTV Accessories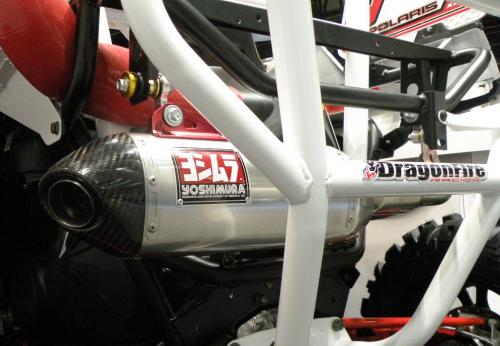 While Vance & Hines waited until the Dealer Expo opened to unveil its new exhaust, Yoshimura let the world know earlier in the week. Yoshimura, like Vance & Hines, has long been associated with motorcycle performance. However, Yoshimura has also been producing ATV accessories for years, so it was no surprise to see the move to UTVs.
Along with a brand new RS-8 exhaust system (96dB), Yoshimura has also branched out into hard parts with Carbon Fiber Intake Scoops, Carbon Fiber Mirror, Aluminum Racing Roofs, Aluminum Wind Deflectors, and Radiator Roost Guards.
Click here for more information.
DragonFire Racing Accessories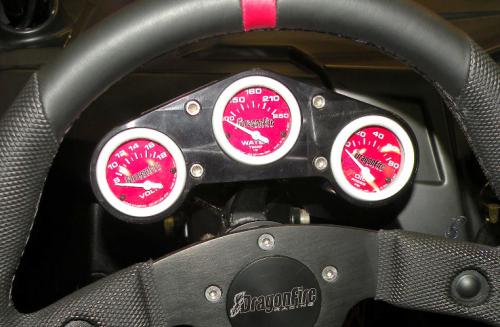 We make no bones about the fact that we think DragonFire Racing makes some of the best off-road products anywhere, so we were pretty excited to see an assortment of new UTV goodies in the DFR booth at Dealer Expo.
Of particular interest to us was the Gauge Cluster that measures voltage, water temperature, and oil pressure. If you think dummy lights on the dash are all you need, wait until you case your machine on a jagged rock and start leaking oil. This product can save your engine! Also, you can color match it to your machine.
Also new is the Hiboy door for the Polaris RZR XP 900. The handle to release the latch has been moved up so you don't accidently hit it with your knee. As with other DFR doors, this one closes with a confidence-inspiring click and feels like it will last forever.
Click here for more information.
DWT Sector 3-piece Wheel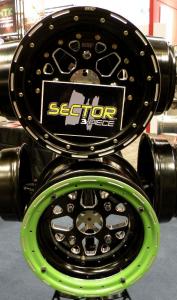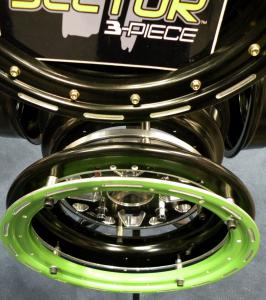 Douglas Wheel & Tire provided us with our favorite wheel of year with the Sector 3-piece wheel. This is a true three-piece wheel made up of two lightweight aluminum wheel halves which bolt to a billet center (available in bead-lock or rolled lip). According to DWT, an airtight seal is formed by a strong rubber ring seated in a machined groove between each wheel half.
What all this means is that if you damage your wheel, you don't have to replace the whole thing. It also means you can swap out any one piece so you can achieve different offsets for different types of riding. As well, the bead-lock models come with DWT's steel nut plate system, which allows for easy thread fixing.
Click here for more information.
Highlifter Outlaw DHT Axle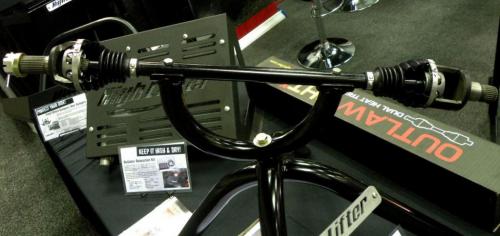 Few companies know more about axles and what kind of stresses they can or can't take than Highlifter. That's why we were excited to see the brand new DHT axle at Dealer Expo. DHT stands for the dual heat treatment process each of these axles goes through before being boxed up and shipped to you. Both the cage and the housing are dual heat treated. According to Highlifter, this produces an axle that is tough, resistant to wear and has an extended life.
Highlifter didn't stop with the DHT technology, as the new axle also feature puncture-resistant boots made from thermoplastic polyester elastomer. Highlifter told ATV.com that this material is miles better than the rubber boots found on competitive axles. Also, the Outlaw DHT axle is compatible with Mobil 1 synthetic grease, which keeps axle joints cooler. Finally, each axle is tuned to allow up to a three-inch lift for most applications.
Click here for more information.
Wide Open Drive Shaft Switch Out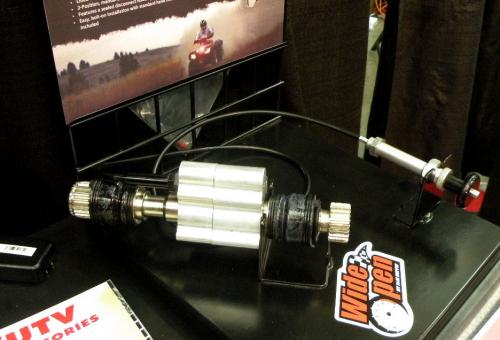 It's not often we find a product at Dealer Expo that isn't designed for a new machine, but the Wide Open Drive Shaft Switch Out is a novel solution to an old problem.
Unless you've got a 2005 or prior year Honda 4×4 ATV, chances are you don't need this product. However, many thousands of people still ride their trusty Hondas and are looking for a way to switch from all-time 4WD to 2WD. For just a few hundred dollars and a little work in the garage you'll be able to switch from 2WD to 4WD on the fly.
Click here for more information.
ProMan PTO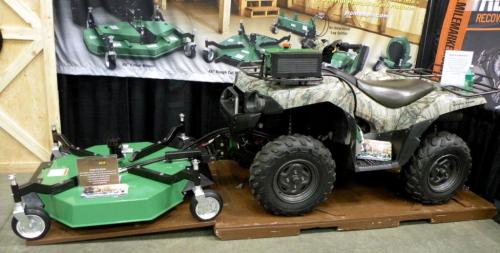 While we tend to focus on high-performance products when walking the floor at Dealer Expo, once in a while a company will do something with an ATV or UTV that we never imagined possible. One such example is the ProMan PTO.
This device claims to turn your ATV or UTV into a powerful hydraulic work platform by installing a power take-off (PTO) system. Once the PTO is installed, you can attach a mower, dual action log splitter, or leaf/debris blower and manage your property easier than ever before. More attachments are already in the works, including a post-hole digger, auger, and tree cutter. Once the work is done, you can quickly disconnect the hydraulic system and hit the trails.
We expect to test the ProMan PTO out in the near future and if it's as good as we're hoping, it may eliminate the need for many land owners to buy a compact tractor.
Click here for more information.
Liquid Image Torque HD Goggles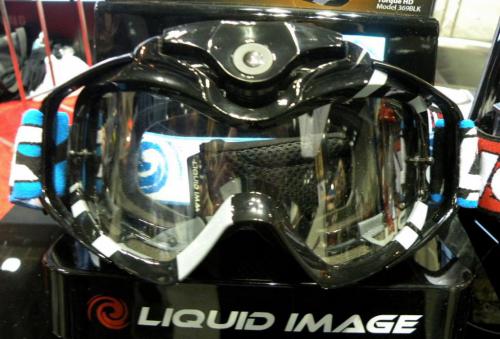 Liquid Image goggles, which have been around for a little while now, allow you to shoot HD video from your goggles. At the 2012 Dealer Expo Liquid Image showed off the future with its new Torque HD goggles, which takes the technology to a new level.
Where the camera in the original goggles was basically stationary, the lens in the Torque HD goggles can be tilted up or down depending on your preference. As well, the new goggles are equipped with WiFi, so your friends can see what you're seeing in real time if they are within range (about 100 meters).
Click here for more information.
Defender UTV Cab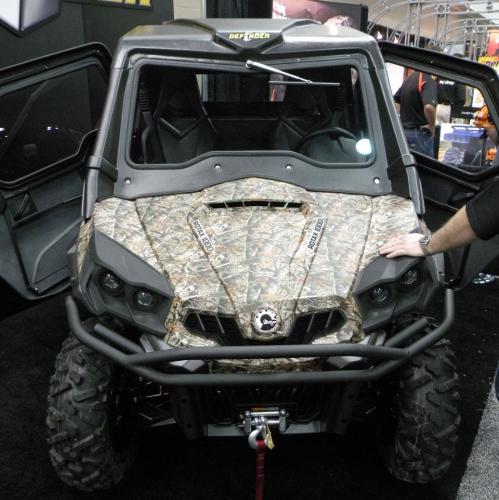 The aftermarket is flooded with UTV cab systems for virtually any application, so it's rare that one stands out from the pack. L.B. Manufacturing has done just that with its Defender Cab enclosure for the Can-Am Commander.
This cab just looks like it can take a beating. It's made of impact, fade and UV resistant plastic panels, and also comes with a molded rear panel designed to seal perfectly while allowing the dump box to operate normally. As well, the windshield is made of laminated safety glass. The Defender also comes with removable, smooth-action lift-off doors with push-button locking handles. Available accessories include a heating system, electric wipers, stereo system, dome light and sliding rear window.
Click here for more information.
ITP Tires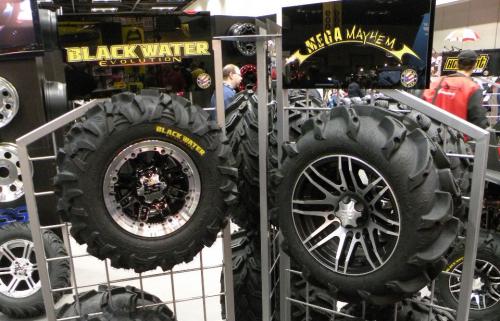 It's tough to miss the tires at Dealer Expo, as a huge section of prime real estate is set aside for the major tire manufacturers each year. ITP Tires came out with guns blazing in 2012 with a host of new and updated rubber for ATVs and UTVs alike.
Leading the way is the new Black Water Evolution. Designed for UTVs, the Black Water Evolution is an 8-ply radial tire with a non-directional tread design. ITP boasts that the original Black Water, released in 1989, was the industry's first dedicated mud tire. Though there are more aggressive mud tires available today, the Evolution claims to offer amazing traction while maintaining a smooth ride. It also comes with Sidewall Armor, which protects the shoulder area from penetration and should improve reliability over the long haul.
ITP also showed off its new Mega Mayhem and Turf Tamer Classic tires at Dealer Expo. The Mega Mayhem offers an aggressive tire with 1.5-inch-deep lugs in a lightweight 6-ply design, while the Turf Tamer Classic and Classic MX bring an old name back with some new design.
Click here for more information.
Related Reading
2011 Indianapolis Dealer Expo Report
2010 Indianapolis Dealer Expo Report
2009 Indianapolis Dealer Expo Report
New products abound at Dealer Expo Lucas Cooney
I have been working exclusively in digital media since 1997. I started out with TSN.ca, spending nearly nine years creating and editing content on Canada's leading sports website. I left to join VerticalScope, Inc., one of the world's largest online publishers, to start a number of powersports publications. While at VerticalScope, I've helped create and oversee content for a wide variety of different publications, including ATV.com, Off-Road.com, ArcheryTalk.com, Tractor.com, RVGuide.com, and many more.
More by Lucas Cooney
Published February 21st, 2012 12:47 AM
Top Brands
Popular Articles