1 View
Borich Earns Eighth Straight GNCC Win
October 26th, 2009 11:59 AM
Share
We're committed to finding, researching, and recommending the best products. We earn commissions from purchases you make using links in our articles. Learn more here
Suzuki pilot ends season on a high note
In the final round of the 2009 Can-Am Grand National Cross Country series, the Klotz Ironman in Crawfordsville, Ind., Rockstar Makita Suzuki's Chris Borich took his eighth-straight XC1 victory and his 10th of the season after taking the lead after his typical last minute campaign for the win. Yamaha's Bill Ballance finished in second with Indiana native Ryan Lane in third.
Borich battled in third for most of the race while FRE KTM's Adam McGill and Yamaha's Taylor Kiser led him through one of the toughest tracks of the 13-stop GNCC tour. The track has some of the steepest hills on the circuit and rain the day prior had made it one of the muddiest, too.
"I like the last lap," says Borich. "It was pretty tough out there but it was an awesome day. The hillclimbs were gnarly. This is one of the best tracks on the circuit and there were fans everywhere."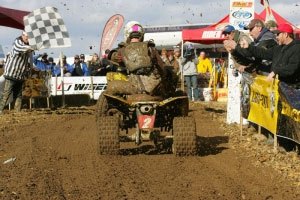 Ballance fired first to take the holeshot and led until he got stuck in a hole. McGill and Kiser were in hot pursuit and passed Ballance and ran 1st and 2nd through the famous Ironman track. Both were battling for second place in the series. When the white flag went out, McGill, Kiser and Borich were banging against each other. In the fourth and final lap, Borich made his way into the lead, and than Ballance got into second when McGill and Kiser both got stuck in a bottleneck. Then Ballance got stuck on a steep hillclimb, and Kiser ran into Ballance and tumbled down the hill while fans held onto his machine. A few feet away, McGill got stuck on the hill, also. Borich pulled away to finish first in front of Ballance and Lane.
"I didn't know where I was at the top of the hillclimb so I just put the hammer down," says Borich. "The bike is great. It's going to be hard to knock the number one plate off."
And one rider has confirmed that he will be back for the 2010 season to try and take back the Championship. This year's defending champion Ballance, who has won the GNCC championship nine times, said on the podium that he will be back for the entirety of the 2010 season.
"It's been a tough year but things have progressed to where they should be," Ballance said to huge cheers from the fans. "I will be back for the whole season."
Lane made his first podium appearance at the Ironman and the Indiana native said he was happy to overcome a rough year.
"I've had bad luck all year," says Lane. "Nothing's really come together but today it all worked. Going into the year I thought I could get on the podium but I had bike problems, and then I just wasn't riding well."
Warnert Can-Am's Chris Bithell finished fourth, followed by Yamaha's Donnie Ockerman in fifth. McGill finished in sixth followed by Houser Racing's Bryan Cook in seventh. Kiser recovered to finish in eighth and Yamaha's Johnny Gallagher, who had a strong start, finished in ninth followed by Duane Johnson in tenth. Walker Fowler, in his XC1 Pro debut, finished 11th.
A year-long battle in the XC2 Pro-Am class ended today when Josh Kirkland was able to take home a seventh place finish to secure the championship by one point over Brian Wolf, who took home the Ironman win.
"Today was unbelievable," says Wolf. "I made more mistakes on the first lap than I probably did all season. Everybody really stepped it up today. I'm really happy I could win one for this crowd."
Parker Jones took home another second place finish today and Big Nutz Racing's Kevin Yoho took home third.
Kirkland was awarded the number one plate after the XC2 Podium celebration. Kirkland had to finish in the top seven to win the championship and had no room to spare.
"I definitely had the worst race of the season," says Kirkland. "I got stuck a lot but I ended up in seventh where I needed to be."
Josh Beavers led most of the race after, but was unable to finish on the podium.
In the morning ATV race, Warnert Can-Am's Bryan Buckhannon took home the overall win, during a race that he had to win to take the championship. Buckhannon took home the $100 GT Thunder ATV Amateur Overall Award, the overall win and the 4X4 Open Championship. The 4X4 Open title race came down to the last round between Buckhannon and Can-Am's Scott Kilby, and whoever won the Ironman race would have taken the championship. Making it even more impressive was that Buckhannon broke his leg at the Pennsylvania race and was out for 16 weeks.
"It means a lot to take home the championship," says Buckhannon. "I was scared to death of getting sick this week. I haven't slept since the last race. After tonight though, we will all sleep good."
Yamaha's Traci Cecco finished second overall, and Warnert Can-Am's Michael Swift finished a perfect season in the 4X4 Limited class with a third place overall. Swift has won all 13 of his races this season, something that hadn't been done before in that class.
Cecco took first in the Women's class, followed by FRE KTM's Angel Atwell in second and Kristen Atwell in third.
In the Youth Race, Jay Shadron took first overall, followed by 9-year-old Hunter Hart in second and Emily wise, a second-generation GNCC'er in third.
Klotz Ironman GNCC Results
Final GNCC XC1 Standings
Pos.
Rider
ATV
Pos.
Rider
ATV
Points
1.
Chris Borich
Suzuki
1.
Chris Borich
Suzuki
342 (10 wins)
2.
Bill Ballance
Yamaha
2.
Taylor Kiser
Yamaha
245 (1 win)
3.
Ryan Lane
Honda
3.
Adam McGill
KTM
241
4.
Chris Bithell
Cab-Am
4.
Bill Ballance
Yamaha
237 (1 win)
5.
Don Ockerman
Yamaha
5.
Brandon Sommers
Yamaha
206
6.
Adam McGill
KTM
6.
Bryan Cook
Honda
205 (1 win)
7.
Bryan Cook
Honda
7.
Don Ockerman
Yamaha
179
8.
Duane Johnson
Honda
8.
Duane Johnson
Honda
152
9.
Jarrod McClure
Yamaha
9.
Jarrod McClure
Yamaha
149
10.
Johnny Gallagher
Yamaha
10.
Johnny Gallagher
Yamaha
134
Klotz Ironman GNCC Results
Final GNCC XC2 Standings
Pos.
Rider
ATV
Pos.
Rider
ATV
Points
1.
Brian Wolf
Yamaha
1.
Josh Kirkland
KTM
332 (5 wins)
2.
Parker Jones
Honda
2.
Brian Wolf
Yamaha
331 (8 wins)
3.
Kevin Yoho
Yamaha
3.
Parker Jones
Honda
213
4.
Josh Beavers
KTM
4.
Eric Hoyland
Honda
196
5.
Gabe Phillips
Yamaha
5.
Kevin Yoho
Yamaha
160
6.
Blake Kramer
Suzuki
6.
Gabe Phillips
Yamaha
144
7.
Josh Kirkland
KTM
7.
Josh Beavers
KTM
137
8.
Joey Margueira
Polaris
8.
Blake Kramer
Suzuki
132
9.
Eric Wilezek
Suzuki
9.
Rob Hertz
Honda
126
10.
Nathan Thomas
Honda
10.
Scottie Rich
Suzuki
117 Published October 26th, 2009 11:59 AM
Top Brands
Popular Articles