1 View
Borich Edges McGill To Win Big Buck GNCC
April 16th, 2012 12:04 PM
Share
We're committed to finding, researching, and recommending the best products. We earn commissions from purchases you make using links in our articles. Learn more here
Yamaha teammates Kiser, Fowler fail to finish
Defending champion Chris Borich bounced back from his fist loss of the season to win the VP Racing Fuels Big Buck GNCC this weekend in Union, SC. Borich edged out 2011 runner-up Adam McGill by only two seconds.
Taylor Kiser, who fought off Borich in a thrilling race two weeks earlier, looked to be on form early on as he quickly grabbed the $250 Motosport.com Holeshot Award, gapping Ballance Racing Yamaha teammate Walker Fowler and JG Offroad/FRE/American Honda's Brian Wolf from the get-go. Wolf and Fowler are no strangers in battle as the two former XC2 champions went head-to-head for years in the Pro Am division, but this time the intensity took over and the two riders came together just after the finish area. Wolf took the short end at first when he went sailing to the ground, but it was Fowler who ultimately suffered when his ATV quit working shortly after he passed Wolf for second. It didn't take long for Fowler to figure out the mechanical issue wasn't fixable and the track crew towed him into the pits.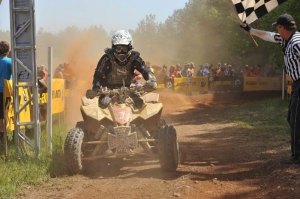 And things only got worse for the Ballance Racing crew when they learned that Kiser's ATV had also quit running within minutes of his teammate's incident. After putting a sizeable gap on the rest of the field, Kiser made a quick attempt to run on foot towards the pit, but ended up getting towed in right behind Fowler and neither rider was able to make it back out to salvage any points for the day.
In just one lap the entire dynamic of the race had changed and Borich found himself leading the two-hour race much sooner than anticipated. Over the years, Borich has nearly perfected his come-from-behind strategy where he slowly reels in the leaders before making his move in the final stretch, but this strategy didn't come into play as Borich surprisingly found himself in the front the pack after his Yamaha counterparts dropped out.
"It actually worked out to be in the front this weekend especially because of how much of a factor the dust was today," says Borich. "It's unfortunate what happened with those guys [Fowler and Kiser] today, but that's just part of racing. I really like racing with them and it makes it more fun when we can all mix it up out there."
Precision/Moto X Perts/ITP/Lonestar/RG Motorsports' Adam McGill was held up off the start but admittedly hooked onto Borich's rear bumper and sailed through the pack despite the dusty course conditions.
Chris Bithell eventually moved his Motoworks/ Can-Am DS450 into third after getting a slow start in the beginning and it quickly became a three-way battle for the lead between Borich, McGill and Bithell. Borich and McGill put a small gap on Bithell towards the end of lap four and it was once again a drag race to the checkers, with only two seconds separating Borich's victory and McGill's hard-fought second. Bithell came through with a solid third, taking his second podium finish of the season.
"It feels good to be back on the podium, today's race was a lot of fun," says Bithell. "The DS450 was working awesome out there, I'm feeling comfortable and confident with it and that makes a huge difference on days like today."
Bowers/Coastal National Guard/Yokley Racing's Jarrod McClure ran into some issues on the start that set him into last place right away, but McClure powered through the pack and landed his highest finish of the season with fourth overall.
North Carolina's Bryan Cook missed the first two rounds but finished an impressive fifth overall for the day, while BNR's Kevin Yoho also put in a season-best sixth place finish after running as high as fourth in the first hour of racing.
DeRisi Racing's Eric Hoyland finally secured his first-ever GNCC win in the XC2 Pro Am division; a feat the Virginia native has been working at for over three years. Hoyland's round four victory marks the fourth unique winner so far this season and further equals the playing field in championship point standings. Tireballs-backed Patrick McGuire only holds a one-point lead over Hoyland, and Henthorn sits in a comfortable third for now. Waynesburg Yamaha's Gabe Phillips finished tenth for the day, but still holds fourth place over Greg's ATV & Cycle's Matt Hanna, who picked up his first podium finish of the season at Big Buck.
Ohio's Brycen Neal finished fourteenth overall in the PM race taking home the Top Amateur honors, as well as the College A (16-21) class win over Landon Wolfe ( Suzuki) and Roman Brown (Yamaha).
Indiana's Marshal Goings (Honda) is well on his way to a dominant year in the Sport (15+) class as he extended his points lead with another class-win, in addition to topping the AM overall for the first time this season. Super Senior (45+) Dave Simmons came in second, while Yamaha Racing's Traci Cecco took third overall and bested her toughest opponent Angel Atwell in the highly contested Women's class.
Can-Am X-Team's Kevin Trantham once again topped the 4X4 podium ahead of 4X4 Open winner Bryan Buckhannon, while Zakowski Motorsports' Zac Zakowski took second behind Buckhannon and landed on the final podium spot for the first time this season.
It was once again South Carolina's Zachary Jones contesting for the Youth overall, but this time the victory went to Ohio's Cody Collier, who also topped the 90 Open (12-15) class. Indiana's Charlie Welch took a big win in the 90 Mod (13-15) class and secured third place overall in a competitive field of youth racers.
Round two of UTV racing took place at the VP Racing Fuels Big Buck GNCC and it was once again the Polaris National Guard team with the overall finish and taking top XC1 Modified honors, while West Virginia's Team ATR Performance put in a solid race for second. Ohio's Team Crash Addict took third in the XC1 class, while wrapping up the overall podium. Team Hendershot Performance of Ohio came in first in the XC2 Limited division with a sizeable gap on Kentucky's Team Married With Kids and Team Ricky Bobby Racing, who came in third. UTV racing will resume in Masontown, WV at The Mountaineer Run GNCC.
Round four of the 2012 Can-Am Grand National Cross Country Series heads to Park City, Ky. next, April 28-29 for The Mammoth GNCC.
2012 GNCC XC1 Standings
2012 GNCC XC2 Standings
Pos.
Rider
ATV
Points
Pos.
Rider
ATV
Points
1.
Chris Borich
Suzuki
111
1.
Patrick McGuire
Yamaha
91
2.
Adam McGill
Honda
82
2.
Eric Hoyland
Honda
90
3.
Chris Bithell
Can-Am
73
3.
Braden Henthorn
Honda
83
4.
Taylor Kiser
Yamaha
70
4.
Gabe Phillips
Yamaha
66
5.
Walker Fowler
Yamaha
62
5.
Matt Hanna
Yamaha
66
6.
Brian Wolf
Honda
58
6.
Nathan Thomas
Honda
54
7.
Johnny Gallagher
Yamaha
53
7.
Michael Lancaster
Honda
54
8.
Jeffrey Pickens
Yamaha
51
8.
Blake Kramer
Yamaha
48
9.
Jarrod McClure
Honda
49
9.
Joshua Merritt
Yamaha
46
10.
Kevin Yoho
Yamaha
46
10.
Nathan Wallpe
Honda
43 Published April 16th, 2012 12:04 PM
Top Brands
Popular Articles