1 View
July 14th, 2008 11:25 AM
Share
Suzuki rider picks up second win of the year
Doug Gust made sure the American Suzuki Summer National had a Suzuki quad on top of the podium on July 13 at Pleasure Valley Raceway in Johnstown, Pa.
The veteran rider was fast and consistent as he topped the field in ninth round of the ITP Tires/Moose Racing AMA ATVA Pro Motocross Championship. Gust, who earned his second victory of the year, finished ahead of Monster Energy Kawasaki's Josh Creamer and Team MSR/Suzuki/Yoshimura/Pro Taper teammate Dustin Wimmer.
"These wins feel better than any I've had in my career because of how tight the competition is," says Gust. "Look at the lap sheets. We are all within a second or so of each other, so to be able to win against a field like we have feels incredible."
Despite two Suzuki riders on the podium, it was a great day of racing for factory Kawasaki. Creamer grabbed the holeshot in the first moto and led the pack to the green flag. Also gating well were Gust and Wimmer, with Can-Am's John Natalie Jr. and Team Epic Racing/Can-Am's Greg Gee rounding out the top five at the conclusion of the first lap. Creamer set a lightning quick pace and pulled out to a two-second lead by the halfway point.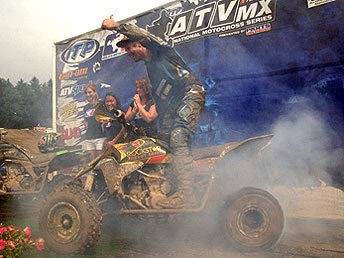 Meanwhile, Gust pulled clear of Wimmer, who appeared to be riding cautiously in the slick conditions. Natalie laid down a couple of the fastest laps of the moto to draw close to Wimmer's rear wheels. From there, things went downhill for Natalie as he suffered a flat tire, and, later, engine problems. Up front, Gust mounted a charge but Creamer held on for the opening moto victory. Wimmer rode home third with Kawasaki's Keith Little and Gee rounding out the top five.
The first moto was a big heartbreak for Suzuki's Chad Wienen, who had qualified a close second. Wienen's quad suffered an electrical problem on the starting line and was unable to start the race.
Gust earned the holeshot in the second moto, but Wimmer was hot on his heels. Creamer had a poor start but was charging through the pack quickly. Business picked up around the halfway point of the moto as Wimmer made his move on Gust and took over the lead. Almost simultaneously, the heavens opened and heavy rain began to pound the track.
"When it started raining, I started smiling," says Gust. "Dustin was riding really well and when he got around me I wasn't sure if I was going to be able to get him back. But, when it started raining, that changed."
Wimmer would only lead one lap before sliding out on a tricky jump. Once in the lead, Gust never faltered, taking the checkered flag about five seconds ahead of Team Epic/Can-Am's Jeremy Lawson and earned the overall victory. Creamer finished the moto third, which was good enough for second overall.
"I wanted the win today very badly," says Creamer. "I didn't get a very good holeshot in the second moto, but I charged as hard as I could to get to the front pack. Right when I reached fourth, it started raining and I had to take off my goggles. It was a good day though, and we'll win soon."
After nine round of racing, Wimmer holds a commanding 79-point lead in the standings over American Honda's Joe Byrd. With his victory, Gust moves within eight points of Byrd in third place.
The next race for the ITP Tires/Moose Racing AMA/ATVA National Motocross Championship is scheduled for July 26-27 at Redbud Raceway in Buchanan, Mich.
National Motocross Series Round 9 Results:
| | | | |
| --- | --- | --- | --- |
| Position | Rider | Manufacturer | Moto Results |
| 1. | Doug Gust | Suzuki | 2 – 1 |
| 2. | Josh Creamer | Kawasaki | 1 – 3 |
| 3. | Dustin Wimmer | Suzuki | 3 – 4 |
| 4. | Jeremy Lawson | Can-Am | 6 – 2 |
| 5. | Keith Little | Kawasaki | 4 – 6 |
Championship Points Leaders:
| | | | |
| --- | --- | --- | --- |
| Position | Rider | Manufacturer | Points |
| 1. | Dustin Wimmer | Suzuki | 367 |
| 2. | Joe Byrd | Honda | 288 |
| 3. | Doug Gust | Suzuki | 280 |
| 4. | Josh Creamer | Kawasaki | 242 |
| 5. | Jeremy Lawson | Can-Am | 233 |
Related Reading:
Wimmer dominates at Muddy Creek
Published July 14th, 2008 11:25 AM
Top Brands
Popular Articles