1 View
Snowmobile, ATV Show a Boon for Enthusiasts
November 1st, 2007 3:23 PM
Share
International event draws crowds in variety of powersports
As soon as you walked through the main entrance, the 20th annual Toronto International Snowmobile, ATV & Powersport Show began to assault your senses.
The music was loud, the smell of food hung in the air and seemingly everything related to snowmobiles and other powersports was within your sights.
The event claims to be the biggest snowmobile and ATV show in the world and with hundreds of booths and millions of dollars worth of merchandise on display you can see why.
Looking for a new ATV? Just turn around and you'll probably bump into one.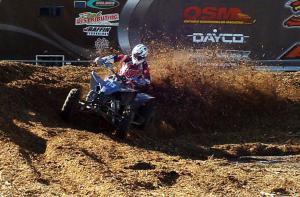 Planning a ride with some friends? Pick up maps and talk to locals from dozens of tourism groups and clubs.
Just want to be entertained while keeping your money in your wallet? Check out the fearless riders at the freestyle ATV demonstration event.
Many 2008 model ATVs could be found at the show, as vendors were showing off all their machines.
Tourism was a big part of the show and attendees had plenty of possible destinations to learn about. Locales throughout Ontario, Quebec and the Maritime provinces were on display, perfect for planning a trip.
Published November 1st, 2007 3:23 PM