1 View
Western York County Ducks Unlimited ATV Poker Run
August 23rd, 2010 3:51 PM
Share
We're committed to finding, researching, and recommending the best products. We earn commissions from purchases you make using links in our articles. Learn more here
Wetland conservation at its finest
With the goal of raising money for wetland conservation while having a blast on and off the trails, the Western York County (South Carolina) chapter of Ducks Unlimited held its second annual ATV Poker Run and we were lucky enough to tag along.
The 2010 WYCDU event began the morning of Saturday, August 14 at the Wood Duck Club in York, SC. We arrived at a large field set up for parking. The staff on hand told us to go ahead and park, then we could ride our off-road vehicle down to the registration area. After unloading, we started down the road on our Polaris RZR and saw another large field on each side of the road that was set up for camping.
The registration booth was well equipped and fully staffed so it was easy to register for the ride or to purchase poker hands and T-shirts. We signed in and started out on the trail to have some fun and to learn all we could about this great cause as well as to get some great shots.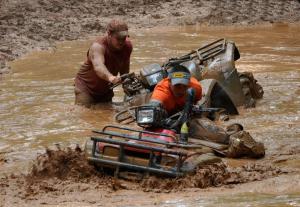 As luck would have it, the first place we went was to a mud bog down at Station 2. A wide variety of enthusiasts were waiting their turn to show what they and their vehicles could do – or not do in several cases. We saw side-by-sides and ATVs both try their luck at getting across. This was no simple mud hole. This bog took a lot of skill, not to mention a fair portion of luck, to get through. We saw a few people get through it but even more who crashed and burned. After the crowd dwindled a bit we continued around the 12 miles of trails. This trail system contained everything from open roadways and fields where you could really squeeze the throttle, to creek crossings, hill climbs and some rougher terrain to test your skills.
The event this year was a lot more successful than it was the first year. The trail system and bogs were more of a challenge and the entertainment was better, even with the rain on Saturday night, and the food from Courtney's BBQ of Clover, SC was great. Poker run winners got some awesome prizes, including a Stoeger Condor Over/Under 12-ga. shotgun, a Marlin 22 cal. rifle, a Yeti Ducks Unlimited cooler and a four-piece hunting bag set. The best poker hand holder got first choice of the prizes, followed by second and third places getting their pick in order and fourth place got the remaining item. Had there been a tie on any of the hands, they would have settled it with the draw of a high card.
There was also an additional 52 raffle tickets sold for $20 each for a chance to win a Mossberg .270 cal. rifle with a scope and hard case. Other door prizes were also given away throughout the weekend.
After all the riding was done on Saturday, we took in an after party with live entertainment and a corn-hole tournament…at least until the rain started. Swimming and fishing was also available on site.
To take part in all this fun cost as little as $10 to just come and ride. However, the recommended package for the event was $50, which included the driver entry fee, a T-shirt, a Ducks Unlimited membership and one poker hand. Additional poker hands were available for $10 each (the winning hand was four Jacks). Camping was also available at $15 per tent/camper for Friday and Saturday nights.
Background on Ducks Unlimited
By CJ Rena Johnson
Ducks Unlimited, started by just a few sportsmen, was formed in 1937 as a means to deal with an unprecedented low population of waterfowl. This was during the "Dust Bowl," when North America was plagued with a drought so severe it was affecting the continent's waterfowl, among other things, almost beyond repair. Ducks Unlimited had one mission in mind when it started. That mission was habitat conservation.
Ducks Unlimited is now the largest private waterfowl and wetlands conservation organization in the world.
Wetland conservation benefits not only the waterfowl, but also helps the overall health of our environment, purifying water supplies, reducing soil erosion, preventing floods, preserving ecosystems and providing critical habitat to more than 900 wildlife species.
The United States loses more than 80,000 acres of wetlands each year. As a result, it has already lost more than half of its original wetland areas. Ducks Unlimited aims to reverse this trend by stepping outside the box and working with other groups, such as the off-road recreational vehicle communities, to give even more hope to this cause.
Conservationists and Recreational Vehicle Enthusiasts working Together
Although often on seemingly opposite sides of the battle, conservation groups and off-road enthusiasts working together has the potential to get some amazing things accomplished.
These two great communities each do a tremendous amount of work to help preserve our national, federal and state forests, as well as our parks and recreational areas. I know firsthand since I am a very active member of both groups. I believe we can all work together to have peace and to promote a cleaner, better Earth for us all to share.
As the largest wetland conservationist group in the world, Ducks Unlimited has found a way to work together with the largest group of off-road enthusiasts in a very productive way.
The Western York County chapter of Ducks Unlimited (WYCDU) is taking that stance as well.
The WYCDU is a leading chapter in upstate South Carolina. This group takes the initiative to go the extra mile to do all they can to raise funds and awareness for waterfowl and wetland conservation on all levels. The creativity and passion among the WYCDU members is evident at every event and in all they do. The Western York Country Ducks Unlimited ATV Poker Run was no different.
All told the event drew about 250 off-road enthusiasts who raised nearly $8,000 for Ducks Unlimited.
"The highlight of the event was definitely that the community once again came out to support our mission of wetland and waterfowl conservation," says Adam Shumate, event organizer. "We had a safe day of fun with a lot of new people that got to experience what Ducks Unlimited and more specifically what Western York County Ducks Unlimited is all about."
According to Shumate, plans are already underway for a similar event to be held next year on a larger scale.
"I would love to see more children," says Shumate. "We had quite a few this year. Our event is a great way for families to experience a day of safe ATV riding and also teach the children the importance of conservation."
More Information
For more information about the Poker Run or the Western York County Ducks Unlimited, you can call 803-487-4924 or email at wycdu@ymail.com. You can also check out the WYCDU's website at WYDU.com. The main website for Ducks Unlimited is Ducks.org. Published August 23rd, 2010 3:51 PM
Top Brands
Popular Articles