7 Views
2008 Year in Review - Utility Quads
June 16th, 2015 4:42 PM
Share
We're committed to finding, researching, and recommending the best products. We earn commissions from purchases you make using links in our articles. Learn more here
New and updated for 2009 utility ATVs
As we gear up for the new year, ATV.com has decided to look back at all the new utility ATVs that have been released for the 2009 model year. We will also be looking at sport ATVs and side-by-sides in the coming weeks.
Even with a sagging economy, we saw no shortage of updated and completely new ATVs the past 12 months. Nobody did more, in fact, than the two American-based manufacturers – Arctic Cat and Polaris. Both companies made a variety of utility quads, as well as some very interesting and industry-changing side-by-sides.
As for the Japanese builders, Honda gave a major facelift to its popular Rancher, while Yamaha and Suzuki each introduced a brand new 500-class ATV. Korean-based Kymco also made a splash with a solid lightweight quad.
2009 Honda FourTrax Rancher AT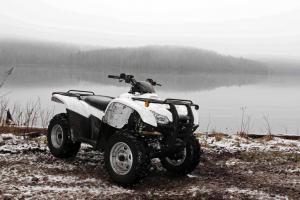 With a 420cc engine providing the power, Honda's FourTrax Rancher AT isn't the sexiest machine in the Honda lineup. However, the middleweight utility market is a big one, so Honda decided to give the Rancher an overhaul for 2009. New for this year is Honda's automatic transmission, which provides seriously smooth shifting. For those of you who prefer manual shifting, ESP mode is available at the flick of a switch. Also new on the AT model are an independent rear suspension and available electronic power steering (EPS). Though hardly a brand new innovation, EPS took the ATV world by storm this year and it shows no signs of slowing down.
Base MSRP: $6,599 ($6,999 with power steering)
Specs Page
2009 Yamaha Grizzly 550 FI
Yamaha thought it had a pretty big hole between the Grizzly 450 and Grizzly 700 and decided to fill the gap with the all new Grizzly 550. The chassis and most of the features and styling are borrowed from the Grizzly 700, including the optional electric power steering which is both torque and speed sensitive. Power is provided by a 558cc, 4-stroke liquid cooled, fuel-injected engine. Riders can switch from two to four-wheel drive at the bush of a button. Another fantastic feature is the engine braking system, which kicks in at a higher speed than some other quads. You can also choose between two and four-wheel engine braking – the difference between the two is staggering.
Base MSRP: $7,099 ($7,799 with power steering)
ATV.com Review
Specs Page
2009 Polaris Sportsman 850 XP
The Sportsman 850 XP bares little resemblance to the Sportsman 800 – this vehicle is a complete departure. To start off, Polaris turned and canted the new powerplant so it is inline with the chassis, which results in a much narrower seat and a lot more leg room behind the fenders. A new double A-arm front suspension is a welcome addition, as is the optional electronic power steering. A brand new fuel-injected 850cc twin engine provides a massive 70 horsepower and is the pride of Polaris engine designers. Beyond power, Polaris says engine smoothness was a huge factor in the redesign. Polaris' Active Descent Control helps provide stopping power on downhills by gripping all four discs while operating at less than 15 mph with no throttle.
Base MSRP: $8,999 ($9,699 with power steering)
ATV.com Review
Specs Page
2009 Polaris Sportsman 550 XP
Like the Sportsman 850 XP, the 550 XP is basically a new ATV from the ground up. It features a 550cc single cylinder engine that has also been turned and canted like the 850. Though it doesn't have the power of the 850, the 550 can still get up to speed in a hurry and is a little more nimble in tighter trails thanks to 50 fewer pounds of weight. The $1,500 difference in price is also something to consider. Polaris' new electronic power steering is available for an additional $700.
Base MSRP: $7,499 ($8,199 with power steering)
ATV.com Review
Specs Page
2009 Suzuki KingQuad 500 AXi Power Steering
The biggest ATV news from Suzuki in 2008 was the introduction of the KingQuad 500 AXi with electric power steering. Based on the popular KingQuad 450AXi, the new 493cc fuel-injected KingQuad 500 features a new cylinder and piston, plus the same features of its little brother including fuel injection, advanced engine braking and a QuadMatic CVT-type automatic transmission. The 2009 KingQuad 500 will be available in white, limited black brush and camouflage. The KingQuad 500 AXi is only available with power steering.
Base MSRP: $7,599
Specs Page
2009 Suzuki KingQuad 750 AXi Power Steering
Hardly getting a complete overhaul, Suzuki did upgrade its flagship utility quad with power steering. We have yet to throw a leg over this one, but we have tested out the base 750 AXi, which we liked very much. If power steering isn't your thing, Suzuki also introduced a new Rockstar Edition of the 750 with yellow and black Rockstar graphics and a winch.
MSRP: $8,699 ($7,999 for Rockstar Edition w/o power steering)
Specs Page
2009 Arctic Cat TRV 1000 H2 EFI Cruiser
For 2009 Arctic Cat put the ATV industry's most powerful engine into a two-up touring concept. Measuring a stout 951cc, the single overhead cam V-Twin has incredible torque for an ATV engine. With power to spare at low end and rumbling through midrange up to top end, the Arctic Cat built twin is the perfect complement in this luxury cruiser model. This vehicle offers plenty of features, including heated handgrips for the driver and passenger, a two-piece fairing with handlebar-mounted mirrors, and a rear-mounted, locking travel case.
MSRP: $12,499
ATV.com Review
Specs Page
2009 Arctic Cat 700 H1 EFI Mud Pro
Arctic Cat made a very interesting machine with its 700 HI EFI Mud Pro. It certainly won't be a top seller, but the Mud Pro does appeal to a niche market that really hasn't been catered to by the major manufacturers. Mud racing is growing in popularity and the people who partake have to spend gobs of time and money to prepare a stock ATV for action. The Mud Pro comes with the all-important front snorkel, massive 28-inch tires, 14-inches of ground clearance, a reworked suspension system, and a 3,000-pound winch. To customize a stock ATV to these specs would cost thousands and the warranty would be no-doubt be voided.
MSRP: $9,529
Specs Page
2009 Arctic Cat 550 H1 EFI 4×4
The brand new for 2009 545cc engine powers the 550 HI EFI and the 2-up TRV version. The 'hemi' head helps maximize internal combustion via its unique hemispherical design. Add in precise fuel metering you get with electronic fuel injection and the smooth drivability of Arctic Cat's Duramatic continuously variable transmission, which shifts ratios seamlessly for maximum power. The 550 may be a bit down in top end compared to the old 650, but it's every bit its equal — if not more — from low end to upper midrange. Whether you ride the 550-powered TRV cruiser version or the non-dresser 550, you'll come away impressed.
Base MSRP: $7,399 ($8.099 for 2-up TRV version)
Specs Page
2009 Arctic Cat 150 4×2
Another brand new ATV from Arctic Cat, the 150 4×2 serves as a transitional vehicle. The idea is to bridge the gap between the 90cc machines that are designed for the very young riders and the 250cc machines that are designed for adults. Arctic Cat says the 150 4×2 is for riders 14 and up and is loaded with features not found on most youth quads. A 149cc engine, automatic transmission, adjustable five-position pre-load shocks and digital instrument panel set the 150 4×2 ahead of the pack.
Base MSRP: $3,199
Specs Page
2009 Kymco MXU 375 4×4
This ATV is one of the reasons Kymco's reputation has taken such a big leap forward in recent years. We actually tested the European version, the MXU 400, before the 375 was made available, but it's very close to the same machine. For a smaller displacement (367) ATV it's an excellent climber. It has very controllable power and it's surprisingly stable, thanks in large part to its independent rear suspension. Also, the progressive engine braking allows it to descend without a lot of sliding around. It would be interesting to compare it to Arctic Cat's 366 4×4 Automatic ($5,649) or Suzuki's King Quad 400 AS ($5,499) to see if it can stand up to the big boys.
Base MSRP: $5,299
ATV.com Review
Specs Page
Related Reading
2008 Year in Review – Sport Quads
2008 Year in Review – Side-by-Sides Lucas Cooney
I have been working exclusively in digital media since 1997. I started out with TSN.ca, spending nearly nine years creating and editing content on Canada's leading sports website. I left to join VerticalScope, Inc., one of the world's largest online publishers, to start a number of powersports publications. While at VerticalScope, I've helped create and oversee content for a wide variety of different publications, including ATV.com, Off-Road.com, ArcheryTalk.com, Tractor.com, RVGuide.com, and many more.
More by Lucas Cooney
Published December 31st, 2008 1:18 PM
Top Brands
Popular Articles