1 View
5 Ways a Manual Can Help You With DIY ATV Repair
September 6th, 2018 2:17 PM
Share
We're committed to finding, researching, and recommending the best products. We earn commissions from purchases you make using links in our articles. Learn more here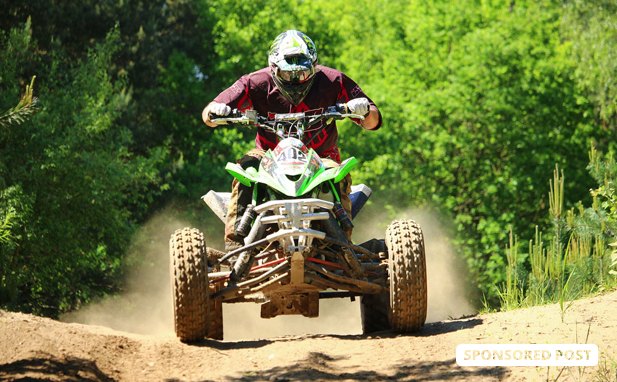 Expert content makes quality repair manuals an indispensable tool for DIY ATV repair.
For do-it-yourself ATV mechanics, there's no shortage of information available on how to tackle a multitude of jobs. Whether you're performing an involved repair, replacing a worn part, or handling a basic tune-up, detailed instructions, quality advice, and expert insight is vital to getting the job done quickly, properly, and with confidence.
That's exactly why Clymer® and Haynes Manuals are such an indispensable tool for the DIY enthusiast. Part of the Haynes Manuals family of brands, the Clymer and Haynes Manuals product portfolio includes Haynes Polaris Repair Manuals, Haynes Kawasaki Repair Manuals, Clymer Honda Repair Manuals, and more. In fact, with trustworthy Clymer and Haynes repair manuals, you're fully covered with a full selection of repair manuals available for virtually type of power-toy or outdoor equipment propelled by a small engine.
Available in both print and online versions, a Clymer manual makes a great add-on purchase with your new investment, a great gift for the powersports fanatic, and one of the most valuable products you can keep in your garage toolbox.
Clymer Manuals are produced by the same experts who publish Chilton and Haynes automotive repair manuals– and they put decades of experience and expertise to work for readers who want quality instruction and detailed illustrations at their fingertips for speedy and confident repair.
Below are five reasons to consider using a professional manual to help with do-it-yourself ATV repair.
Wide Coverage
Whatever the snowmobile, ATV, motorcycle, Personal Watercraft (PWC) or other small-engine powered product you operate, there's a trustworthy Clymer or Haynes manual available, just for you. Unlike general repair and maintenance guides, these manuals are created specifically for the application in question—with comprehensive illustrations and step-by-step instructions that reference your exact machine, its exact parts and components, and its exact needs and requirements. Order the manual for your specific application, and you'll find specific details on performing tune-ups, replacing brake parts, servicing the fuel system, and even extensive repairs that involve the tear-down and rebuilding of larger components. Useful troubleshooting information and expert advice that taps into decades of experience are included, too. With Clymer and Haynes manuals, the information you need is all at your fingertips, all the time.
View it Your Way
Available in both printed and online versions, Clymer manuals are at your disposal, regardless of how you prefer to view them. A printed manual can be kept in your garage or toolbox for easy reference, and online manuals are available for access on your tablet, e-reader, Smartphone, or laptop. The online manuals are instantly accessible, and download quickly—putting quality information and instruction at your perpetual disposal in minutes. Just like the printed manuals, Clymer online manuals can go with you wherever you like.
Save Money and Prevent Headaches
With detailed illustrations and easy-to-understand step-by-step instructions, Clymer manuals allow readers to fully visualize the repair job before they begin—including all required tools, fluids, lubricants and other supplies. Thinking of taking your ATV or motorboat to the shop for an expensive repair? Check your Clymer manual first: since the job may be simpler than you think. Plus, with the most detailed instructions, compiled and presented by experienced repair experts, Clymer manuals provide the most thorough and high-quality repair information available anywhere. Countless ATV enthusiasts have trusted Clymer and Haynes manuals for decades.
Longer Equipment Life and Added Safety
Clymer manuals make it easy to repair, service and maintain your outdoor or power equipment, and take the guesswork out of doing the job properly. Instructions are presented consistently, and with helpful tips and advice for best results. Before long, you'll likely find the Clymer manual makes servicing and caring for your small engine easy and fun—meaning you're more likely to inspect, service, and maintain it, more often. This can translate into longer and more trouble-free life from your equipment. Using a professional manual for repair instruction also enhances your safety, as detailed tips and guides are vital to the safe repair and servicing of components like steering and brakes.
Presentation is Key
YouTube videos and owner forum how-to guides may provide some insight on how to tackle certain repair jobs for certain makes and models of equipment– but only a Clymer manual includes complete instructions for virtually every repair and maintenance task. All instructions and illustrations are presented in a format honed through decades of experience in publishing easy-to-understand how-to guides for virtually any vehicle or equipment with an engine. Supplemental information and helpful tips are easy to access, and no question or detail is glossed over. If you've been using amateur how-to guides from the internet for DIY repair, you'll be astonished at the quality and thoroughness of a Clymer manual, every time you use it. Published September 6th, 2018 2:17 PM
Top Brands
Popular Articles