1 View
A Beginner's Guide to Hunting Preparation
October 28th, 2015 12:37 PM
Share
We're committed to finding, researching, and recommending the best products. We earn commissions from purchases you make using links in our articles. Learn more here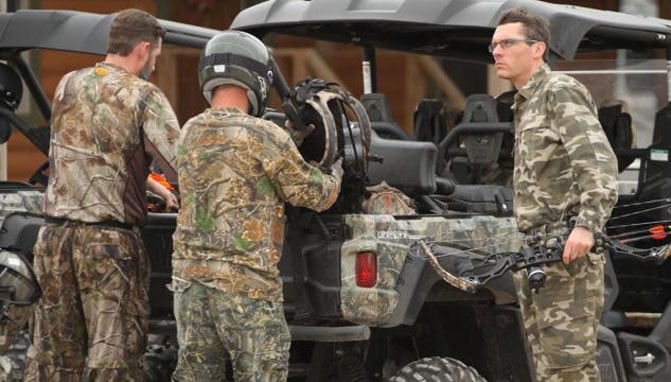 A rookie hunter's journey to find whitetail deer
Hang around ATV and UTV riders long enough and you'll notice that it's not just riding that gets their pulse pounding. I've found that many off-roaders are interested in just about anything the great outdoors has to offer – from camping to fishing to hunting.
While I spent my summers going camping and fishing when I was younger, it wasn't until this past spring that I gave much thought to hunting. Yamaha asked me if I'd be interested in hunting for whitetail deer in Texas this November using some Yamaha Viking Side-by-Sides. I decided to jump at the opportunity. It was shortly after I accepted the invitation that I realized how little I knew about what I was getting into and how much work needed to be done before setting my sights on a deer.
Yamaha invited me to Texas to hunt whitetail deer with the assistance of Yamaha Viking Side-by-Sides.
Weapon of Choice
Yamaha gave me the option of hunting with a gun or a compound bow. Though using a rifle would give me a much better opportunity to take home a deer, choosing a bow was a no-brainer. I've been practicing and competing in target archery for the past year and a half and figured the hunt would give me a chance to put my skills to use.
I'd have gladly used my target bow for the hunt, but it is full of shiny bits that would surely get me noticed in the woods. A proper hunting bow was in order and I contacted Athens Archery, an Indiana-based manufacturer, to help find the right hunting partner.
I've been getting very familiar with my Athens Judgement the past few months. I love this bow.
Athens offers a number of bows capable of taking down a deer, but I was drawn to the Judgement with 60-pound limbs. I'm used to shooting a fairly long bow for target archery and the Judgement, with an axle-to-axle length of 36 inches, is about what I've comfortable shooting. Unlike a typical target bow, the Judgement is wicked fast. Its IBO (the standard method for judging how fast arrows travel out of a bow) is 340 feet per second – about 30 feet per second faster than my target bow. That extra speed delivers more kinetic energy from the arrow into the deer and offers more forgiveness in case I guess wrong on the distance.
Athens can put a bow together in just about any color combination. I chose matte black with camo limbs and was very pleased with the result, but I was tempted to get creative with orange cams and limb pockets.
Bow Setup
To get the bow ready for hunting, it needed to be set up with a number of accessories. For a sight, I went with a five-pin Spot-Hogg Hunter. This is Spot-Hogg's mid-level offering, but it has all the features I was looking for, including second and third axis leveling to help with uphill and downhill shots. As well, I can adjust each pin individually, both vertically and horizontally, allowing for precise adjustments. I set pins up for 20, 30, 40, 50 yards. The fifth pin is set up for 70 meters, which I strictly use for competitions at my club…I have no intention of taking a shot at a live animal at that distance.
Spot-Hogg shipped me a five-pin Hunter sight. The pins are the toughest in the industry and easy to adjust.
Spot-Hogg also offers a line release aids. I've been practicing with the Wiseguy wrist release, which you fire with your index finger. With the Wiseguy, you can set the tension on the trigger to just about any amount of pressure that suits you.
For an arrow rest, I went with company who makes the rest on my target bow – Trophy Taker. The SmackDown Pro is a dropdown-style arrow launcher with a full capture containment ring. The launcher is attached by a cable to the limb of the bow and it lifts up when you draw the bow back. It was easier to install it than I thought and a snap to make any necessary adjustments. It's also whisper quiet. If I get busted by a deer, I can't blame the rest.
The retaining riing of the Trophy Taker Smackdown Pro rest is coated with rubber and the launching arm is felted, to it's as quiet as can be.
I also ordered a set of Trophy Taker Ulmer Edge broadheads. These are mechanical-style broadheads and feature two blades that expand to provide a 1.5-inch cut. They've also got a practice mode, which allows you to shoot them into targets without damaging or dulling the blades.
Broadheads won't go very far without an arrow and that's where Black Eagle Arrows comes in. I ordered a set of Black Eagle's Zombie Slayer arrow shafts. These are affordable arrows that offer the tight tolerances of much more expensive options. Though it won't help me find a deer, the arrows also look cool with green, orange and red zombie graphics.
Hopefully these Zombie Slayers are also effective at killing deer.
The final piece to the bow puzzle was finding a way to transport it safely on a plane. I've had more than one piece of luggage get beat up by baggage handlers, so I needed something that could take a beating while protecting my equipment. SKB makes a series of hard cases for archery, firearms, golf and fishing equipment. I called them up and ordered new iSeries 4217 Parallel Limb Bow Case.
With space for a dozen arrows, all the accessories that fit on your bow and even some hunting clothing, the iSeries case can hold everything you need. The bow is held down by straps on each limb, but I'd like to see a third strap to hold the riser of the bow, as mine can slide around a bit.
SKB's iSeries bow case is waterproof, dust tight and built to take everything baggage handlers can dish out.
I've carted this case all over the place going to my archery club and local tournaments, and it has help up perfectly. Of course, the TSA is a much greater challenge, but I'm confident it's up to the task.
Optics
To help me spot deer in the field and figure out how far away they are, I needed a good pair of binoculars and a rangefinder. Leupold, an Oregon-based optics company, had what I was looking for. I chose the Leupold BX-3 Mojave Binoculars and RX-1200i Digital Laser Rangefinder.
I'm blown away at how bright and clear the Leupold BX-3 Mojave binoculars are in low-light conditions.
I can't begin to say how impressed I am with both of these products. The waterproof, armored BX-3 Mojave 8×42 binoculars offer a magnification of 8x, but I compared them to a set of cheaper binoculars with 10x magnification and noticed no difference is the size of objects. What I did notice was how clear everything looked, which was even more obvious in low light. I could see where my arrows landed in targets 70 meters away with ease. For closer targets (20 yards or so) the detail is astonishing.
Rangefinders are new to me, so I didn't know what to expect. The RX-1200i TBR rangefinder is ridiculously small. It easily fits in the front pocket of my pants and it's accurate to tenth of a yard, which is a huge bonus for a bow hunter. Another huge benefit is that it adjusts for angle. This comes in handy if you are up in a tree stand looking down at a passing deer. While you may be 40 yards from the animal, if you are on a steep angle might only need to shoot as if you are 35 yards away. The rangefinder makes that adjustment for you. I've been playing around with this like a kid with a new toy and can't wait to use it in the field.
Leupold's RX-1200i TBR rangefinder will be my best friend in the field.
Practice, Practice, Practice
I've been shooting my hunting setup as often as possible the past few months, flinging thousands of arrows. Usually this means tinkering and shooting at my archery club, but sometimes it means competing. I compete to help mimic the pressure I'll feel when drawing on a live animal. For hunting practice, I'm partial to 3D archery shoots.
Competing in 3D archery tournaments was good practive for the hunt and I got to meet some really great people.
For the uninitiated, 3D shoots feature a course laid out (usually in the woods) where you shoot at as many as 40 different foam animals. All the events I competed in were unknown distance, so you have to do your best to figure out how far the animals are from the shooting line – anywhere from 15-50 yards. I found these competitions to be a great exercise to both judge distance and learn where you are supposed to aim on an animal. Plus, they are loads of fun and you meet some great people.
Gear, Accessories
Seeing as I have absolutely zero hunting experience, I wasn't sure what I needed to have with me, outside of the bow, when it came time to head outdoors for the hunt. Fortunately, I didn't have to go far to find somebody who could help. I put a call in to my local Bass Pro Shop and set up an appointment with a sales rep.
I knew I was in good hands as soon as met my guide, Gordon. Gordon is an experienced hunter and had been to Texas on a hunting trip before. After exchanging pleasantries, Gordon asked me exactly where I was going and what I was hunting for. We grabbed a shopping cart he started to outfit me in RedHead gear from head to toe, while answering each and every question I had. Having an experienced person to help through the process was hugely helpful.
I'll be outfitted head-to-toe in Redhead hunting gear. These Big Timber Boots are waterproof, but I'm hoping I won't have to test that claim.
Gordon told me about the importance of layering and filled the cart with E.C.W.C.S. Military Fleece Shirt and Pants, 1856 Fleece Windproof Jacket and Pants, Squaltex II Bone-Dry Rain Jacket, StormTex Rain Pants, two pairs of gloves (one for riding and one for shooting), Lifetime Guarantee All-Purpose Socks, Ultra Silver Crew Hiking Socks, Big Timber 8″ Waterproof Hunting Boots, Camo Belt, cap with LED lights in the brim, compact backpack and a hydration bladder to go in it. I washed all the gear with baking soda and I'm keeping it in a zippered Scent Safe Bag with Fresh Earth Scent Wafers.
For a knife, Gordon recommended the Outdoor Edge Flip N'Zip folding knife with a blaze orange handle, so I'll be able to find it if I set it down on the ground. It's got two blades – a main skinning blade and a gutting blade, which features a blunted end so I don't puncture the internal organs of the deer during the gutting process.
If I am lucky enough to take down a deer, my Outdoor Edge Flip N'Zip knife will be put to work.
Gordon also threw in an emergency medical kit, scentless soap, Dead Down Wind Face Paint System and a pair of deer calls (Knight & Hale EZ Grunter Deer Call and EZ Doe Bleat Call), which he gratefully showed me how to use. Completing the shopping trip was the Hunter's Specialties Butt Out Big Game Dressing Tool, which, I'll admit, made me laugh (and cringe) a little bit.
Getting Certified
The last thing I had to do before I could officially call myself a hunter was go back to school. I spent a long Saturday in a room with about 25 other people learning about ethical hunting, local rules and regulations and a host of other useful information before taking my hunting certification exam. We've covered that process in a previous article on ATV.com, which you can read here.
Time to Hunt
After months of shooting my hunting setup, I'm feeling really comfortable. I can keep my arrows grouped nice and tight to 40-45 yards, which is about where I want my longest shot on an animal to be. However, I suspect shooting in the comfort of my archery club or even a competitive 3D shoot is very different from drawing my bow back on a real deer.
My Athens Judgement is ready for the woods.
My daughter tries my hunting setup on for size.
Not getting too excited and controlling my emotions will be my biggest hurdle during the hunt. It's what is keeping me up at night as I count down the days to my Texas hunting adventure. Ensuring I take an ethical, humane shot at a deer is hugely important to me. I'd rather watch one walk away than try and do something beyond my comfort level – even if it means my story suffers for it.
I'll let you all know how it goes in the coming weeks. Wish me luck. Lucas Cooney
I have been working exclusively in digital media since 1997. I started out with TSN.ca, spending nearly nine years creating and editing content on Canada's leading sports website. I left to join VerticalScope, Inc., one of the world's largest online publishers, to start a number of powersports publications. While at VerticalScope, I've helped create and oversee content for a wide variety of different publications, including ATV.com, Off-Road.com, ArcheryTalk.com, Tractor.com, RVGuide.com, and many more.
More by Lucas Cooney
Published October 31st, 2014 7:14 AM
Top Brands
Popular Articles