1 View
ATV Racing in the Snow in Russia + Video
February 10th, 2016 12:46 PM
Share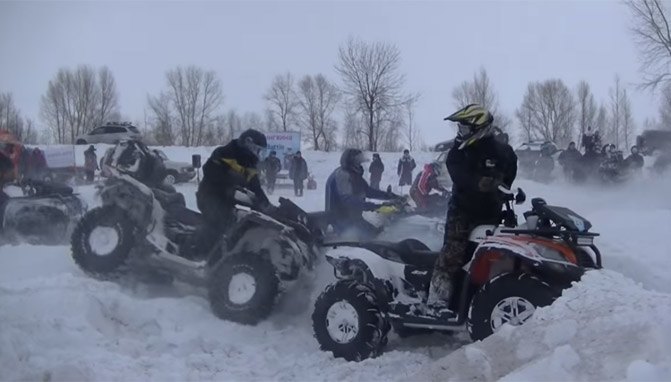 We NEED to get to Russia to race at Penguin Day
A couple of weeks ago we had a chance to go on a ride with Kawasaki through the hills of West Virginia right after a big snowstorm. It was a unique experience for us to really blast through the snow and we had a blast. Maybe that's why racing at Penguin Day in Russia seems like a brilliant idea.
Riding Out a Snow Storm on a UTV While winter has been pretty mild for much of North America, we're not sure that Russia ever has a light winter. Rather than wait until the short spring and summer riding season, Russian ATV and UTV riders decided to put together what looks like an incredibly fun day of bashing through the snow.
Before we stumbled across a pair of videos on YouTube this week, we'd never heard of Penguin Day, which appears to be a full day of snow-packed ATV and UTV racing. We don't know if this is a particularly popular event or if it's a brand new creation, but Penguin Day seems like a heck of a way to get some four-wheel enjoyment out of winter.
The video below is a bit long, but it shows the pure fun you can enjoy on an ATV or UTV no matter the season.
What does a plane ticket to Russia cost, anyway?
Get the Flash Player to see this player.
Published February 12th, 2016 9:43 AM
Top Brands
Popular Articles