5 Views
ATV Trails: A Fall Ride in Mattawa – Video
July 3rd, 2015 12:00 PM
Share
We're committed to finding, researching, and recommending the best products. We earn commissions from purchases you make using links in our articles. Learn more here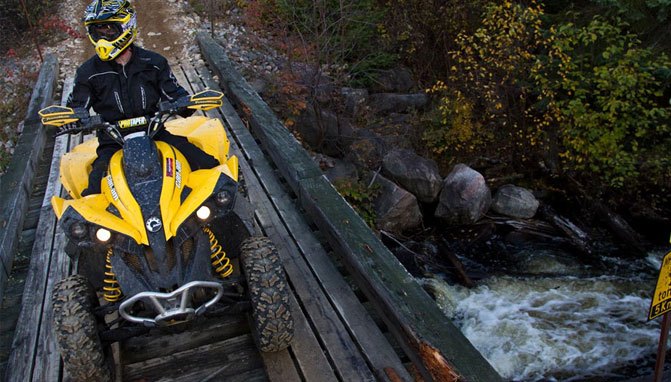 YouTube ATV All-Stars Mark Freeman, Red Wood and Graham Adams Ride the VMUTS Trails
Leaving Toronto, you'd hardly know that fall is in full swing. Sure the air is a bit chilled, but the leaves are still green and boldly clinging to their trees. But as I drove north up Highway 11 the changes in the season were all around us, and what started as another ride up this well-worn highway, became as vivid and enthralling as any Hollywood movie.
Our crew of three; myself, Mike Jacobs, our photographer Virgil Knapp, and our videographer, Ryan Grani, were all headed up from The Big Smoke (AKA Toronto) to the picturesque little town of Mattawa, Ontario for a three-day adventure with the YouTube ATV All-Stars to ride some of the best off-road trails in the province, the Voyageur Multi-Use Trail System (VMUTS), with the fall colours at their apex. And what we saw blew our minds.
Get the Flash Player to see this player.
Fall colours provide an amazing view along the Ottawa River.
But before I get into all of the details of this epic adventure, I should answer one question; just who are the YouTube ATV All-Stars? Jeff McGirr, the brains behind this trip, brought together some of the best and brightest ATVers in the province of Ontario, all of whom have amassed incredible followings on YouTube. With us were Mark Freeman, ATV racer extraordinaire and the man behind the wildly popular MarkFreeman408 YouTube channel and Facebook page, Rex Wood AKA Rex4x4 a connoisseur of everything off-road, 4×4 and just plain dirty, and the local favourite Graham Adams, AKA LITMM, who specializes in mud bogging – and we got just enough sun and rain to make everyone happy.
The YouTube ATV All-Stars on the Voyageur Multi-Use Trail System near Mattawa.
Our crew of ATV fanatics met up at the Mattawa Adventure Camp, just a few minutes outside of town, and right on the banks of the Ottawa river. With the massive Laurentian Mountains exploding with reds and yellows on the opposite side, every camera in the group came out for find the perfect angle for their shot.
Warm welcomes at the Mattawa Adventure Camp.
That first evening we were hosted by the friendly and accommodating owner of the camp, Wim Schmulders. Wim bought the property over a decade ago. While building a clientele, he used to run the karaoke in town. The karaoke has since moved to the lobby of his lodge and he treated us to a glorious rendition of Suspicious Minds while we feasted on the massive steaks he had prepared for us. (I will never officially admit to not being able to finish mine.)
We had a chance to catch up with Wim after his performance, and talk about his camp. He told us that ATVers and snowmobilers now make up over a quarter of his business, and it's easy to see why. With easy access to the trails, tons of wide parking for trucks and trailers, an incredibly reasonable ATV and snow package that includes a massive breakfast, box lunch and delicious dinner, I found it easy to see myself returning many times over the course of the season. I'd add that there aren't many places in the world that give such a generous welcome to a group of ten dudes who've come to ride the trails hard.
Early morning at the Mattawa Adventure Camp.
The next morning we all rose early, jammed as much eggs, potatoes and coffee as we could down our throats, and raced off to the trailhead. Jeff had been kind enough to secure our trail passes for us the day before at the Valois Motel. The VMUTS trail pass is reasonably priced at $12 a day, $20 for three days and $30 for a week. Considering there are over 300km (180 miles) of signed, maintained and mapped trails, this is an incredible value. The town of Mattawa is also incredibly welcoming to all kinds of off-road vehicles, and allows them to ride through town to access the various trailheads.
Welcome to the Trail 11 trailhead.
As we all unloaded at the Murphy Road trailhead, I could tell that this was going to be an epic ride. Mark Freeman brought an 800cc CanAm Renegade, Rex Wood rode his 700cc Artic Cat Mudpro with snorkel and top-mounted radiator for maximum bad-ass effect, and Graham Adams rode a Honda Rincon. Mark Hamerton of the Ontario Federation of All Terrain Vehicles (OFATV) brought a Polaris, and a Honda Big Red MUV from the VMUTS maintenance fleet rounded out the pack of four wheelers to carry all our photo and video gear (and make sure someone always had the rear!)
Over the next two days we saw just about every riding style, terrain and weather on the trails, to complement the diversity of machines. Once everyone was unloaded, geared up and had their helmet cams rolling, we headed out on trail 11.
I'd ridden this trail a few times earlier in the season, and it's a great intro to the overall trail system, mainly because it has a bit of everything, in relatively quick succession, and it's easy to get to from town. If you're a seasoned rider, you might consider starting closer to where we did on day two for a more rugged experience.
Graham Adams and Mark Freeman ride on Trail 11.
Trail 11 starts with a bit of trimmed back young forest, then runs through some lowlands and passes over a bog, and into a sandy pass, where the trail splits off. We continued on trail 11 up to Bird's Eye View, riding through a muddy area, then over bare rock faces on some pretty steep hills, up through a split-trail pass, where the high level go through some densely treed areas, and the low pass rides the edge of a creek.
After this initial run, we arrived at the Bird's Eye View overlook of the mountains surrounding Mattawa and all took a moment to pop out our cameras and phones and take some shots. These mountains, and the rivers that run between them, are among the highlights of the region. Rolling into Mattawa at the height of the fall, when all of the hardwood trees are bursting into shades of flaming red, bright yellow and lustrous oranges, is an experience that is unmatched in Ontario. Sure, some areas may have the right trees for these colours, but very few have rivers framed by mountains – all in plain view from the town, trail and camp.
Rex4x4, LITMM and MarkFreeman408 explore the Hydro Trail.
The second half of the trail took us through some long straights, where the larger machines got up to some great speeds. The smaller machines and the MUV ambled happily through these gentle ups and downs until we all met up again at the hydro line trail, number 12.
I've spent enough time in the bush (see my 60-day epic road trip across Ontario at http://www.ontarioroadtrip.ca/) to know a truly epic ride when I see one, and the hydro line trail is the kind of riding that makes every moment feel like you're in a movie. Most of the time, especially in such a heavily forested part of Ontario, you don't get to see the scope of the terrain you're riding on. The hydro line trail changes all of that. The trees are cut back a good 20-30 meters (60-80 feet) from the huge power lines. While riding over this fine-grain sandy trail, you can see all of the ripples, ridges, and rises in the land. We rode this trail for the next two hours, following it as it zigzagged around the terrain, and in and out of the forest surrounding the trails. There were immense rock faces and deep valleys around every corner, and as we zipped through the yellow-leaved canopy of birch trees, the fallen leaves danced on the trail behind the ATVs. If there's a finer sight in this world, I don't want to know.
Fall leaves provide a colourful carpet on the VMUTS trails.
As if Mother Nature knew we'd just completed the most exhilarating part of our ride, she opened up the heavens and started to rain on us. We made our way to the abandoned mica mine on trail 62 and took shelter for a short while, waiting to see if the rain would pass. It didn't, so we ate some snacks at the mouth of the mine where flat-footing on a decked area provided some small comfort in the downpour. The shimmering mica in the bedrock walls of the mine was quite a sight.
The ride back was a ton of fun, and even though most of us were wet, it made it all the more adventurous. Being able to see three skilled riders like Mark, Graham and Rex ride in the mud made it all the more worthwhile. We rode hard back to the trailhead, and the rain lightened enough for us to avoid being totally miserable while we loaded up and raced back to the Mattawa Adventure Camp, where we got into some dry clothes and lit up the woodstoves in our cabins.
Wim didn't disappoint with dinner, and we all shared stories over the succulent roast beef, mashed potatoes and gravy, and pie. It wasn't long before we were all stumbling back to the cabins, hanging our wet duds over the woodstove pipes, and settling in for a good night's rest before our second day of riding.
We arrived safe and sound back at the Mattawa Adventure Camp.
Friday saw us greeted by sunny skies and light rain, which cleared just as we wrapped up another hearty breakfast in the lodge, complete with massive pancakes. Jeff led us out to trail 70, which was a substantial hike from town. We only had half a day of riding, and were a little slow getting moving, but once we were out in the sun, our pace quickened as we raced over bridges and down dirt roads to the this total gem of a trail.
The trailhead had a shelter and outhouse, one of many spread throughout the trail. We took a quick break before heading in, but once we started moving, I was once again surprised at how many different types of terrain we got to explore in such a short amount of time. The close forest led us through tightly winding trails and over a bridge above a small set of rapids. We rode for two hours before it was time to head back, load up, and get out of dodge.
Trail 70 on the Voyageur Multi-Use Trail System is not to be missed.
Back at our trucks and trailers we said our goodbyes while loading up. There was talk of next year's ride and adding each other on Facebook, and of the long but happy ride home ahead of us. We were exhausted and happy, and the sun was shining brightly without a cloud in the sky as we each headed off in our own directions home.
The drive home was no less spectacular – the fall colours were in full bloom and I was able to sneakily escape doing much driving, mainly so I could stare out the window. I kept thinking of these leaves flying around behind the ATVs in front of me, and the fiery reds, yellows and oranges sprinkled throughout the landscape. Where else in the world can you get so far away, and yet feel so at home? Published October 26th, 2012 10:20 AM
Top Brands
Popular Articles