32 Views
ATV Trails: Ontario's Ganaraska Forest – Video
July 3rd, 2015 11:58 AM
Share
We're committed to finding, researching, and recommending the best products. We earn commissions from purchases you make using links in our articles. Learn more here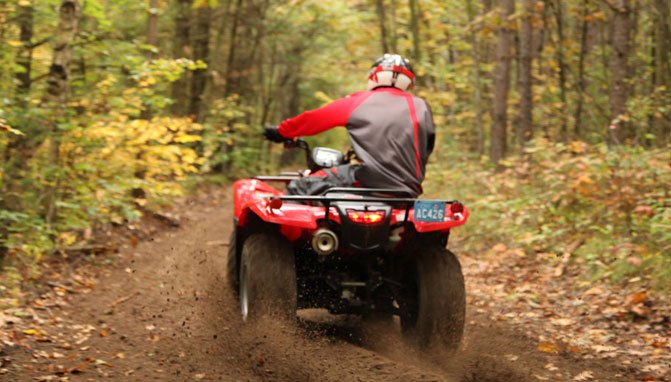 Vast trail system is just minutes from Canada's biggest city
One of the main benefits of writing about ATVs for a living is having a chance to explore trail systems across the United States and Canada during new vehicle introductions. However, that sometimes means missing out on ride areas in your own backyard. When Honda Canada invited ATV.com to Ontario's Ganaraska Forest just an hour from my house in Toronto, I jumped at the chance.
It may seem strange, but I had no idea the Ganaraska Forest even had ATV trails before this trip. That's largely a product of living in Ontario where ATV trails are so readily available. Friends in the United States are shocked when I tell them about the trail systems we have at our disposal – Ontario embraces the off-road lifestyle like few other places in North America. Still, it's almost unforgivable that I hadn't taken advantage of the hundreds of miles of trails waiting for me in the Ganaraska Forest.
Get the Flash Player to see this player.
You'd never know a metropolitan area of 5.6 million people is located just minutes from these trails.
To get to the Ganaraska Forest, I simply drove east on Hwy. 401 and followed the signs. I live smack dab in the middle of Toronto and it took me almost exactly 60 minutes to get to the Ganaraska Forest Centre. For those living on the city's eastern edges, it's probably closer to a 15-minute drive. When you realize that the Greater Toronto Area has a population of 5.6 million people, it's remarkable that a trail system like this is so close.
Honda Canada used the Ganaraska Forest Centre as base camp for this event.
So what exactly does the Ganaraska Forest have to offer ATV riders? Linda Givelas, the manager of the Ganaraska Forest Centre, told us the forest sits on 11,000 acres, of which about 6,000 acres are dedicated to off-road motorcycle and ATV use. And riding the trails won't break the bank. You can get a daily pass for $25 or an annual membership for $125. That's less than it costs to ride the subway in Toronto for a month! And let me tell you, riding ATVs in the Ganaraska Forest is a whole lot more enjoyable than cramming onto a subway during the morning rush.
ATV events don't normally have a fleet of motorcycles to sample. We could get used to this.
Honda Canada put together a fairly unique event in the forest. Normally ATV writers are invited to ATV-specific events, but Honda Canada decided to invite motorcycle journalists as well. We tested out the new Honda CRF250L dual sport motorcycle, as well as an assortment of Honda ATVs.
"It's rare that we have an opportunity to have everybody together in one place and have some of the two-wheel guys play on the four-wheels," says Nick Smirniw, senior product planner of Honda Canada , Motorcycle Power and Equipment Division. "Some of the four-wheel guys hadn't ever had an opportunity to get on a motorcycle before."
Trail Tours was on hand to offer training on off-road motorcycles and ATVs.
Smirniw is being nice – I was the only one of the ATV writers at this event to have no motorcycle experience. This would have been cause for serious concern if not for the fact that we were offered training by the amazing team at Trail Tours. Trail Tours is based in the Ganaraska Forest and has trained nearly 40,000 people to ride off-road motorcycles and ATVs! Trail Tours provides everything a first-timer needs: motorcycle or ATV, riding gear, lunch, and instruction.
"We are the busiest off-road training facility in the world, as far as we know, and it's because we have Toronto so close by," says Steve Weykamp, president of Trail Tours. "If you look worldwide, there are not many places that do this. But if they do do it, it's usually small scale and they won't have the trail systems we have. We have a lot of bikes and a lot of ATVs to work with, so there are the capabilities of hosting big volumes of people here."
ATV training should be essential for new riders.
While the motorcycle writers trained on four wheels, I glommed onto Trail Tours instructor and guide Alan Lakas for some two-wheel expertise. He's been training people for years and let me know that my complete lack of motorcycle riding experience was actually a benefit.
Exploring the Ganaraska Forest trails on a motorcycle was a great experience.
"Probably half our riders have some street experience and others have no experience," says Lakas. "Those street guys are typically a little harder to teach than someone who's brand new because they have a lot of habits from the street that are hard to break in the dirt."
Remarkably, Lakas had me up and running in minutes. After a couple of hours, I was ready to join the group for a trail ride. As mentioned, ATV training is also available and is something every new ATV rider should consider.
"We've got a program that we go over all the basics with them. We get a lot into off-camber riding. We teach them what to do in the event the ATV feels like it's going to tip," says Lakas. "We've got a great safety record here and we really pride ourselves on that. We take the time to train everyone. Even if they come to us with a lot of experience, we always will give them a good warm-up and give them some riding tips."
Amazingly, in our two days of riding the Ganaraska Forest we didn't see any other ATV or motorcycle riders. Open trails like these were very much the norm, though we did happen across a couple of horseback riders.
When it was finally time to hit the trails, the Ganaraska Forest did not disappoint. We rode everything from wide open fire roads to tight single track (on the CRF250L). We only explored a small sampling of the available trails, but it was more than enough to make me want to go back and try again. As Weykamp explains it, that's pretty much the point.
Fall colors make a beautiful backdrop for a trail ride in Ontario.
"Our goal here is just to provide people with a really good, positive time so that they can go away with experience under their belt," says Weykamp. "Ideally, we provide them with that experience so that they go out and buy a new motorcycle or ATV. That's why we're doing this." Lucas Cooney
I have been working exclusively in digital media since 1997. I started out with TSN.ca, spending nearly nine years creating and editing content on Canada's leading sports website. I left to join VerticalScope, Inc., one of the world's largest online publishers, to start a number of powersports publications. While at VerticalScope, I've helped create and oversee content for a wide variety of different publications, including ATV.com, Off-Road.com, ArcheryTalk.com, Tractor.com, RVGuide.com, and many more.
More by Lucas Cooney
Published January 30th, 2013 11:12 AM
Top Brands
Popular Articles