1 View
Firearms Training With Yamaha at Gunsite Academy
June 16th, 2015 4:34 PM
Share
We're committed to finding, researching, and recommending the best products. We earn commissions from purchases you make using links in our articles. Learn more here
The southern gentleman's tactical paradise
In the final months of 2012 Yamaha extended an invitation that to me was probably the most exciting off-road event I'd heard of in quite some time. The release of the Tactical Black versions of Yamaha's Grizzly 700 and Rhino 700 lines would combine not only the vehicles, but also great firearms from Ruger and a facility where we could use them freely and safely – Gunsite.
Gunsite is a very well organized tactical training facility just outside Prescott, Ariz. that teaches everyday civilians, as well as law enforcement and military personnel, to become better trained in the use of combat and personal protection situations where a firearm may be useful. The courses are always packed full of fellow citizens who wish to learn to better safely handle the handgun or rifle of their choosing.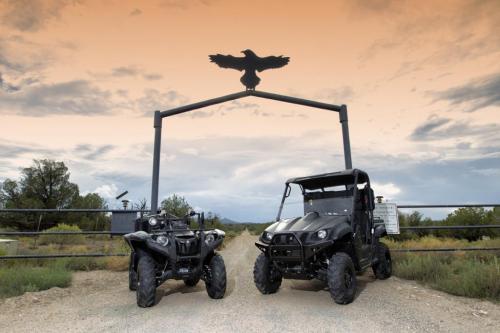 We were excited to ride the 2013 Yamaha Grizzly 700 and Yamaha Rhino 700 Tactical Black editions and get firearms training at Gunsite Academy.
Our trip out to Prescott landed us at the historic Hassayampa Inn, which has been in downtown Prescott for many years. To bring back the mystique and adoration of visitors from the past and present, this beautiful hotel has everything you need. The elevator is still operated by the bell boy and the staff is always ready to help guests get the most out of their stay.
The bed of this Yamaha Rhino is a gun enthusiast's dream come true.
After a quick breakfast down in the hotel restaurant, we headed out to Gunsite. The long gravel road led us into the huge gates where a stealthy black Raven waited and watched as we entered the property. As we rolled across the Arizona landscape it was evident that Gunsite's proprietor was serious about the safety of every visitor that passed under the Raven. Signs marked areas that you would need an escort in order to indulge. Upon topping the hill into the training facility we were greeted not only by Gunsite staff but a line of matte black Tactical Rhinos and Grizzly 700s. This was to be the start of one exciting trip for me. At 42 years old I felt like a kid at Christmas time and when we stepped into the building to be greeted by Ruger's marketing guru, Ken Jorgenson, it was as if I had a fun detection device in my eyes. They immediately led me to the tables full of Ruger SR556 carbine rifles and SR9c pistols. I knew I wouldn't sleep this night. This was going to be a short five-day event and I wanted to soak up every second.
Before letting us play with the new toys from Ruger, Gunsite gave us a few hours of classroom instruction.
The premise of the visit was to not only allow us to get more familiar with the new line of Tactical Black versions of the Rhino and Grizzly, but to allow us as journalists to experience using them in live fire situations and learn just how handy these machines can be in combat scenarios. We had the standard walk around on the new Yamaha machines and with some of the greatest trainers in the business we sat down for a few hours of serious training to get each and every one of us focused on gun safety and range regulations. I was thrilled to learn even more about my personal skills as a marksman, but also to relearn things that had once been proper technique and maybe had been outdated by new and better common practices when handling firearms.
The underlying message we learned on this trip was safety and that we treat every weapon as if it were loaded. There were a few hours of classroom duties and with a very clear message of safety again we set out in our Yamaha Rhino to tackle the first of a few challenges. The driver would lead the passenger out a trail, stopping at specifically marked areas. The passenger would then step out of the Rhino and load a magazine, ready his weapon and find the target off of the right side of the Rhino. After the target was either hit or you missed twice you cleared your rifle and stepped back into the machine. Once all of the targets had been acquired and fired upon it was the driver's turn to repeat the process heading back in the opposite direction. Our Yamaha Grizzly had a similar role, but for the handgun segment of the training. Finding targets along the creek banks and behind objects kept us all on our toes. I knew that my machine would not fail me in the terrain I was riding, but my machine didn't know just how rusty I was – especially in the handgun section of the course. It was still a very good time had by all who attended.
We tested our marksmanship at Gunsite's firing range.
There were also times where we were on foot traversing small sections of Arizona terrain and finding the bogeys out in the distance. The scrambler course was probably one of my favorites. The course had eight stations and you had to run from station to station trying to hit targets at up to 80 yards. Remember we had a SR556 Carbine with iron sights. No scope! You had the same two shot and move on rule as the Rhino and Grizzly courses. We had a time to beat and I tried with all I had to beat the clock. Unfortunately for me the young man who had set the record of 36 seconds was 19 or 20 years old and had on full battle rattle. Or in laymen's terms, he had on everything he would carry into a typical combat situation, which made it even more difficult for him. I managed a respectable 46.41 on the clock and my instructor offered up a bottle of oxygen at the end as well as congrats on my time.
Our fearless writer targets bogeys with his Ruger SR556 Carbine.
The Ruger rifles and handguns we used were just a small part of the fine firearms the company in Prescott manufactures. We also had Hornaday ammunition providing the very accurate rounds, Galco gun holsters and belts as well as Oakley who sent some very cool eye protection. Of course we couldn't have gotten through the desert terrain without our Yamaha Rhino and Grizzly. The new look gives Yamaha just one more connection to consumers who gun enthusiasts. Our instructors were top notch and I am anxious to put what they have taught me to use.
The Yamaha Grizzly was a surprisingly adept tool for tactical training.
I learned that even though I have been handling firearms for a very long time I still needed more proper education on my technique and even figured out what I had been doing wrong all these years. Gunsite was just the right place to learn all of these systematic techniques. Published January 31st, 2013 11:19 AM
Top Brands
Popular Articles